[>>]

[>>]

[>>]

[>>]

More>>

Search...

| | |
| --- | --- |
| Audio / Sound | |

... 1 news stories awaiting approval
ASUS Cerberus V2 Review

ASUS have addressed these issues, and implemented them in the Cerberus V2. Unlike the original Cerberus headset, it now features a bouncy steel frame, a stitched headband for additional protection, as well as improved ear cushions that provide 30% extra coverage for improved comfort and sound isolation. ASUS have also have changed the drivers, rather than shipping with the unnecessarily large 60mm drivers, they have implemented exclusive 53mm ASUS Essence drivers. This means that there is more space inside the earcup, allowing the drivers to deliver a powerful and rich sound.

Brainwavz B200 In-ears

Brainwavz is known for their high quality mid-end in-ears and headphones. Today, we take a look at their most ambitious in-ear to date called the B200. The B200 is a dual balanced armature design that sells for $199 online.

HyperX CLOUD Revolver S Pro Gaming Headset Review

HyperX takes their pro gaming seriously and having sponsored many winning eSports teams around the world; they have more than a few friends who know a thing or two about what makes a great gaming peripheral. We've seen a fair few headsets from HyperX over the years, including the highly praised and award-winning CloudX, Cloud II, Revolver, Stinger, and now the latest addition to the collection, the high-end CLOUD Revolver S Pro, which promises Dolby 7.1 Virtual Surround, a built-in DSP sound card, powerful 50mm drivers, and much more!

Tesoro Tuned Review

Tesoro have steadily expanded their range of products since our last outing with their products. This time, we take a look at a portable in-ear headset aptly named 'Tuned'. In-ear headsets have become an important part of everyday life for many people as portable devices intrude ever-more into every aspect of our lives, and so having a competent solution that can draw attention is an understandable move.


SteelSeries Arctis 5 USB Gaming Headset Review

Arctis 5 takes part of the latest SteelSeries series of gaming headsets and incorporates 7.1 surround sound thanks to the DTX Headphone:X technology. The unit is available in both black and white colors, does pack configurable RGB lighting out the outside cup area and also adds a new level of customization thanks to the replaceable Sky Google Headbands. SteelSeries has reworked the ear cushions too and went with AirWeave material that was inspired by fabrics found in athletic clothing, so your ears won't sweat during intense gaming sessions."

Sound BlasterX Katana @ LanOC Reviews

For living rooms, it used to be a big push for multi-speaker configurations with a big receiver. For some people, this is still the goal, especially for surround sound. But recently there has been a trend where people have been moving to soundbars. They take up a lot less space while still being an audio improvement over your TVs speakers and they better fit with today's ultra-thin TVs. There are some downsides though and performance can be a little limited. Well, Sound Blaster came out with the Sound BlasterX Katana and they don't even like to put it in the same category as a traditional sound bar. They call it an Under Monitor Audio System aka a UMAS. This is because beyond having speakers under your monitor it has a built-in 224 bit DAC, a Dolby Digital 5.1 Decoder, and 5 drivers all with their own amps. With my wife getting a new desk, we started to look at her options and the Katana from Sound Blaster looked to be a good fit to keep the desktop footprint low by using unused space under her monitors. So today I'm going to check the Katana's out and see just how they perform.

Roccat Cross Gaming Headset

The Roccat Cross is a comfortable and lovely sounding gaming headset with an interesting twist. You can remove its boom microphone and attach a secondary cable equipped with an in-line microphone, plug it into your smartphone, and use it as a mobile headset. It holds its own in both of those scenarios, which fully justifies its $70 price and then some.


HyperX Cloud Revolver S Headset Review

The HyperX Cloud Revolver S is the latest flagship headset from Kingston's gaming brand. The company is calling this product "the ultimate gaming headset", thanks to improved comfort, new 50mm drivers, and a USB dongle that brings Dolby Surround 7.1 technology to the Cloud Revolver line for the first time.


MSI B250M Mortar Motherboard Review

The MSI B250M Mortar uses Intel B250 chipset, a desktop chipset that has enough function to keep most users happy. For some reason, Intel chose not to enable overclocking.


Game Max Sapphire RGB Case Review

Recently we have reviewed a couple of cases from Game Max, and while they both scored very well, they were definitely aimed at users on a budget. Today, we are seeing what Game Max can offer those looking for a more luxurious case, as the Sapphire RGB is definitely luxurious – it features no less than 3 tempered glass side panels, and not ordinary tempered glass either. The Game Max Sapphire's highlight feature (quite literally) is its use of mirror-finish tempered glass.

ASUS Launches Tinker Board in North America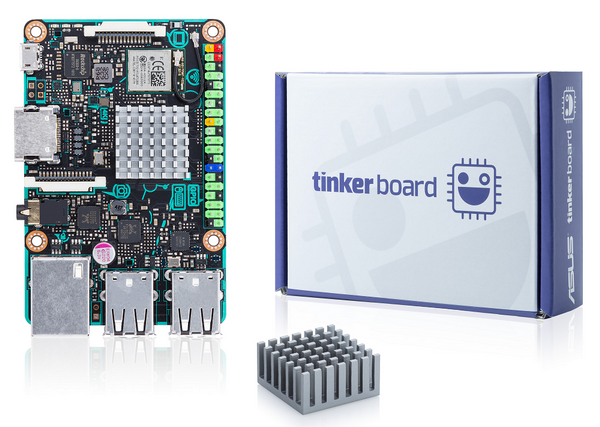 ASUS, maker of the world's best-selling, most award-winning motherboards, is excited to launch the ASUS Tinker Board in North America today. Imagine the freedom to make your ideas come alive, the ability to invent an IoT device for a connected home or just having fun creating an entertainment hub for the family or powering your DIY robot project at school. With Tinker Board, the possibilities to create personalized devices are endless. Tinker Board is a single-board computer (SBC), which makes it the ideal foundation for makers, hobbyists, educators, and electronic DIY enthusiasts to develop and build low-cost, great-performing computers.
ASUS Tinker Board offers class-leading performance, robust multimedia support, IoT connectivity, and enhanced DIY design and compatibility with a wide range of leading SBC chassis and accessories. The result is a near credit card sized computer that offers people the freedom to tinker and apply their ingenuity to create platforms for a wide variety of uses.
Key features of Tinker Board include:
CPU: 1.8GHz Rockchip® RK3288 SoC quad-core processor
GPU: Mali-T764 GPU
Video: HD/UHD video playback support – including H.264/H.265 decoding
Audio: 192kHz/24-bit audio support
Memory: 2GB of dual-channel LPDDR3
Storage: Micro SD(TF) slot features SD 3.0 support
Connectivity: Bluetooth° 4.0 + EDR and on-board 802.11b/g/n WiFi
Networking: 1Gb Ethernet
Ports: (4) USB2.0 ports, (1) HDMI 1.4 out port, (1) 3.5mm audio jack
I/O Ports: (1) 40-pin GPIO interface header, (1) 15-pin MIPI DSI, (1) 15-pin MIPI CSI, (1) 2-pin contact point for PWM and S/PDIF signals
Power: Suggested 5V/2A AC adaptor via the micro-USB port (power adaptor not included)
OS: ASUS TinkerOS (Debian-based Linux) & Android Support
Dimensions/Weight: 85.60mm x 56mm x 21mm, 45g without included heatsink
AVAILABILITY & PRICING

ASUS Tinker Board is available now at Amazon and Micro Center with a suggested MSRP of $54.99. For additional information and support on this exciting new product, please visit our Tinker Board website at Tinker Your Way to the Future.

Mad Catz F.R.E.Q.9 Wireless Surround Headset Review

At launch the rather expensive F.R.E.Q.9 Wireless Headset by Mad Catz was considered to be among the top headsets of its class not only due to its impressive audio clarity and accuracy but also due to its excellent build quality and available connectors thanks to its audio box. 2+ years later and with its price reduced by over 70% due to EOL status the F.R.E.Q.9 is by far the best headset of its class today.



The best Guides by the best writers on the internet; PCSTATS Beginners Guides explain computers, software, and all those other wonderful things that cause you frustration.

Learn how to use your computer better, master the internet while protecting yourself, and know what to do when your hard drive kicks the bucket.



"Get the 'Stats and Stay Informed!"