| | |
| --- | --- |
| Cooling / Heatsinks | |

... 0 news stories awaiting approval
Noctua NH-D9DXi4-3U LGA2011 Xeon Server/Workstation Heatsink Review

The Noctua NH-D9DXi4-3U is a mid-sized heatsink designed specifically for lower noise cooling of Intel Xeon processors in 3U height computer/server chassis. It's compact stature makes it ideal for rack mounted computers in a recording studio, video editing suite, operations control center, office environment or anywhere Xeon-based computers have typically had to be relegated to the 42U rack. The NH-D9DXi4-3U heatsink stands 111mm tall and has a footprint of just 95mm square, ensuring it won't overhang adjacent memory slots or interfere with PCI Express cards.

Noctua NH-L9x65 Low Profile Heatsink Review

"Noctua's low profile NH-L9x65 heatsink stands just 64mm tall and has a very compact footprint of only 95x95mm. The NH-L9x65 is designed to cool some fairly intensive Intel sockets, along with the full spectrum of AMD processors and APUs. Compact CPU coolers can be a little tricky to install, but Noctua long ago laid down the framework of an excellent motherboard mounting system,, so the NH-L9x65 is a breeze to work with."

Gelid Antarctica Ultra-Quiet Tower CPU Cooler Review

Gelid are one of the most legendary cooling companies in the world and while you may not think of them first when you're looking at a new CPU cooler, they're the top choice for many system builders, enthusiast overclockers, and all of us here at eTeknix for our test benches, when it comes to Thermalpaste. Gelid GC-Extreme has been a popular choice for many years, and it's with that in mind that we know that Gelid has a fair bit of knowledge when it comes to thermal performance in the PC market.

Lamptron Touch Six-Channel Fan Controller Review

Fan controllers have been around for a long time and they have pretty good usefulness as newer hardware develops in time. Not much has changed except its aesthetics and functions, so they still do the same job- control and monitor fan speed, along with voltage and temperature monitoring. Lamptron Touch six-channel fan controller isn't new. Judging by the release date and user posts in multiple tech forums, it's been around since 2010 or 2011- as old as Hardware BBQ itself. What's interesting is that it uses a touch screen as a means to allow a user to change the screen and adjust fan speed according to their preference. It's a six-channel-based CNC milled aluminium interface with the ability to view and control RPM/VDC for fans, but also monitor voltages and temperatures in Celcius or Fahrenheit. This allows 30 watts per channel with automatic or manual fan control options. That's adequate even for cooling fans available today.

Scythe Fuma SCFM-1000 Heatsink tested on Frostytech

"The Fuma heatsink stands 148mm tall and features twin 120mm PWM fans arranged in push-pull configuration. Even with dual fans, it manages to maintain a relatively compact footprint of 130x130mm. Both fans operate at 1400-600RPM, moving upwards of 79CFM at 1.56mmH20 static pressure according to manufacturer specs. As with most Scythe heatsinks, the Fuma is designed primarily as a lower noise thermal solution."

Swiftech H320 X2 All-In-One Watercooling Kit Review

All-in-one (AIO) water cooling units have brought the performance and silence of water cooling to the masses with the simplicity of installing an air cooler. AIOs offer simple installation without the need to bleed the loop. Simply attach the hardware and power cables and you are all set. Recently, water cooling component manufacturers have upped the ante a bit by …

Scythe Ninja 4 SCNH-4000 Heatsink Review

" While Scythe doesn't overtly market its heatsinks as "silent", the company has typically produced CPU coolers which do meet the quiet esthetic. In this review Frostytech will be testing out the new Scythe Ninja 4 heatsink - a 156mm tall boxy looking thermal solution which is designed for lower noise cooling. The Scythe Ninja 4 CPU cooler weighs ~900grams and has a footprint of around 145x130mm."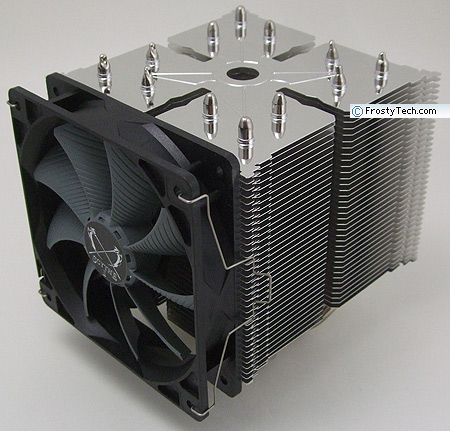 Thermaltake Riing 14 LED RGB fan

HardwareOverclock.com has just posted another review. Last week we have taken a look at the Thermaltake Riing 14 LED RGB fan. Three patented circular 256 multicolored 140mm RGB radiator fans with high-static pressure design, one smart fan controller included.

Silverstone are the masters of ergonomics

The design team at Silverstone are the masters of ergonomics, something we've seen time and time again with their revolutionary space-saving chassis designs. Not only have they created some masterful chassis, but they also have a great range of cooling products that are perfectly designed for tighter spaces, such as slim fans, low-profile air coolers and slim AIO radiators. Today, we'll be taking a look at the Tundra TD02-Slim, a 240mm AIO water cooler with a total thickness of just 37mm, with the fans installed! This is going to be a great cooler for mini-ITX and Micro-ATX chassis designs where space is at a premium.

DeepCool Gamer Storm Lucifer K2 Heatsink Review

"DeepCool's Gamer Storm Lucifer K2 heatsink is a revised version of the original Gamer Storm Lucifer heatsink, which Frostytech tested about a year back. The Lucifer K2 heatsink only differs in that it's not nickel plated and ships with a slim profile (20mm thick)120mm fan which makes the heatsink a little more accommodating on confined motherboards."


Gelid Antarctica Heatsink Reviewed on Frostytech

The Gelid Antarctica heatsink features a nice narrow footprint which measures 141x74mm with the 140mm fan installed. The slim profile should make the Antarctica cooler more compatible with a larger range of motherboards.

NZXT Grid+ V2 Review

With Grid+ V2, NZXT offers a digital fan controller, which is capable of handling up to 30W load. The NZXT Grid+ V2 is actually a small black box, which is easy to hide inside your case. Apart from that it's been paired with NZXT's CAM software, which is straight forward simple.

Enermax Liqmax II 120s: AIO Cooling

When it comes to a new build I always keep cooling in mind. Not every rig I build has custom water reservoirs, custom piping or fancy radiators. Sometimes I just need a machine to work without spending an enormous amount of cash on custom parts. I find that All in One (AIO) cooling systems are easy to install, work well …

Scythe Iori CPU Cooler Review

Today we are testing the Scythe Iori CPU cooler with top-blow design on OCinside.de. Because of their flat design, top-blow coolers are suitable for small environments such as a HTPC. Iori is the Japanese word for a small mountain hut as place of refuge. We will find out, if a CPU can find safe refuge with the Scythe Iori.

BeQuiet Dark Rock TF Heatsink Review

"On the test bench today we have BeQuiet's Dark Rock TF heatsink - a top-down dual tower heatsink which features a pair of BeQuiet SilentWings fans and stands 130mm tall. The Dark Rock TF heatsink is built around six 6mm diameter heatpipes which link a large primary aluminum fin stack and smaller secondary set of aluminum cooling fins to a chunky copper heatspreader below. The 135mm PWM fans are arranged in a push-pull configuration, exhausting downwards so related motherboard CPU VRM components benefit from the cooling air flow. "