| | |
| --- | --- |
| Cases | |

... 12 news stories awaiting approval
Cooler Master Silencio 652S Case

The Cooler Master Silencio 652S is the next PC-Case in the Technic3D office. The 652S supports ATX and Micro-ATX motherboards and have place for 8x 120mm or 4x 140mm Cooling-Fans. We will check this and many more in the following Review."

Zalman ZM-VE300 USB 3.0 External Drive Case Review @ Legit Reviews

Zalman is probably most widely known for their cooling products but they also have quite a few other product lines that cover quite a few categories, including storage. In that realm, they have quite a useful little tool with their ZM-VE300 USB 3.0 external drive case. As the name implies, it can be used as an enclosure for any 2.5? drive allowing it to connect to any USB capable computer, but that?s not all. Read on to find out the rest!"

SilverStone PS10 Case Review

"Are you in the market for a budget priced chassis that looks like you spent more? Introducing the PS10 case from SilverStone, a mid-tower case that offers a wide variety of hardware configurations and cooling support. SilverStone frequently leans toward a more budget build of case, yet their cases don't lack for interesting character which appeals to many builders. Can the new PS10 live up to both of these expectations? Read on to find out."

CM Storm Recon Review

The gaming mouse is a very subjective device and for a gamer is always difficult find the perfect model. On the market and there are many models with various shapes, sizes and customization possibilities. Cooler Master with Recon offers an optical mouse for left-handed and right-handed, with 11 customizable keys and the Avago ADNS-3090 sensor.


Thermaltake Urban T81 Full Tower

In a market filled with all kinds of PC Cases by a huge number of manufacturers we all know how hard it is for someone to pick the right one for the job especially if price is of a concern. The reason i mentioned price should be quite obvious so if you`re aiming to get one of the most expensive towers in the market then you currently only have a handful of choices to pick from by just a few of the leading manufacturers. On the other hand if you`re on a budget things get tougher since most manufacturers out there aim for the masses and not enthusiasts, serious gamers and professionals so the number of available choices skyrockets. Primarily Thermaltake also seeks to win over the masses but from time to time they too release high quality and feature rich PC Cases aimed at serious consumers and the brand new Urban T81 Full Tower which has been with us for roughly a week now certainly wants to get in their ranks. "

SilverStone Raven RVZ01: One Of The Best Mini-ITX

"When opening the box to the SilverStone Raven RVZ01 there is a disclaimer printed on the packaging in multiple languages about being a "unique product" and recommending users first reading the included manual. This statement isn't just some marketing verbage to build up hype or purchasing confidence in the product, but with being able to accommodate up to a 13-inch PCI Express graphics card and four drive bays within this petite mini-ITX chassis, it truly is a unique product. Today at Phoronix we're looking at SilverStone's Raven RVZ01 mini-ITX chassis, the SFX 450W ST45SF-G power supply, and SST-CP11 SATA cabling for building a great Linux HTPC or your own Steam Machine/Box Linux gaming system."

SilverStone Grandia GD08 HTPC Case

"SilverStone makes many different sizes and styles of HTPC cases. The chassis we'll be taking a look at today is their Grandia GD08 which supports a full-size ATX motherboard and power supply along with dual optical drives and as many as eight 3½" and two 2½" hard drives. Provisions for cooling are spacious as well with up to four 120mm intake and two 80mm exhaust fans plus extra venting in the top and rear."

In Win 901 Mini-ITX Case Review

It's hard not to notice the trend towards smaller PC builds. Nowhere was this trend more pronounced than at CES this year. Everyone had a new chassis in the increasingly popular mini-ITX form factor.

XFX Type 01 Bravo Case

"To conclude, XFX has done a decent job with its first chassis and the box even has a check box for an "Alpha" next to the "Bravo", which I can only assume is a white version of the same chassis since XFX website doesn't even mention it. Mysteries aside, I think the flaws in this chassis makes a dent, in what could be, a great chassis. I would advise to get this only if you know what you are getting into and really like the look. In short, to get the full amount of value, you will have to invest a bit of money into buying extra fans if you want the best temperatures."

Cooler Master Elite 110 Mini-ITX Case Review

The Cooler Master Elite 110 Mini-ITX Computer Case is a compact, cube style case that can handle some full sized desktop components, while maintaining a relatively small footprint. With the ability to handle a ATX sized power supply, and desktop graphic cards up to 210mm (8.26 inches), the Elite 110 is aimed at more than just the niche market. Sporting the ability to hold 4 SSDs or 3 HDDs, storage options are not a problem."

NZXT H440 Silent Mid-tower Case Review

NZXT is taking the idea of cable management even further with their new H440 case by hiding critical cable choke-points while providing plenty of cable routes as well as offering remarkable cooling and radiator support on a mid-tower frame.

Corsair Graphite 760T Full Tower Case Review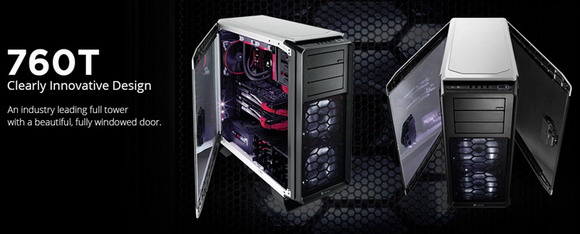 The Obsidian 760T is essentially a 750D with a lot more "oh" and "ah". Flashier on the outside, it sports a more elaborate look, a choice of two colors, a huge window, and a bit more lighting. It even comes with a fan controller right out of the box.

In Win tou Review: All-Glass Case Offers Plenty of Flair, for a Price

The In Win tou is an $800 enclosure inspired by glass architecture and named after the Chinese word for "transparent". Its tempered glass panels are finished with a special coating that turns the outside into a mirror when your PC is off. However, true to its name, when illuminated from the inside with the computer on, the tou's mirror coating becomes transparent.

Raidmax Cobra Z Case Review

"Are you in the market for a budget priced chassis that looks like you spent more? Introducing the Cobra Z from Raidmax, a mid tower case that offers a wide variety of hardware configurations and cooling support. Raidmax frequently leans toward a more budget build of case, yet they don't seem to be lacking the interesting character which appeals to many builders. Does the new Cobra Z live up to the expectations builders look for in a budget case? Read on to find out."

Cooler Master Elite 110 Mini-ITX Case Review

Many enthusiasts now days are trying their hands at minimizing their PC footprint. Mini-ITX motherboards have progressed a long ways in terms of stability and feature set in the last three years. Cooler Master has a new solution for those looking to minimize while not giving up cooling or features in their Mini-ITX enclosure.