[>>]

[>>]

[>>]

[>>]

More>>

Search...

| | |
| --- | --- |
| Cases | |

... 5 news stories awaiting approval
Cougar MX500 @ LanOC Reviews

Just in time for Christmas we have a mid-tower for you, this time from Cougar. The MX500 promises to be a case with a gaming centric design and the capability to handle just about any ATX/mATX setup you could want to throw at it with an array of possible drive setups. With the promise or flexibility and expandability the MX500 looks to target gamers and ever since we got our hands on their Vortex PWM fans we knew Cougar was capable of making quality products. Lets see if they can continue to impress us."

BitFenix Phenom mITX Case Review

When the BitFenix Prodigy was released last year, it expanded on the idea of how much performance could fit in a small case. There were some users (me included) that felt the original Prodigy was just a little too big for an ITX box ? responding to customer feedback, BitFenix wanted to provide a more streamlined option for those users that wanted all that the Prodigy had to offer in a more compact package. With essentially the same internal layout as the original Prodigy, the new BitFenix Phenom (model BFC-PHE-300-WWXKK-RP) caters to those that want something a little more minimalistic with airflow taking a backseat to looks and finesse. Benchmark Reviews is ready to look inside and see how much of the Prodigy legacy stays intact with the BitFenix Phenom ITX case."

Silverstone Raven Z RVZ01 Mini-ITX Case - The Steam Machine Chassis

If you are on the hunt for a Mini-ITX chassis that supports powerful components and would prefer a case design that looks at home in your A/V rack, then Silverstone`s Raven Z RVZ01 is definitely a great option to consider. I am looking forward to upgrading our build with a higher wattage power supply and higher performance graphics card to concrete its place on my shelf with the Xbox One and PS4. It`s not a perfect design, but we have yet to find a SFF case that is."

Elite 110 mini cube compact chassis

The Cooler Master Elite 110 is a Mini-ITX chassis. A full breathable mesh front panel holds space beneath it for a powerful 120mm All-in-One watercooling radiator. Elite 110 Mini Cube is engineered to fit in the minutest spaces while maintaining support for premium hardware. A pleasing, conservative design helps Elite 110 blend into any home environment.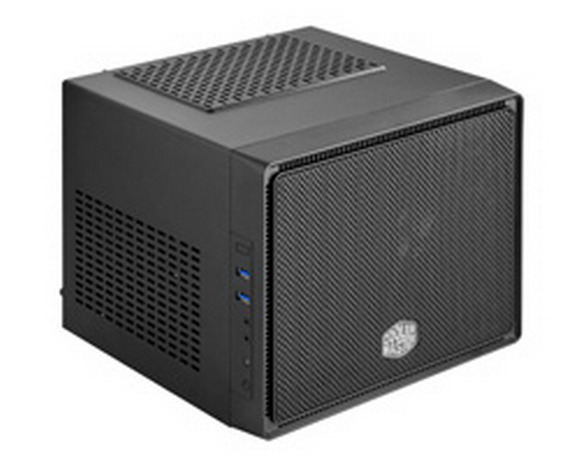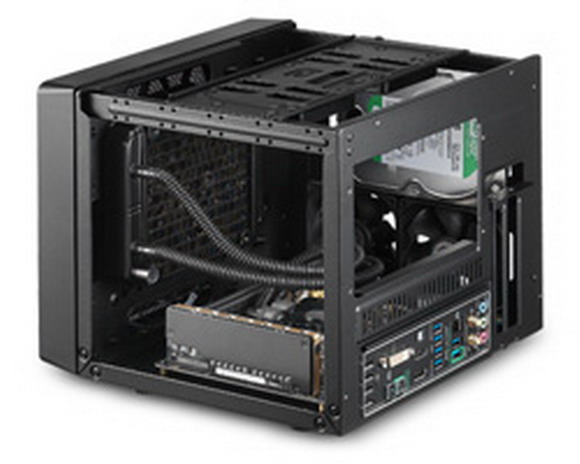 Offering no compromises, Elite 110 is built with an intelligent use of internal space. Mid to high-end graphics cards up to 210mm long can be accommodated easily. A simple, yet effective rear PSU bracket allows Elite 110 owners to easily install long power supplies up to 180mm long. Despite its miniature size, Elite 110 can support a full three hard drives or four SSDs. Elite 110 Mini Cube features full force cooling with its included 120mm front intake fan (compatible with 140mm fans), and 2 x 80mm optional side fans. Users needing quick access to ports will find a rich front I/O panel with two Super Speed USB 3.0 ports and audio in/out.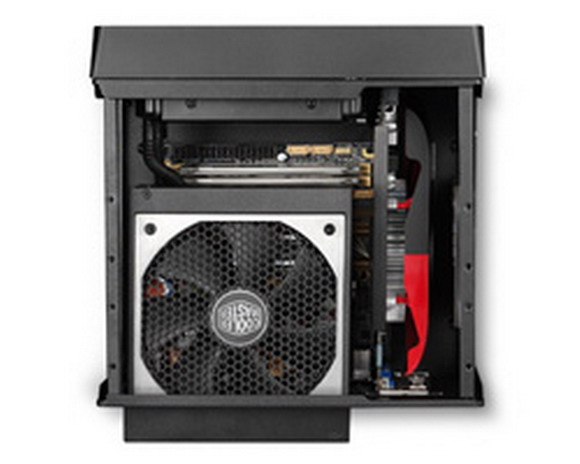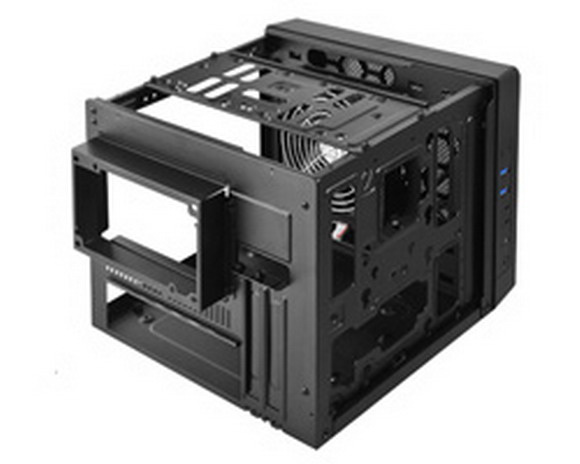 Elite 110 is available now. Price and availability may vary by region. This release is for North America region(s) only. Please consult your local Cooler Master Representative for more information.

NZXT Phantom 530 Case Review @ Hardware Secrets

Today, we bring our analysis of the Phantom 530, a full-tower case from NZXT, targeted to users who want to build a high-end computer in an aggressive look case. Let`s see what this product has to offer."


Corsair Mini-ITX Obsidian Series 250D Case - CES 2014

Corsair's Obsidian Series 250D performance Mini-ITX PC case brings the sophisticated and minimalist design of the Obsidian series to a new smaller size. The 250D is Corsair's first chassis built exclusively for the increasingly popular Mini-ITX form factor. Brushed aluminum and solid steel construction combine with a compact frame that refuses to settle between size, looks or flexibility.
Corsair's smallest case to date, the Obsidian 250D means your PC no longer needs to dominate your desk, instead easily fitting on a book case, sitting beside your HDTV or carried away to a LAN party or dorm. Despite its diminutive size 250D supports not only many of the more popular performance Mini ITX motherboards, but also a wide range of full-size high-performance components, including many of Corsair's Hydro Series liquid CPU coolers, allowing users to push their PC to the limit. The 250D also continues the elegant aesthetic legacy of the Obsidian series, combining a brushed aluminum fascia and sleek panels with a roof-mounted window to reveal the hardware inside.
"Thanks to the increasingly high performance of Mini-ITX boards, it is now possible to build an extremely powerful yet compact system," said Xavier Lauwaert, Director of Product Marketing at Corsair. "The Obsidian 250D is made for users who want a smaller PC but don't want to limit their hardware choices. With support for large liquid coolers, full-length graphics cards and full-size modular power supplies, 250D is Mini-ITX without compromise."
Obsidian Series 250D Specifications
Expansion Room
Two expansion slots and 290mm of internal clearance allow the use of any current stock graphics card.
Supports all modern ATX power supplies, with 200mm of PSU clearance
Two tool-free 3.5"/2.5" combo bays
Two tool-free 2.5" only bays
Full-size 5.25" drive bay
Two front mounted USB 3.0 ports for easy peripheral or external storage device connection.
Cooling Flexibility
Two high-airflow fans are included (1x AF140L and one 1x AF120L) for excellent airflow and low noise levels.
Room for up to 5 fans
Radiator compatibility:
Front – 120mm or 140mm
Side - 120mm/240mm
Storage Layout Options
Modular toolless drive caddies can be accessed from the rear of the case.
A pair of 3.5"/2.5" drives and two 2.5" only drives can be simultaneously mounted.
Full-size 5.25" optical drive bay.
Builder Friendly Features
Thumbscrew side panel removal and expansion slots.
Tool-free 3.5", 2.5", and 5.25" drive bays.
Easily accessible (and removable) front, side, and PSU dust filters.
Excellent cable routing with multiple tie-down points for improved airflow and cleaner, neater builds.
Two USB 3.0 ports and headphone/mic jacks in the front panel for easy access.
Dimensions and Weight
Height x Width x Depth
11.4 x 10.9 x 13.81 inches
290mm x 277mm x 351.2mm
Weight
4.42 kg
9.7 lbs
Pricing, Availability, and Warranty
The Obsidian Series 250D has a suggested retail price of $89.99 in the US and will be available in late January from Corsair's worldwide network of authorized distributors and resellers. It is backed with a limited 2-year warranty and Corsair's excellent customer service and technical support.
Full details on the Corsair PC case here.
Corsair at CES 2014 in Las Vegas
Corsair will be showcasing the Obsidian 250D case at CES 2014 in Las Vegas from January 7-10. The products will be shown by appointment only in Corsair's press suite at the Venetian.
Video of the Obsidian Series 250D case:

IN WIN 904 Review @ Vortez

904 is a mid-tower computer chassis which uses a combination of aluminium, thick tempered glass and a unique feature-set enabling it to break out of the mould of traditional computer case design. IN WIN have made bold moves in the past, how will 904 shape up?"

Cooler Master N200, N300, N500 & N600 review

Cooler Master has a series of affordable chassis called the N series. They're supposed to cool well and are made for liquid cooling including 240 mm radiators, perhaps making them a good and affordable option for a powerful rig. We tested four N series models and compared them to 28 other chassis in the same price segment.

Cooler Master Cosmos SE ATX Tower Case Review

Summary: The Cosmos SE is the full size Cosmos little brother. The Cosmos SE is packs a massive amount of features into a small package. The case is modded from the factory, but there is so much more to be done.

Fractal Node 304 White Computer Case Review

While visiting Computex Taipei 2013, the MadShrimps crew encountered a lot of mITX-ready cases at the different enclosure manufacturer's booths. Fractal Design, Sweden's leading case manufacturer seemed to have picked up the trend too and sent us the little Node 304 Cube. Two 304 Node versions are available based on the color scheme; either opt for the classic black one or go for the more sparkling and stylish white version. Also big thanks to Gigabyte for sending us a mITX Z87 board to allow us to finalize our build. Without any further ado, let's open the box.

Chenbro SR30169 Mini-ITX Server Chassis

The Chenbro SR30169 is a sturdy SOHO server case with four hot-swap 3.5 inch drive bays accessible behind a front mesh door, ATX power supply, and a convenient modular design.

Fractal Design Node 304 Mini-ITX Case

The Design Node 304 is an evolution of Fractal's earlier Mini ITX NAS Case geared primarily for server duty. How well does it manage the noise and vibration of six 3.5" drives? Can this modest 20 litre case keep the system cool enough?

In Win 904 Tower

"In Win has just released their brand new 904 case. This full aluminum tower features tempered glass sides and a solid frame. This allows for stability by design while giving your PC that high-tech, industrial look that's popular. It also comes with a hidden ODD bay and four USB 3.0 ports. It only supports two internal fans and limited radiator sizes, but perhaps that's to be expected to create this work of art. The split design in the back assists in managing your cables at the rear going to your I/O board, completing the package."

BitFenix Phenom Mini-ITX Case

The BitFenix Phenom is a big, elegant cube style mini-ITX case, offering a little bit of everything. Does it fulfill its promise for just $80?

Fractal Design ARC Mini R2 Case Review

Next, there is included support for larger video cards and CPU coolers, making it a very welcome addition to this small chassis. Lastly is the water cooling support, which to me it is a dud because you lose either one or both bays when installing anything other than a 240mm radiator on top. The reason why I kept it in the Pros was because it`s very uncommon to support a custom liquid cooling setup in the realm of small chassis, but Fractal Design added it anyways, even if it might be less than practical. It does not hurt the chassis in any way by including it, so it is a warm welcome in my eyes."



The best Guides by the best writers on the internet; PCSTATS Beginners Guides explain computers, software, and all those other wonderful things that cause you frustration.

Learn how to use your computer better, master the internet while protecting yourself, and know what to do when your hard drive kicks the bucket.



"Get the 'Stats and Stay Informed!"