| | |
| --- | --- |
| Hard Drives | |

... 3 news stories awaiting approval
Western Digital 1TB WD RE4 Enterprise Hard Drive Review

Western Digital started segmenting their storage products into tiers; external storage drives are arguably on the very lowest rung, followed by WD Green, Blue and Black Caviar desktop hard drives. Shortly thereafter, WD introduced 'RE4' drives for Enterprise Storage applications.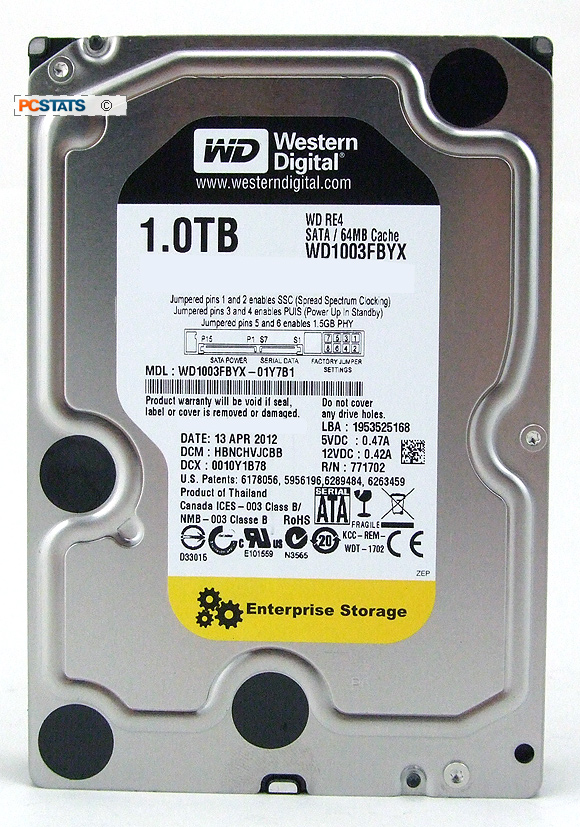 In this review PCSTATS is testing out a 3.5" Western Digital RE4 WD1003FBYX hard drive. The WD RE4 WD1003FBYX is a 1.0TB hard drive which utilizes Perpendicular Magnetic Recording and operates on the 3Gb/s SATA II interface. It features StableTrac, IntelliSeek, NoTouch ramp loading head technology, a multi-axis shock sensor, RAFF technology and RAID specific Time Limited Error Recovery. The drive supports a typical sustained data transfer rate of 128MB/s and has two platters/four heads beneath its shiny metal exterior.

Corsair Force GS 240GB SSD review

We review the Corsair Force GS 240GB SSD. Corsair introduces the Force GS series, and that are equipped with the 2281 series SandForce controller. Paired with SanDisk Toggle Toggle NAND flash ICs that will increase read and write performance to 555MB/s and 525 MB/s respectively which makes the Force GS the fastest SSDs they have ever brought to market. With 4K random write performance estimated at 90,000 IOPS (input/output operations per second) the product is definitely in the right performance bracket we like to see Corsair in. But have a peek at the review"

OCZ Technology Vertex 4 256GB Solid State Drive Review @ Bigbruin.com

The OCZ Technology Vertex 4 256GB solid state drive is an impressive unit, and a nice upgrade over the previous generation of Vertex drives. During testing it was particularly strong in most of the read tests where the only close competition was an Intel 520 series drive. However, when it came to write speeds none of the reference drives were even close."

Super Talent ST1 and ST2 USB 3.0 Flash Drive Review @ Legit Reviews

The two drives we have to review today are the Super Talent Express 3.0 ST1 4GB and the Express 3.0 ST2 8GB. These two are the smallest capacity drives of their respective lineups. The ST1 ranges from 4GB-16GB, and the ST2 ranges from 8GB-32GB. The ST1 uses Super Talents ToggleMode DDR (double data rate) flash which claims 90MB/s read and 16MB/s write speeds. The ST2, however, uses a dual channel MLC flash, claiming 67MB/s read and 24MB/s write speeds..."

Corsair Force GS 240GB Review @ Vortez

At the beginning of this month Corsair announced Force GS Series; A new line of Solid State Drives that promise to deliver their most competitive read/write transfer rates yet. Armed with SandForce SF-2281 and SanDisk Toggle Mode NAND the Force GS Series is ready to do battle, how will our 240GB drive compare to other prominent rivals?"

Kingston SSD Roundup: HyperX 240 GB

Once again we are looking at second generation SandForce based SSDs. Today we will introduce to you several consumer solid state drives from Kingston. Although these drives are built with typical components, they boast some very unique features and peculiarities.

OCZ Vertex 4 128/256 GB and New Firmware 1.5

Flagship solid state drives from OCZ – Vertex 4 – underwent yet another spec modification caused by the release of the new firmware version 1.5. Therefore, we decided to retest the "updated" Vertex 4 SSDs and try to figure out the reasons behind the notorious performance drop after filling up more than half of the available space.

SSD NEWS: Micron C400 256GB 6Gbps mSATA SSD Review - Crucial M4 mSATA SSD in Disguise

If there was one thing we wouldn`t have predicted, it was the rush of computer enthusiasts lining up to be the first to have what amounts to be the smallest and most powerful consumer storage medium available. For the most part, we have Lenovo to thank for that as millions of Thinkpad owners played a key role in mSATA SSDs flying off the shelves quicker than they could restock. Industry has responded well, however, as mSATA becomes the new `SSD Du Jours` for the new ultra crowd. Our report today is going to be our second of the Micron C400 family, the first being the C400 128GB capacity with today`s being what will soon be the industry standard ultrabook size of 256GB. For those wondering about similarities between the Micron C400 and the newly released Crucial M4 SATA 3 SSD, they are twins. Crucial handles the consumer side of things while Micron deals with the OEM and enterprise world; the sole difference between the two seems to be exterior branding sticker only."

OCZ Vertex 4 256 GB @ techPowerUp

Today we have on our testbench OCZ`s 256 GB Vertex 4 SSD, using the latest version 1.5 firmware. In our testing we see excellent performance from this Indilinx based drive. OCZ also brought the price of the SSD down to $210, which makes it one of the most affordable drives on the market both in terms of performance per Dollar and GB per Dollar."




[Tech ARP] Western Digital VelociRaptor (WD1000DHTZ) 1 TB Hard Disk Drive Review

Western Digital recently launched their third-generation VelociRaptor hard disk drive, which continues to be the world`s only 10,000 RPM hard disk drive with a SATA interface. The third-generation VelociRaptor improved on its predecessor by using Advanced Format Technology (AFT) and higher-density platters to deliver not only 1 TB of storage capacity but also a sustained throughput of 200 MB/s. Take a look at its key features : *- Ultra fast - Rock-solid reliability - Ultra-cool operation - Advanced Format (AF) - IcePack mounting frame - NoTouch ramp load technology - Pre-emptive Wear Leveling (PWL) - Rotary Acceleration Feed Forward (RAFF)* We did *a short analysis of the drive * earlier, but we are now able to produce a full review, after extensively testing this drive. Let`s take a closer look!"

Corsair Force GS 240 GB @ techPowerUp

Corsair`s new Force GS SSD introduces toggle mode NAND flash, which promises increased performance at similar pricing. In our testing we see excellent real-life performance results from this SandForce based drive."

2x Crucial m4 128GB CT128M4SSD2 SATA3 SSD RAID0 Review

Today, two fast Crucial m4 128GB SSDs were tested in RAID0 to get more performance. Regarding TRIM there are still weak points for a SSD RAID, but the ocinside.de review will show if this is really important. The team of 2x Crucial m4 128GB in RAID0 is compared against 1x 256GB Crucial m4 and against 1x 128GB Crucial m4. We will see who keeps one step ahead and if it is better to buy one large SSD or two smaller SSDs.

SSD NEWS: OCZ Agility 4 256GB SSD Review ? Workhorse Performance and Top Value

A measuring stick seems to have evolved in the SSD arena where performance can be separated by the type of data being tested. Some SSDs excel in transferring compressible data while others in incompressible data, such as we might see in music, video and photography. Our report today will evaluate the new OCZ Agility 4 256GB SSD which houses the Indilinx Everest 2 platform, a platform that has been a true leader in incompressible data testing as seen in our Vertex 4 review this past April."