| | |
| --- | --- |
| Beginners Guides | |

... 0 news stories awaiting approval
Troubleshooting and Fixing Windows 8's Boot Configuration

Windows 8 received a decent amount of enhancements on the desktop side that I tend to appreciate versus running Windows 7. One such area of improvement is notification management and how it handles updates and system restarts. Running the final version of the OS for a few months now, it's been a painless affair until this past weekend. Unable to boot all of sudden, after some troubleshooting I settled on the idea that it wasn't a hardware problem. With a long history of dual booting different versions of Windows over the years, finding a corrupt MBR, boot sector, or Boot Configuration Data (BCD) is nothing new, but it took me longer than usual to come to a solution.

How to Restore Old Computers to Their Original Color

"Plastic parts of older computers become yellow or brown over time, so you end up with a computer that looks yellow or brown instead of white or gray. In this tutorial, we will show you how to restore old plastic parts to their original color by using a homemade peroxide-based solution called Retr0bright."

Repairing an HP LaserJet Fuser Film Sleeve

Repairing an HP LaserJet M3035xs office printer with a little exploratory surgery to replace its failed Fuser Film Sleeve... a common failure point on this HP business printer apparently. Poor design on HPs part -- hang your head in shame nameless Hewlett Packard Engineer... in SHAME!!

News: How to build a PC

Building a PC from parts might seem daunting, but it`s really not that difficult. We`ve published an in-depth guide that walks through every step in the process in painstaking detail. The guide is laced with video footage, including a full-length cut that chronicles the build from start to finish."

PC Buyers Guide Winter 2012

1.html,Guru3D offers you their bi-annual PC Buyers Guide, this is the 2012 Winter slash Christmas edition. This article brings you a set of recommendations of products we feel are great components to build yourself a nice gaming rig. We go from low-end targeted at gamers, to high-end for the enthusiast fragger. Again, we make these guys with gamers in mind."



Beginners Guides: Hard Drive Data Recovery

Killed a hard drive without backing up? Deleted your babies first photo and already emptied the recycling bin? Not to worry, you can probably recover your data with the help of this guide from PCSTATS.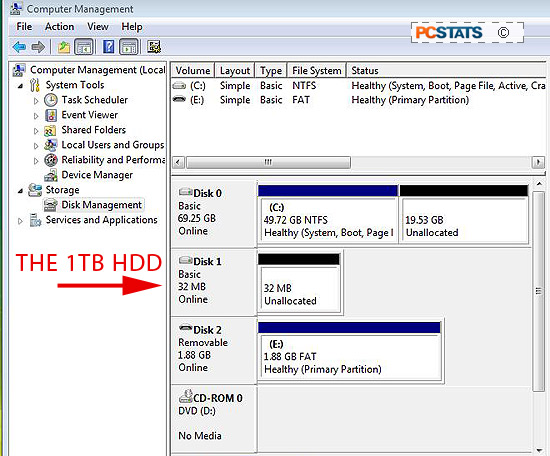 "The loss of factory hard drive capacity seems to be an increasingly common occurrence with very large capacity (ie. 1TB) hard drives, but it's not specific to any one hard drive manufacturer. It can happen to brand new drives or existing hard drives full of data. In either case the data portion of the drive isn't generally affected. If a new or existing hard drive in your computer suddenly pops up with a capacity of 32MB, or another value equally small compared to the true drive size, don't freak out, the data should still be there."

Beginners Guides: How To Install/Remove AMD Socket FM1 CPU and Heatsink

AMD made several noteworthy accomplishments with its socket FM1 'Llano' processor, the most important being the integration of a graphics core directly onto a CPU die which substantially reduced motherboard complexity. Major architectural changes were also brought forth by AMD's Fusion family of processors, yet like the socket AM2/AM2+/AM3 processors that preceded it AMD kept the socket and heatsink mounting system totally compatible. Installing a socket FM1 AMD A8-series processor into a motherboard is not too difficult, unless you've never done anything like this before and in that case a little guidance is called for.

[Tech ARP] Thomson / Technicolor TG784n Port Forwarding Guide Rev. 2.0

Port forwarding is important if you have applications or games that require an unobstructed connection from a computer on your local network to a remote service or server. What it basically does is open a port in your firewall and direct all traffic that is sent to that port to a specific computer on your network. Think of it as opening a secret entrance in your city wall and then routing all traffic that goes through it to a specific house. If you do not set up port forwarding for your application, it may not be able to connect to the service or you may have to live with reduced performance. This port forwarding guide is for those who are using the *older Thomson TG784n* router, or the *newer Technicolor TG784n v3* router. Although the example uses the latest Technicolor TG784n v3 router, the steps are the same for the older Thomson TG784n router. Let`s get right down to it! *In this update, we made various improvements and corrections to the guide. We also added some information on the default MAC address selection.*"



SysAdmin Corner: 7 Network Security F-Ups Small Offices Make @ Techgage

It`s easy to overlook that huge corporations are far less dangerous than the small business you deal with each and every day with regards to information theft. Some institutions have treasure troves of info on you that can far exceed the big fish. If you work in a SMB, you can`t afford to have your info stolen, so read on for some important tips."

F1 2012 Tweak Guide @ Rage3D.com

We run Codemasters` latest racer through the ringer to show you which settings impact performance and visuals the most. If you need some assistance tweaking, this will help you on your way."

SysAdmin Corner: Demystifying RAID @ Techgage

Interested in RAID, but not sure which option is right for you? The goal of this article is to clear up any confusion you may have. We discuss what RAID is, what it isn`t, potential dangers, differences between popular RAID levels and last but not least, what you need to get yourself up and running with your very own RAID."

How to install Windows 8 Release Preview using Oracle Virtual Box @ Rbmods

With the advent of desktop virtualization becoming more mainstream, it gives the computer enthusiasts and IT professional to test different operating systems easily. One product that is used quite often is Oracles Virtual Box. Virtual box is an open source type 2 hyper-visor that uses the hosts resources to run a virtual machine in an isolated environment. This gives the ability to test beta and release candidate operating systems without impacting your production workstation."