| | |
| --- | --- |
| Beginners Guides | |

... 1 news stories awaiting approval


SysAdmin Corner: 7 Network Security F-Ups Small Offices Make @ Techgage

It`s easy to overlook that huge corporations are far less dangerous than the small business you deal with each and every day with regards to information theft. Some institutions have treasure troves of info on you that can far exceed the big fish. If you work in a SMB, you can`t afford to have your info stolen, so read on for some important tips."

F1 2012 Tweak Guide @ Rage3D.com

We run Codemasters` latest racer through the ringer to show you which settings impact performance and visuals the most. If you need some assistance tweaking, this will help you on your way."

SysAdmin Corner: Demystifying RAID @ Techgage

Interested in RAID, but not sure which option is right for you? The goal of this article is to clear up any confusion you may have. We discuss what RAID is, what it isn`t, potential dangers, differences between popular RAID levels and last but not least, what you need to get yourself up and running with your very own RAID."

How to install Windows 8 Release Preview using Oracle Virtual Box @ Rbmods

With the advent of desktop virtualization becoming more mainstream, it gives the computer enthusiasts and IT professional to test different operating systems easily. One product that is used quite often is Oracles Virtual Box. Virtual box is an open source type 2 hyper-visor that uses the hosts resources to run a virtual machine in an isolated environment. This gives the ability to test beta and release candidate operating systems without impacting your production workstation."

How to Make Your Own Cat5e Network Cable @ Techgage

* Despite their simplicity, pre-made networking cables are expensive - especially if you`re in need of outfitting your entire house. Luckily, making your own cables isn`t only far less expensive, but easy, and perhaps even a little bit fun. If you`re still unsure, read on as we explain the entire process from start to finish."

How To Remove Other Data From Your iPhone @ ThinkComputers.org

Over the past year or so I have noticed when syncing my iPhone with my PC that data labeled as Other was taking up quite a lot of space. Im not talking about just a few megabytes, Im talking almost 3 gigabytes! When your iPhone is only 16GB losing 3GB or more is definitely a lot and does not go unnoticed when your iPhone is filled with music, apps and photos. There are many different things that actually could cause your Other data to pile up. So in this guide we will go over different solutions to minimize or completely remove the Other data on your iPhone. These solutions should also work with your iPad, iPod or any other iOS device."

How to Add a Move to Trash Button in Wordpress

If you are frequently making changes to your WordPress blog, you have have become tired of having to go through a bunch of menus to delete an out of date or irrelevant post. With a simple edit to your functions.php file, you can add a "Move to Trash" button to your WordPress Admin bar for simple deletes.

Emulate an Android Tablet on your PC

Not everyone knows how to build a computer scratch, and many more are completely clueless when it comes to something as simple as upgrading a stick of RAM. So I'm going to give a quick and dirty lesson on how to install new memory on your motherboard.

Emulate an Android Tablet on your PC

Do you want to test-drive Android apps before you buy a tablet or phone? Is your phone too slow to play the latest Android games? An Android emulator may be just what you need.

PC Rejuvenation Guide @ ThinkComputers.org

So your computer has seen its heyday and now it seems that it is slower than it once was. Your computer is hanging when opening relatively simple applications, it takes what seems like a lifetime to finish loading into Windows, and often you get issues trying to do anything at all that could be considered intensive. This guide is here to help you revive your computer and restore it to a level of performance that you may feel is lost to you. Well start with in-Windows tools, moving on to third party software, and then finally, hardware changes or upgrades."

Guru3D Rig of the Month - July 2012

This months build comes from a guy with the nickname MybadOmen. To proof that PC enthusiasts can be found worldwide in all categories and ages we can proudly say that David Lane is a 40 year old guy. David has build an exemplary nice PC loaded with little things that trick the mind. Very little is not modified to be honest. Read the article right here"

Beginners Guides: Virtualized Windows 8 CP Installation with Oracle VirtualBox


Before blindly upgrading an entire office of existing PCs into the unknown, most IT departments will roll out one trial system to test the new OS. This preemptive step allows IT staff to check the OS in the existing hardware environment with the already bought-and-paid-for software. With Microsoft Windows 8, testing before a mass roll out is a particularly important step to ensure software compatibility. It's also a pretty crucial step to give yourself time to get acquainted with the drastic user interfaces Microsoft has imposed.
There are two ways to go about testing a new OS like Windows 8; 1) install the OS to a spare computer system and test away, or 2) install the OS to a virtualized PC. In this Beginners Guide, PCSTATS will show you how to create a virtual PC with Oracle VirtualBox v4.1.18 (it's free and very capable virtualization softare) and then install Windows 8 Consumer Preview to that virtual machine.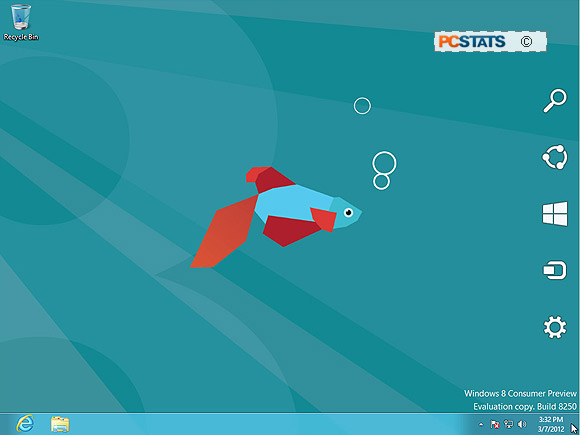 Inside the Card-That-Unlocks-All-Cable-Channels Scam @ Hardware Secrets

Have you ever heard of a smart card that unlocks all channels of your cable TV? This is obviously a scam, as no such device exists. Channels are locked and unlocked at the cable TV`s side, not at the customer`s side. This week a shady individual showed up at our office offering such a card. Our lab assistant winked and said, This will give an excellent article. Let`s take a look at it."

Better Power Management for your NAS

Computing on Demand has posted a new article, 'Article: Better Power Management for your NAS' Having a NAS for your business or your home means that you have around the clock access to your data. The drawbacks to this constant availability of data is consumption. Do you really need your NAS running at non critical times? Managing your NAS more effectively can reduce your consumption and increase your sense of environmental sustainability. Whether you have a model manufactured by Thecus, Synology, QNAP, etc, there are some types of power management functions available to you.