[>>]

[>>]

[>>]

[>>]

More>>

Search...

| | |
| --- | --- |
| Power Supply | |

... 0 news stories awaiting approval
Enermax Pro82+ II 625W Power Supply Unit Review

Out to get a mid-level, high quality, high performance power supply unit that won't break the bank? If so then the Pro82+ II line of power supply units by Enermax is without doubt amongst your top choices currently in the market.

PowerTune technology get into the mix?

"That being said, the new HD 6970 and HD 6950 have some great performance results. The HD 6970 was able to compete very well against the similarly priced GeForce GTX 570 and even beat it in many of our tests including the once-NVIDIA-dominated Metro 2033 title. In that instance, the HD 6970 was almost able to keep up with the GTX 580 priced at least a $150 higher on the graphics card scale. It's close but if I were to select a winner in the battle between the HD 6970 and the GTX 570, I would likely go with the new AMD option."

Zalman ZM850-HP Plus Power Supply Review

"Zalman has just released a new power supply line, the HP Plus, featuring two internal heatpipes and modular cabling system. Currently only two models are available, 850 W and 1,000 W, both with 80 Plus Silver certification. Although they are not selling them yet, Zalman has already got 80 Plus Bronze certification for the 500 W, 600 W, and 700 W models, so they will be releasing these models in the near future. Let's see if the 850 W model is a good buy."

PowerColor Extreme PX 1000W

"We're looking at the PowerColor Extreme PX 1000W power supply, a unit that sports some very unique aesthetics for a PSU, though we have seen a similar color scheme and styling on their graphics cards. But good looks will only get you so far. The specifications of the PX 1000W are impressive on paper, but what happens when we load it up to the gills with some of the most power hungry components out there? Let's find out."

Seasonic X-Series 850 W Power Supply Review

"Originally released with 650 W and 750 W versions, Seasonic expanded their 80 Plus Gold X-Series to include 560 W, 660 W, 760 W and 850 W versions. Let's take an in-depth look at highest-wattage model."

Seasonic X-760 760W 80Plus Gold Power Supply Review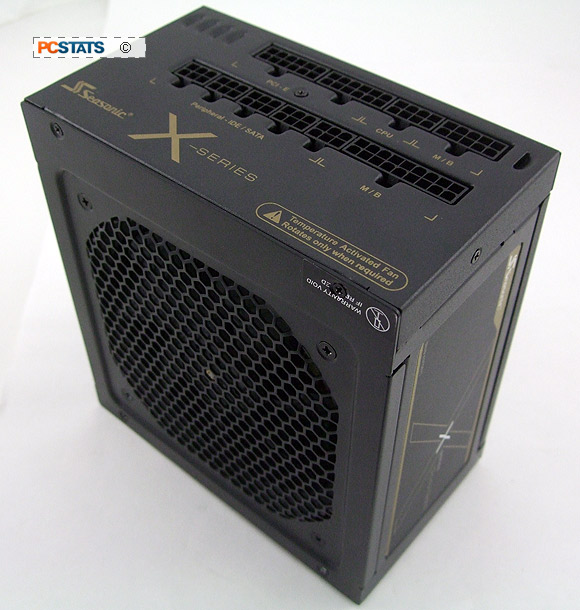 "In this article PCSTATS will examine a 760W power supply from Seasonic's flagship modular gaming "X" series. The Seasonic SS-760KM is an Active Power Factor Correction (A-PFC F3) power supply that boasts an80 Plus Gold rating. It features a +12V rail capable of delivering 63 Amps, four 6/8 PCI Express videocard power connectors and the convenience of modular cables. The Seasonic SS-760KM X-760 power supply retails for about $180CDN and is covered by a five-year warranty. "

How to Discover Your Power Supply Real Manufacturer

"More and more traditional companies from other segments are entering the PC power supply market. However, the majority of them actually don't manufacture their products. In this short tutorial we will teach you how to find out who is the real manufacturer of a given power supply."

Seasonic X-460 Fanless 460W Powersupply Review

"In this review PCSTATS is testing out an entirely fanless, silent 460W power supply from Seasonic's modular "X" series. There aren't very many fanless power supplies on the market so this is a bit of a treat. If you're planning on building 100% silent computer system the Seasonic X-460 Fanless is certainly tempting; it features a 460 Watt power level, modular cable system, matt black fingerprint resistant steel case, good EMI shielding and is able to sustain a peak load of 38A on the +12V rail."

AXP SuperNova 1000 Watt Power Supply

Suffice to say, I think the power supply is possibly the most important component in today's computers. It gives life to our pieced-together monsters, and then takes it away in an instant, if it isn't up to the task. All the shear computational and graphic processing in the world sits unused without electricity. With reverence, I give you the AXP SuperNova , a monster 1000 watt power supply with enough connectors it looks like a boxy spaghetti monster. How well does it work? Let's just say it's worth the asking price. Ramen.

Thermaltake Element Q Mini-ITX Chassis w/ 220W Power Supply

"If you are even slightly computer savvy and have been shopping for anything PC related, I'm sure you have run across the name Thermaltake in your travels. Everything from power supplies, chassis', and cooling has been handled for years by them, and they did quite well making a name for themselves. A while back we did get the opportunity to look at a couple of the mid and full tower chassis' in the Element series designed for gamers and having cooling and wire management being of utmost importance. Today the Element series is taking a turn, or a reduction to be more precise. The chassis we are about to look at is quite Spartan compared to its much larger brethren, as this chassis isn't exactly directed at gaming as the others were. This time the chassis gets dropped to about the height of your favorite 12 oz. beverage, and is designed to go in a HTPC environment or a low power web surfing and email machine if you don't want to include this to your home theater."

Cooler Master Choiix Cruiser Mouse and Power Fort Charger

The world is getting more and more mobile when it comes to technology that used to be centered on the home computer. More and more people are now depending on laptops to do what used to only be attainable via the desktop at home. While this can partly be attributed to the fact that laptops are now just as capable as desktops when it comes to basic functions like internet surfing, word processing, and the like, the move to mobile is also for convenience whenever you are away from home. With this in mind, Cooler Master's Choiix line of products caters to the travelling laptop and mobile device user. The two products we are looking at today, the Choiix Cruiser mouse and Power Fort portable charger, look to enhance your mobile experience without taking up a whole lot of space in your bag. Let's take a look at what these two products have to offer."

Ultra LSX 750W Power Supply

"I know from past experience that other Ultra power supplies haven't quite been up there with the best, but the LSX 750W electrical performance is excellent. The DC voltage load regulation, in combination with very low noise/ripple levels, make for very good DC quality on all the rails. The efficiency, though not quite meeting its 80 Plus Bronze certification following the OCC power supply testing methodology, is still very good at 87% maximum."

Thermaltake Toughpower XT 875W Power Supply

"Thermaltake is well known for their quality power supplies and the examples we have seen here at TweakTown are certainly no exception. The last time we took a look at Thermaltake PSU, it performed almost flawlessly. This time around we are taking a look at something that appeals to more than just the hardcore enthusiast crowd. The Toughpower XT 875W power supply is beefy enough to support dual GPU's and still offers plenty of connectors for other peripherals inside the computer. Keep reading on to find out all about it and how well it fairs against our gauntlet of tests."

Thortech Thunderbolt Plus 800w Power Supply

Many manufacturers fight to take the very important spot of power supply when it comes to powering your all star rig, many with aspirations far beyond their means. A relativity new company Thortech has decided to invoke the god of thunder in an attempt to blast its way into our hearts with its Thunderbolt Plus line of power supplies. The Thunderbolt Plus 800w hopes to set itself apart from the crowd by coming as modular power supply with a unique addition.


Thermaltake Toughpower XT 875W and Toughpower

We all know, the computer industry isn't one to wait and loves nothing more than to push out the newer, shinier latest and greatest. Still however, although aged, the Toughpower and Toughpower XT lines are still relevant today as ever.



The best Guides by the best writers on the internet; PCSTATS Beginners Guides explain computers, software, and all those other wonderful things that cause you frustration.

Learn how to use your computer better, master the internet while protecting yourself, and know what to do when your hard drive kicks the bucket.



"Get the 'Stats and Stay Informed!"