[>>]

[>>]

[>>]

[>>]

More>>

Search...

| | |
| --- | --- |
| Tips | |

... 0 news stories awaiting approval
Office 2013 Crashes on Start Up - Solved - PCSTATS TechTip

"After a couple days reading through posts about disabling Office Add-ins in vain attempts to get Office 2013 applications to NOT immediately crash on start up... PCSTATS has found the solution. We've tested it and it works. If Outlook 2013, Excel 2013, Word 2013 or another program in Office 2013 is crashing the moment you start the program, here's what you need to know to fix things."

PCSTATS TechTip: Excel Cannot Complete this Task with Available Resources - SOLVED

PCSTATS TechTip: SOLVED - Excel Cannot Complete this Task with Available Resources...
So, you have a massive 45MB Excel spreadsheet open with multiple pages and you're about to update a few thousand cells when this error box pops up: "Excel cannot continue this task with available resources. Choose less data or close other applications. Continue without Undo?" What to do?! This can be a frustrating experience, especially if you're certain the computer is powerful enough and has 4GB or more RAM installed. The issue is indeed resources related, but adding more memory will not fix things. If for example you have Chrome or Firefox open with a couple dozen tabs at the same time, closing that browser while working in Excel can help alleviate the resource limitation... but not always.
A PCSTATS reader who uses Microsoft Office Home and Business 2013 recently wrote in for help with this problem . Here's the permanent way to solve the "Excel Cannot Complete Task with Available Resources" error.
How to Fix: Excel Cannot Complete Task with Available Resources Error
To begin with, confirm you are running the 64-bit version of Microsoft Windows 7 or 8 operating system. Next launch Excel, then open up 'Task Manager' (right click on taskbar > Start Task manager) and navigate to the 'Processes' tab. You should see "Excel.exe *32" listed. If that's the case, the reason Excel is crapping out when you work with large .xlsx spreadsheets is because 32-bit Excel is installed and 32-bit Excel can only address 2GB of system RAM. Excel needs more system resources, but for that you MUST install the 64-bit version of Microsoft Office.
To do that, uninstall Office 2013 and reinstall the 64-bit version of Office 2013. This is easily done from the 'Office Home and Business 2013' disk by 1) CANCELLING the setup.exe program which immediately loads and then 2) navigating on the Office disk to the folder '/office' and double clicking on 'setup64.exe'. This will force Office 2013 to install the 64-bit version -- the default installer loads the x32 version of Office which is compatible with both x32 and x64 operating systems.
That's it! With the 64-bit version of Microsoft Office Home and Business 2013 installed Excel will address as much memory as is installed & available to applications. This PCSTATS TechTip can be applied to Office 2010 which also comes in x32/x64 flavours. If you want to confirm you've installed the x64 version of Office 2013, launch Excel, then open up 'Task Manager' (right click on taskbar > Start Task manager) and navigate to the 'Processes' tab. You will now see "Excel.exe" listed, which means a native x64 application is running in the x64 version of Windows 7/8 operating system.
For good measure, you can also take the extra step of installing 64-bit version of Chrome Beta.

PCSTATS TechTip - Windows 7 and older Integrated Graphics Drivers

Windows 7 and getting older Integrated Graphics Drivers to Run in Compatibility Mode
While setting up an old Dell computer for use as a Remote Desktop Connect (RDC) Terminal in the labs here, we encountered a bit of problem... Windows 7 drivers for Intel's 915G integrated graphics solution are nowhere to be found.
The PC was only going to be used for VNC'ing and RDC'ing into servers, so 2GB of memory and a smallish hard drive were fine, but since I reused a surplus 19" CRT, the monitor flicker from a 60Hz refresh rate was horrible to look at for more than few seconds. Microsoft's default IGP video driver wouldn't permit higher refresh rates - we needed an actual Intel 915G driver to solve this!!
The solution all came down to using Win7's 'Compatibility mode' in a unique way.
Downloading the Intel Graphics Media Accelerator Driver for WinXP (here) and simply running the program didn't work - the driver fails to load because it's expecting WinXP OS. The key is to save the old Intel 915G driver to the desktop, then right-click on the file > properties > Compatibility > check 'Run this program as Windows XP SP3' and check 'Run this program as administrator'. Then double click on the driver and install it.
Now the installation will proceed properly and the correct Intel GMA graphics driver for the i915G chipset will be installed. Restart the PC and adjust the Display Adaptor's Refresh rate from 60Hz to 75Hz. That's it. The eye-straining flicker is dealt with and an old computer is kept out of the landfill serving a useful duty a few more years.
If you have an older PC with integrated graphics that can run Win7, use this tip to get the right IGP driver installed via Compatibility mode. :) Be nice, 'Like PCSTATS' on FB.
Let us know what you think of this Tech Tip!


Dealing with CryptoLocker ransom ware

Anyone have a viable work-around for CryptoLocker?

If you're unlucky enough to ever see this message, your data is gone. If you've slayed this dragon, please share your tricks! There's good information on how you may be infected here.

Bleepingcomputer has a decent write up on a GroupPolicy hack that can help prevent systems from being infected before the damage is done.

Source: Computerworld. "Open up Local Security Policy or the Group Policy Object editor and create a new GPO. I'll show you how to create two here -- one for Windows XP machines (which use slightly different paths for the user space) and one for Windows Vista and later machines.

Name the new GPO "SRP for XP to prevent Cryptolocker" or something similar for you to remember easily.

Choose Computer Configuration and then navigate through Policies ? Windows Settings ? Security Settings ? Software Restriction Policies.

Right-click Software Restriction Policies and choose New Software Restriction Policy from the context menu.

Now, create the actual rules that will catch the software on which you want to enforce a restriction. Right-click Additional Rules in the left-hand pane. Choose New Path Rule.

Under Path, enter %AppData%\*.exe.

Under Security level, choose Disallowed.

Enter a friendly description, like "Prevent programs from running in AppData."

Choose New Path Rule again, and make a new rule like the one just completed. Use the following table to fill out the remainder of this GPO."

If you computer regularly makes System Restore points, there's a chance you can restore the encrypted files from the previous restore point using what are known as "Shadow Volume Copies". See Bleepingcomputer for that as well. You'll need a program called Shadow Explorer to restore entire folders.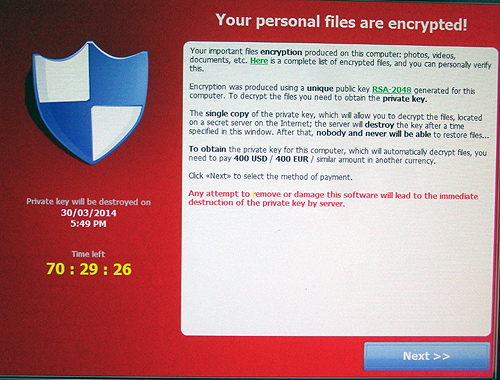 Office 2013 Crashes on Start Up - Solved - PCSTATS TechTip

Office 2013 Crashes on Start Up - Solved - PCSTATS TechTip
After a couple days reading through posts about disabling Office Add-ins in vain attempts to get Office 2013 applications to NOT immediately crash on start up... PCSTATS has found the solution. We've tested it and it works.
If Outlook 2013, Excel 2013, Word 2013 or another program in Office 2013 is crashing the moment you start the program, here's what you need to know to fix things.
Step 1) First, load up the application up in safe mode and disable all Add-ons. For the purposes of this PCSTATS TechTip let's say Outlook 2013 is the problem application.
To start Outlook 2013 in safe mode (bare in mind starting an application in safe mode is not the same as starting the OS in safe mode), hold down the CTRL key and double click on the program icon. A window will pop up asking if you want to start the Outlook 2013 in safe mode > click yes.
Go File > Options > Add-ons > the 'View and manage Microsoft Office Add-ins" window will then list all the Active Application Add-ins, Inactive and Disabled Application Add-ins. Go down to the bottom of the screen where it says "Manage: COM Add-Ins" and click "Go..."
Uncheck all the add-ins displayed and click OK. Close Outlook.
Step 2) Go to Start and type "regedit" > in Registry Editor go > HKEY_Current_User/Software/Microsoft/Office/15.0/Common > right-click on "Common" and go New > 'Key' and type "Graphics". Right-click on "Graphics" and go New > 'DWORD Value' > type in "DisableHardwareAcceleration". Right-click on "DisableHardwareAcceleration" and choose Modify > assign it Value of "1".
Open the Office 2013 application that was giving you problems, you'll now see that it starts without crashing. Let PCSTATS know what you thought of this TechTip by using the Feedback form!

PCSTATS TechTip: Isolate a browser with Sandboxie to protect your PC

PCSTATS TechTip: Isolate a browser with Sandboxie to protect your PC from Malware
If your day job includes checking out hundreds of websites for an advertising company, you're bound to visit more than a few dodgy sites and click on a fair number of suspect links. This kind of work can be as risky as riding a motorcycle without a helmet!
One way to help protect your PC from the malware and mischievous scripts a web browser is exposed to, is to run the browser in what's called a 'sandbox'. A sandbox is computer term for an isolated virtual container in which untrusted programs can be run. One such application is called Sandboxie.
Sandboxie 4.08 (www.sandboxie.com) allows you to "Run programs in a sandbox to prevent rogue software and other malware from making permanent changes to your PC, by not allowing them to write to the hard drive." The program is 32-bit and 64-bit compatible and works with any web browser, or program for that matter. Download it here and install the program. It will automatically sandbox whatever browser is set to your default, ie. FireFox, Internet Explorer or Chrome.

To launch the Sandboxie version of the web browser, click on the pizza slice icon. This will bring up a browser window denoted by [#] hash tags [#] and a yellow line when you mouse over it. Within this browser you can do everything you'd normally do, with all your bookmarks and extensions, etc.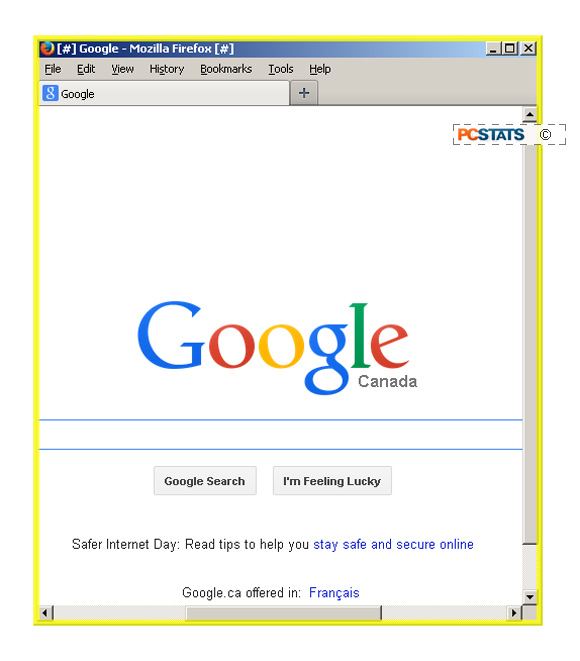 The only difference is that all temporary files related to this FireFox browser are stored in a isolated container. If you open up Windows Explorer and navigate to C:/ you'll see the virtual folder identified like so:
After you've done all your work, if you wish to delete any traces of the suspect data the sandboxed version of Firefox was potentially exposed to, it's quite easy. Go the right hand task bar, right-click on the yellow sandbox icon and bring up the menu and select "Delete Contents". If the Sandboxed program crashes or experiences some kind of malware, it's just as easy to terminate the program in the virtual, isolated environment.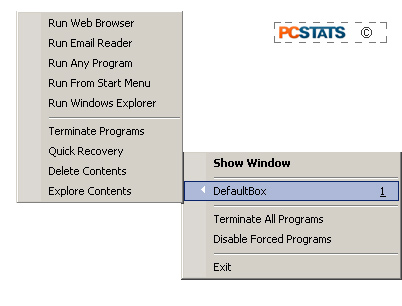 Now granted, Sandboxie will not protect your computer from every kind of malware and virus out there, but it is incrementally better than exposing your browser to these kinds of risks, even with antivirus software installed.
Be nice, 'Like PCSTATS' on FB and also let us know what you think of this Tech Tip!

PCSTATS TechTip: When FireFox Crashes Constantly

One of our users was experiencing a lot of crashes in Firefox v25.0 The browser was relatively up to date, had been uninstalled and reinstalled a couple times and was even updated to the latest version from Mozilla... all to no avail.
For reasons that aren't clear to us, it turns out FireFox was creating thousands of Crash Reports which were "clogging up the system". A bit of digging revealed 88,955 crash reports totalling 2.56GB worth of data!! In the end, we solved the browser instability by manually deleting the entire Crash Report folder, as going to - History > Clear Recent History > Time Range to clear "Everything", check all boxes > Clear Now - only caused the browser to have a heart attack and restart.
If you have a similar unexplainable crashing issue with FireFox, 1) check your system for a build up of crash reports, then 2) disable crash reporting.
To disable crash reporting in Firefox: Go to Tools > Options > Advanced > under the Data Choices tab uncheck "enable firefox health report" and uncheck "enable crash reporter" > OK.
To manually delete FF Crash Reports, go C:/Users/"username"/AppData/Roaming/Mozilla/FireFox/CrashReports/Pending and delete everything in that folder.

PCSTATS TechTip - Finding Your Windows product Key

Here's a common issue faced by IT admins when rebuilding office servers and PC systems, or conducting audits on servers located in remote facilities; undocumented OS product keys.

Say for example that your company has four installed servers but five Win 2K3 Server licences available. The person who first rolled out the servers didn't document which server was assigned which key, so you don't know which key goes to what server, and which of the five product keys remains available for use.

Looking for a plain text Win2K3 Server product key in the system registry won't help, it's encrypted.

What you need is a 'product key finder'. One such application is Winkeyfinder v1.75, a lightweight program that runs right from the desktop. The program works with Windows 7/vista/XP operating systems and allows you to change some registration fields as well. Recovering keys takes a matter of seconds, but with Win2K3 Server is just doesn't work.

Next up, we tried out 'Keyfinder Thing v3.1.6' ( www.ychatsharp.com ). This small application does run under 32-bit and 64-bit Win 2K3 Server and with it OS product keys are rapidly discovered. In our example, which key went where was sorted out and crucially the unused key was determined.

Tell a friend about it and PCSTATS. Let us know what you think of this Tech Tip.


PCSTATS TechTip - Testing the waters with new Windows Operating Systems

When Microsoft releases a new version of Windows for everyone to try out, there's a right way and time consuming way to test the waters. Nowadays you don't need a spare computer for this, virtualization takes care of everything. Any recent CPU should support Virtualization; meaning another virtual OS can be run within Windows 7 as you would a program or Remote Desktop Connect. Normally we'd turn to 'Windows Virtual PC', but for the love of Kafka... Windows' own Virtualization client is incompatible with newer Windows operating systems. Oh MSFT...

Oracle comes to the rescue with virtualization software that works, so we downloaded 'VirtualBox 4.1.8' (virtualbox.org) and installed it. To install a new version of Windows you'll need the Windows ISO file, ~20GB free drive space and minimum 2GB RAM in your PC as half the RAM will be allocated to the Virtualized OS when running. First, download the Windows .ISO from Microsoft...

Install VirtualBox and launch the program. Create a new Vitual Machine named "NewWin", then set the memory to '1024MB' and 'Create new hard disk', choose 'VDI (virtualbox disk image' that is 'Dynamically Allocated'. The default setting of '20GB' should be sufficient drive space.

The easiest way to install a new version of Windows onto your Virtual system is directly from the .ISO Microsoft lets you download (there's no need to burn it to DVD-R). In Oracle VM VirtualBox Manager, right click on the NewWinP virtual system you just created > Settings > Storage > under the heading IDE Controller click on 'Empty' > click on the little CD icon by 'Attributes' > 'Choose a virtual CD/DVD file..." > navigate to where you stored the .iso file and open that file. Finally, click 'Ok'.

Now, back in the Oracle VM VirtualBox Manager go to > System > processor > extended Features and check 'Enable PAE/NX'... and that's it!

To start, right click on NewWin > Start. If you get Error 0x0000260, it means your processor doesn't support 'Physical Address Extension with No Execute bit enabled (PAE-NX)' and none of this will work for you, unfortunately. Otherwise, the NewWin installation should proceed as normal. The first time starting up will require about 2-3 automatic reboots of the virtual PC. After this you'll need to log in with your Hotmail details.

Once the new version of Windows boots to the desktop you'll be presented with the totally new user interface; it will take a bit of learning to get used to it. Navigation is very difficult and I guarantee you will get so bloody frustrated with the new UI you'll want to toss the PC out the window. Pun intended.

If you get lost in escape-less app screens, 'Ctrl-alt-Del' will bring up Task Manager and a way out. To do this, from the VirtualBox Window > go to Machine > Insert "CTRL-alt-Del".

Let us know what you think of this Tech Tip!


PCSTATS TechTip- Disabling Shutdown Event Tracker in Windows Server 2003

If you use Win 2K3 frequently, you may wish to disable the Shutdown Event Tracker from coming up each time the system is shut down or restarted.
Here's what you need to do: At the Start menu go to Run > type 'GPEDIT.MSC' and hit enter. In the new window, go to Computer Configuration > Administrative Templates > System > in the right hand pane double click on "Display Shutdown Event Tracker" > select 'Disabled' and press OK. That's it! The Shutdown Event Tracker will no longer require you to explain why you are restarting or shutting down the server.

PCSTATS TechTip - Windows Directory Statistics (WinDirStat)

A colleague contacted us late last night from another city via IM, their netbook's 8GB hard drive was full and the standard bag of tricks hadn't freed up sufficient drive space... In the course of troubleshooting this sticky situation we suggested a tool we use often, but you may never have heard of. It's called WinDirStat and it visualizes everything that's on a HDD into little boxes, but much more than that, it allows you to find those files and delete them instantly.
As a matter of covering all the bases, here's seven ways to free up hard drive space, the eighth is the tip.
1) Empty recycling bin. 2) Clear every browsers temporary internet file cache. 3) Run a disk cleanup. 4) Clean out the Sent folder in your email program (Windows Mail stores everything, including attachments). 5) Defrag the hard drive. 6) Google Earth stores GB's of temporary data, so uninstall the program. You can always reinstall it. 7) Some image viewing programs cache thumbnails, those can get unwieldy after a while - delete that cache.
8) If the preceding suggestions haven't helped, try WinDirStat ( www.windirstat.info ) to visualize what file types and folders are taking up space. The tool allows you to delete files from within it, so a bit of caution is required - don't go deleting files willy-nilly. With WinDirStat we found 2GB of Google earth files and 2.5GB of image thumbnail caches eating up C:\ drive space!
:) Be nice, 'Like PCSTATS' on FB. Let us know what you think of this Tech Tip!


PCSTATS TechTi p - Tale of the Corrupted Outlook PST Backup

Regular backups are a critical chore no one should overlook. In a small office environment this might involve copying the Outlook file to an external hard drive once a month; around here we sometimes plug a 2TB HDD into a vertical SATA-to-USB docking station (ie. Tt BlackX Docking Station) for this.
Pretty standard stuff really. But how many of you check the state of your backed up Outlook file by coping it back to a PC and opening it up? Not many, I'd wager. Well, you might want to because there's a chance that backed up email could be corrupt.
We had this problem recently and it was a bit of a devil to solve. Hard drive space was fine on both destination and source, the anti-virus system was disabled temporarily to ensure it wasn't being overloaded by a +4GB file. Zipping the PST file to decrease the amount of data didn't help either. Having ruled out insufficient storage space, corruption by virus scan and corruption by too-big-a-file, we were at a bit of a loss.
Methodical Testing Saves the Day
To find out what was going wrong we tried several variations of a backup to determine if it was a problem with the file, how the file was being moved, or where the file was being moved to. After each step we checked the Outlook file to see if worked.
1) Backups of the Outlook PST file copied over the LAN were not being corrupted, so the original file was okay (although ownership permissions caused other, unrelated issues).
2) Copying the backup over eSATA cable to the external HDD also worked. No problems there.
3) Using alternate USB ports for the external drive didn't help. The problem was USB related, perhaps?
4) A lot of time was wasted while we ran tests copying the file off the external HDD back to the computer, testing different cables and such because the file was already corrupted (the first time it was copied to the external HDD). The tedious solution was to copy a working file out, then copy that back for each test.
5) With the problem traced to the USB cable, we tried different cables. First, plugged into the USB extender cable then plugged directly into the computer. The existing solution of USB cable and short USB extender cable worked fine for two years, but for whatever reason was corrupting big moves of data. The solution was to replace both short USB cables with a single 6' shielded USB cable... After this, the test was run again with success!
The Take Away from this Tale of Woe?
Test your backups to see if they actually work. If you're getting corrupted data over a USB-based storage device, try swapping out the cables while keeping total cable length under 6 feet.
Be nice, 'Like PCSTATS' on FB. Let us know what you think of this Tech Tip!


PCSTATS TechTip - When a Keyboard Suddenly Types Weird Characters

Here's a TechTip I wish I'd known about years ago. Picture this, you're typing along trying to make a deadline with a half dozen programs open on the desktop when suddenly, instead of a "?" you get the character "É". Next thing you know a bunch of other keyboard punctuation starts generating seemingly random characters too! Closing the offending program and restarting it will usually solve this memory-related-bug, but how do you prevent the keyboard from defaulting to different language setting in the first place?
I'm ashamed to admit that after nearly 8 years of suffering through the rath of "É" instead of "?" while typing in the HTML coder I use, I've only just discovered the fix which solves this issue completely.
Go to Start > Control Panel > Region and Language. Under the Keyboards and Language tab, click 'Change Keyboards...' > under the General tab go down to 'Installed Services" and highlight "Canadian French' and Canadian Multilingual Standard' and then press 'Remove' for each. Click Apply, then Ok. That's it, problem solved!
Be nice, 'Like PCSTATS' on FB. Let us know what you think of this Tech Tip!


PCSTATS TechTip - Best Case Hard Drive Defraging

The bread and butter of computer TechTips used to be "defrag your hard drive!" In the days of SSDs this is no longer paramount, except for users with their OS installed to a traditional mechanical HDD. A defrag every now and then is a good preventative step to combat computer slugishness.
The Microsoft defrag utility is available by right clicking on a drive letter > Properties > 'Tools' tab > 'Defragmentat now...' > select the drive and click 'Defragment Disk'. This tool works, but is slow and in Windows 7 doesn't visually graph the results.
While cleaning up an old Windows XP Pro notebook for reuse in our office we decided to test out a couple third party defrag utilities. The first was Auslogics Disk Defrag 3.4.3.5 and the second program was MyDefrag v4.3.1.
Auslogics is good for 90% of users. A good tip when using Auslogics is to set Settings > Program Settings > 'Algorithms' tab, check off 'Delete temporary files before defragmenting' and 'Move system files to the beginning of disk'. Be sure to run the 'Defrag & Optimize' action to get the full effect. There's a nice block chart to visually indicate how fragmented your HDD is.
MyDefrag is for the 10% of you who like a particularly orderly HDD. In addition to standard defrag capabilities, MyDefrag is able to 'Consolidate free space'.
After running through a full regime of defragging, plus a few other tweaks, boot time was noticably improved on the old notebook, extending it's useful lifespan that much further and otherwise saved a square foot of landfill. :-)
Be nice, 'Like PCSTATS' on FB. Let us know what you think of this Tech Tip!


PCSTATS TechTip - MS Config Cleanup

While freshly installed computers are generally free from bloatware and boot-clogging software, pre-installed notebooks are notoriously clogged with all manner of junk that loads at startup. To find out what's in your PC, go Start > type "msconfig" in the search box by the Start button and hit enter > under the 'Startup' tab you'll find a complete list of the 'Startup Items', who 'Manufactured' the program and what the 'Command' instruction is.
It takes a little bit of investigative work to determine what's what, I find expanding the Command line gives the best insight into what programs are launching. For example, you may see several entries for Adobe PDF, PowerDVD or even web cameras which really don't need to be loaed unless you open these applications. Uncheck what you don't need to load at start up and reboot the PC. To clean out the MSCONFIG list you need to use Msconfig Cleaner which can permenantly remove any unchecked item.
Depending on how much is cleaned out, you could see a healthy improvement to start up times!
Be nice, 'Like PCSTATS' on FB. Let us know what you think of this Tech Tip!


PCSTATS TechTip - Get rid of 'Babylon Search'

It has been a very long time since a web browser was overtaken by malware, but a few weeks ago we suddenly found Google rebranded as something called 'Babylon Search". It was a persistent kind of redirect, done with a clever registry hack (malware is nothing if it isn't clever), but not impossible to clean and remove without damaging the rest of the computer system Here's what we did:
For Internet Explorer, open up the Registry editor and navigate to:
HKEY_LOCAL_MACHINE\SOFTWARE\Microsoft\Internet Explorer\About URLs\
Right click on 'Tabs' > select 'modify data' and delete the 'value data' > press OK to accept. Restart Internet Explorer to complete the task.
For Firefox infections, go to Tools > manage add-ons > check Extensions/Plugins > disable/delete 'Babylon' where ever you see it. Next, Go Help > 'troubleshooting information' > in the top right corner press the "reset firefox" button (ver. 14 or higher). That's all there is to it!
Be nice, 'Like PCSTATS' on FB. Let us know what you think of this Tech Tip!




The best Guides by the best writers on the internet; PCSTATS Beginners Guides explain computers, software, and all those other wonderful things that cause you frustration.

Learn how to use your computer better, master the internet while protecting yourself, and know what to do when your hard drive kicks the bucket.



"Get the 'Stats and Stay Informed!"