By now I'm sure you've heard me pimp the PCStats Folding @ Home Team on the front page and in the newsletter! I've asked you to join, but what exactly is Folding @ Home, and what does it do? According to Stanford University, where the Folding @ Home distributed computing project originated, the purpose of this project is...
"Folding@Home is a distributed computing project which studies protein folding, misfolding, aggregation, and related diseases. We use novel computational methods and large scale distributed computing, to simulate time scales thousands to millions of times longer than previously achieved. This has allowed us to simulate folding for the first time, and to now direct our approach to examine folding related disease."
In laymen's terms, that means the Folding @ Home program uses distributed computing to simulate scenarios related to protein folding. By installing the software on your home or work PC, and downloading the necessary data packets, you're computing data for the Pande Group at Stanford university's chemistry department. They are a non profit organization that are trying to find cures for diseases. All data that is gathered is available to other researchers after it has been published in scientific journals.
To encourage computational protein folding and participation, the Pande Group brings distributed computing to the next level by allowing for team competition. This means a group of computer enthusiasts can use their computers to fold, not just for themselves, but also for a team which will be ranked according to amount of data computed.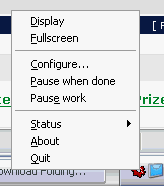 To start your computer Folding @ Home for team PCstats, simply download the appropriate client software for your OS from the Folding @ Home website and install it. The program will prompt you for a user name; please only enter the name that you use in the PCstats Forums. Once you've completed the sign up and have established a live internet connection, your computer will download the necessary data packets and automatically begin to fold proteins.
Please note, the Folding @ Home application runs in the background on your computer and only uses the spare CPU cycles that are available. When the program detects a higher CPU load or a specific application requiring more attention, it will minimize the amount processor time it's using all the way down to zero, if necessary. That means even with 100% stress loads, Folding @ Home will not slow your system down.
To jump onto the PCStats Folding @ Home team you'll need to enter the team number in the application control panel. To do that, right click on the red client icon in your task tray and click the "Configure..." option. That will open up a new window where you can enter the PCstats Folding @ Home team number which is 13496.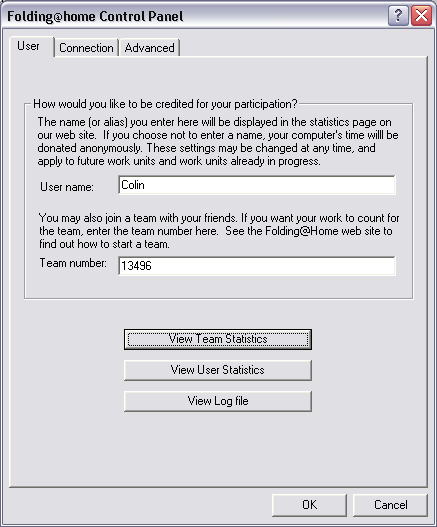 Once you've entered 13496, press the OK button. Congratulations you've just joined the PCStats Folding @ Home team You can monitor PCStats team statistics here to see where you and our team stand overall. Obviously, if you've just started you'll be at the bottom of the list, but here's a hint, using more than one PC is not cheating. ;-) I have four PC's folding at any given time, and some of the really competitive PCStats Folding @ Home team members have 10+ machines going!
Hopefully with your help, PCstats can break into the top 50 Folding @ Home teams!
Join now, you're not just helping PCStats Folding @ Home team, but also all of humanity! Doesn't that make you feel all warm inside? =)