Abstract: I saw many coolers for the up and coming Celeron line of processors from Intel. I came to think why don't they make an insanely large fan to fit in one of those 5 1/4" everyone seems to have to spare.

Home > Reviews > Cooling / Heatsinks > 3Dcool Twin Turbo
3DCool Twin Turbo Cooler
---
As I click online through the wee hours one night about a year ago I saw many coolers for the up and coming Celeron line of processors from Intel. I came to think why don't they make an insanely large fan to fit in one of those 5 1/4" everyone seems to have to spare. Well I guess someone else was thinking of the same thing and here it is. First I would like to say thanks to the guys over at 3DCool for sending me this to put it to the test. Second of all I would like to describe the installation task or in this case the lack there of. Installation as you may well have guessed was a snap. All you basically have to do is mount the cooler in the open bay and secure it with the 4 small screws supplied. My problem was that I couldn't find the freakin' case mounting racks. Well the good thing is I just set it in the bottom slot and that was the end of that. Other than that so far everything was great so on to the test.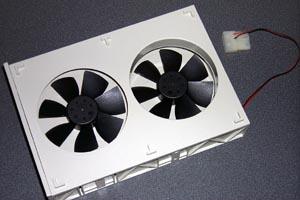 The Specs

80CFM of air flow!!
Dual 92mm 2100RPM fans for extreme power
27dbA noise, a whisper is 23dbA
Fans can flip to suck air from top or bottom
Pass thru power adapter
Fits in a 5.25" bay
Designed to terminate any heat inside your PC.
Up to 30 degree (C) temperature drop
LIFETIME Warranty
211 x 146 x 45 mm
SEARCH PCSTATS

---

Use the power of Google to search all of PCSTATS and the PCSTATS Forums. Tell us what you think of this new feature - FEEDBACK?