Now that we know where to locate drivers, why would we need to update them? Like everything else in the world, nothing is perfect, bugs and incompatibilities pop up all the time, so it's back to the drawing board for the software engineers.
A good example of this is the combination of the VIA's 686B Southbridge and Creative's Sound Blaster Live! series of cards. These two pieces of hardware just seem to bring out the worst in each other, constantly locking up and causing data errors.
Since both VIA chipsets and the SB Live! line of cards are quite popular, VIA took the initiative to solve this problem and has since released 4in1 drivers that mainly solve these incompatibilities. As you can see, a user would have to upgrade their drivers to take advantage of these fixes.
Update:
VIA Technologies was kind enough to let us know that in order to fix the SB Live!/VIA 686B southbridge problem, you have to reinstall the VIA 4in1 after installation of the SB Live! drivers. The VIA patch only works if it detects the SB Live! drivers. So if you're using a VIA based motherboard and have a Sound Blaster Live!, with a clean OS after installation of your mainboard drivers, videocard drivers and sound card drivers, you have to reinstall your VIA 4in1's.
A lot of the time when a product is first released, the drivers aren't mature and as a result, the performance of certain devices (especially videocards) can be quite low.
With subsequent driver releases, performance can be raised by a simple update. A good example of this would be the performance boost nVidia's GeForce3 got when the DetonatorXP (AKA Detonator 4) drivers were released. These new drivers offered up to a 25% real world performance increase in games over the older Detonator3 drivers! Not too shabby for just a driver update.
Sometimes drivers need to be installed manually, and if you don't know where to do this you are going to be out of luck. If there is no easy setup.exe file for you to click, and only an ".inf" file you have to do things your self. Here, you'd have to go to your device manager for your appropriate OS.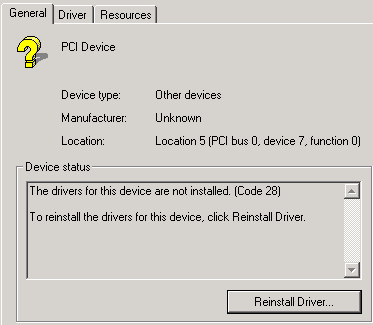 Clicking the "Reinstall Driver..." button would bring you up to this screen...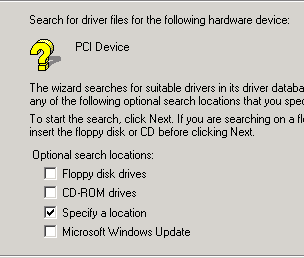 From here, highlight "Specify a location". You'd get his next.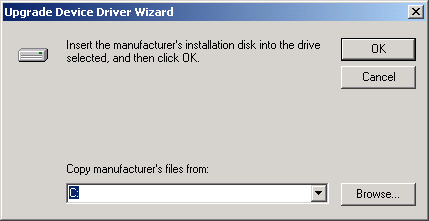 If you already know the folder the driver is in, you can type it at the prompt or you can click the "browse" button and find the folder yourself. Following all the subsequent steps will enable your computer to install the drivers to the system because you are telling it exactly where to find them.
If the drivers are not right for the device, an error will show, but always try to know what hardware you have so you don't get the wrong driver versions from the manufacturers website.
Beta Drivers
You may also have seen things on the web called "beta drivers". These are drivers that have yet to be certified for use by Microsoft for their operating system. Beta drivers also carry absolutely no support from their respective programmers so if you have any problems with them, you're out of luck.
They're not quite as scary as they sound and if you're adventurous enough to play with them, you probably have a fair grasp with computer hardware. If they don't work out for you, you can always try going back to the older ones, so it's not a big deal.
Drivers are essential for a system to operate properly, and while installing them properly is important for a new computer, it is also important to regularly update them as well. Doing this can often solve problems that you might be having and you could even get improved performance out of it.
Below is a list of links for the drivers you will need for videocards, motherboards and sound cards. The variety of other devices like modems and NIC's is too broad to list, so to get them go to the manufacturers website.
Motherboard Drivers
Intel Chipsets
AMD Chipsets
VIA Chipsets
ALi Chipsets
SiS Chipsets
Reference Videocard Drivers
nVIDIA
ATi
S3
3dfx
Matrox
Kyro
Soundcard Drivers
Creative
VIA
C-Media
Hercules
Turtle Beach