First Look: Nokia 9290 Communicator
---
Cellphones are rapidly approaching the crest of full-fledged Personal Digital Assistants (PDA), and the über new Nokia 9290 is a shining example of this accelerating trend. Not only is the 9290 Communicator a GSM 1900MHz cellphone, but by flipping open the handset a full colour LCD screen and QWERTY keyboard are revealed.
Designed to work with existing cellphone base station technology the Nokia 9290 is scheduled for release summer 2002 at a price of about $900-$1000CDN.
The phone will work on existing networks which support GSM in North America and is a good example of what Nokia have designed for the current state of cellular technology. Unlike many of the cellphones you see demonstrated at trade shows like Comdex, the 9290 can actually be put to use right now. Even with data transmission speeds limited to 9.6-14.4Kb the 9290 will allow you to pick up email, Word Documents and even Adobe PDF's on the go.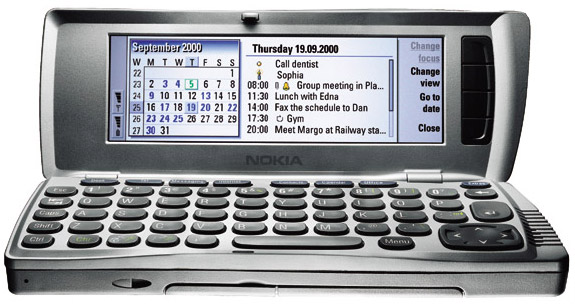 Edit that Word Document first!
The best part about the Nokia 9290 communicator is that not only can you receive and open email with attachments like pictures, or .doc files, but you can also edit

them. The 9290 works off of the Symbian OS which runs Java based programs which allow users to open a Microsoft Word file, edit it and then send it off to someone at the office, or even a spreadsheet for that matter.

The 9290 operates on existing cellular technology so while there is really is no limit to the size of emails and attachments which you can download to the phone, it is best to keep things small. With an infrared port it is possible to take pictures from a suitably equipped digital camera, transmit them over to the 9290 and then email those images to a friend.

There is no support for 802.11b or Bluetooth built into the phone, and neither is there an integrated CMOS camera. With the imaging capabilities the 9290 supports, such an addition would have been very cool indeed. All is certainly not lost as the 9290 comes with an MMC flash port (similar to SD flash media) which can accept flash media of 256MB or more. Currently the 9290 ships with a 16MB card.

Designed and built with the traveling corporate executive in mind, the Nokia 9290 has a host of features that bring the most necessary aspects of the office within easy reach. While obviously the 9290 is not a replacement for a notebook, the benefits of SMS messaging, and synchronizing with Outlook or Lotus Notes are quite large.

Full colour web browsing

While WAP is nice, the 9290 features full HTML browsing capabilities that put tiny black and white text to shame. Limited mostly by the connection speeds of current cellular networks (about 9.6-14.4Kb/s) the browser brings full mouse pointer access to websites which contain Flash and even RealAudio streaming video or audio (again bandwidth would be an issue). The flash media can even be used to store converted MPEG files (the phone only works with .nim extensions) for playback at a briefing or for on the spot presentations which is quite remarkable all things considered.

The java enabled Symbian OS supports a whole slew of mini applications which would be at home on any PDA, or glorified address book. The model we were shown even had a copy of Doom loaded. The Symbian OS is open source so custom programs can even be tailored for the handset.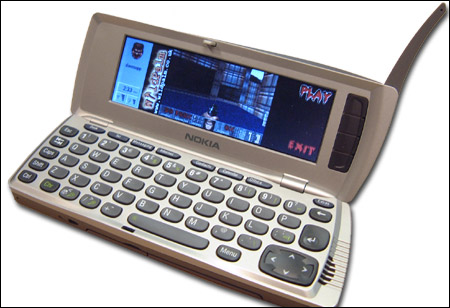 The LCD display supports a resolution of 640x200pixel and is very clear and readable in office settings. As the Nokia 9290 was demonstrated to us indoors we can't say how well the display would fair under a bright sunny sky, but you can assume it would be a bit washed out.
Although the technology is still relatively new in its adoption, a reflective LCD display would have been a good candidate for the Nokia 9290.
Reflective LCD displays actually encompass one of three variants; Reflective LCD, Transflective LCD, or Transmissive LCD. Without getting too much off topic, a Transflective display would have offered the best of both indoor and out door viewing in our opinion. (see our Tech Glossary for more info on LCD terminology).
Executives best friend?
Other features which round out the Nokia 9290 as an executives best friend include the ability to act as a wireless speaker phone with 5-way conference calling capabilities, a digital voice recorder with storage for about 45min, 2-way short messaging, the ability to send and receive faxes, and a battery life of up to 9 days standby, 10 hours talk time, and 16 days for pure PDA use.
The 9290 supports digital cellular connections on the 1900MHz GSM band and comes with 40MB of internal memory for applications and program use. MMC smart media can be used to expand the overall user accessible memory, and with a 32-bit ARM9 RISC processor running the Symbian OS which supports Personal Java and C++ the phone is very well equipped. Weighing in at 8.6 ounces and measuring approximately 5" x 0.9" x 1.8" the Nokia 9290 communicator is larger than most phones, but well worth it considering what Nokia have managed to squeeze inside. Quite remarkable in fact.