Intel Pentium 4 3.0GHz 800MHZ FSB Processor Review
---
It's quite amazing how far the Pentium 4 has come in the last three years. I still remember a time when the original Williamette Socket 423 Pentium 4 1.5 GHz processor made its first debut. Despite all the "large numbers", performance of the CPU was actually pretty absymal when compared to AMD's solutions at the time.
My oh my how times have changed. We're up past 3GHz, a number which is pretty phenomenal considering the first computer many of us used in the 486 days was clocked at just 33MHz. In any event, a history of the Intel processor is not what we're about to embark upon. Instead we are going to be testing out the newest chip, the hottest thing since sliced bread if you listen to Intel in fact - enter the 800MHz FSB Intel Pentium 4 3GHz Northwood Socket 478 processor.
pentium 4's were originally clocked at 1.5 GHz with 256KB L2 cache and running on a 400 MHz FSB, now the top of the line CPU from the men in blue runs at 3 GHz and comes packing 512KB of L2 cache. Based on the same Northwood core that was released way back in January of 2002, the P4 3.0C (as it is known in the geek circles) is a force to be reckoned with. While the AthlonXP 3200+ gives the P4 3.0C a good run for its money, the P4 is slightly faster in the end as you'll see.
Other then running at a higher FSB and supporting HyperThreading (which is disabled on some slower Northwood P4's), there are no physical or architectural differences between the P4 3.0C or older Northwood based Pentium 4's.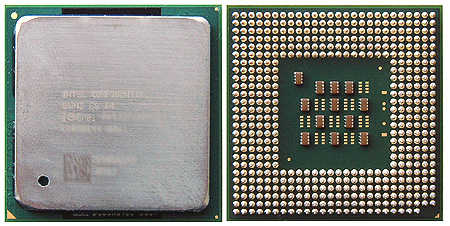 The Pentium 4 3.0C uses the same FC-PGA2 form factor as previous Socket 478 processors, and while I love the IHS (Integrated Heat Spreader) the pins on the bottom are fragile and tend to get bent pretty easily. If possible, it would be very interesting to see chip manufacturers add a protective skirt around the outside edge to shield the pins from damage.... but maybe I'm just daydreaming here.
The P4 3.0C is based on the new D1 revision of the Northwood core and the default voltage has been raised to 1.55V from 1.525V (C1 and 1.5V for the original B0).
All Pentium 4 processors running on a 200 MHz FSB have HyperThreading enabled (including the 2.4C, 2.6C and 2.8C) and as we discussed earlier in our The Basics of HyperThreading: What is it? article, HyperThreading like has potential to revolutionize the way microprocessors function. While I'm not going to dwell deep into HyperThreading in this review, it in a nut shell allows the processor to work on two independent threads (instructions are called threads) at the same time while (hopefully) utilizing the free idling execution units with the CPU.