Mozilla Firefox Themes and Extensions
---
In PCstats review of Mozilla's new Firefox 1.0 web browser a little while back, one of the things we were most impressed with was the smooth and easy way that users could customize the appearance and functionality of the Firefox browser with a number of themes and extensions. All of which can be obtained, installed and managed from within the program itself.
Download and try FireFox right here.
After some reader feedback on our look at Firefox, we decided to devote a whole article to some of the interesting, useful and amusing things you can do with the Firefox theme and extension managers. If you are looking for a reason to switch from IE to Firefox, this is required reading, and if you already like Firefox, this article will make you like it a whole lot better...!
The extensions we'll cover allow you to do a whole gamut of things with Firefox, from seeing thumbnails with your Google searches to weather, to colour sampling, to notetaking, to cooking the perfect egg... whew! You get the idea.
Before we get into all that, let's take a quick look at how the theme and extension managers in Firefox work.
Firefox theme and Extension managers
Accessible from the 'tools' menu in Firefox, these two simple management windows allow you to organize and update any themes and extensions you currently have installed, as well as download new ones.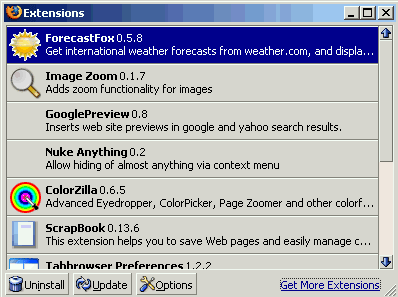 Both windows feature the 'get more...' link in the bottom right corner which takes you directly to Mozilla's list of themes and extensions respectively.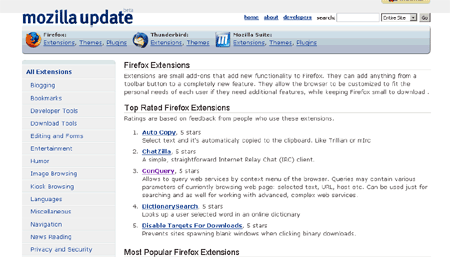 From here, you can directly download new additions into the theme and extension managers. Restarting Firefox will then make them active. The extension manager also features a 'settings' button which can configure your installed extensions if they support it. Anytime you install or remove an extension or theme, you need to close and restart the Firefox browser to activate it.