Netwinder OfficeServer Review
---
With the creation of many small internet based companies these past few years, coupled with the need to be online and accessible always , there has been a continuous search for the quickest way to get all things 'SysAdmin' done. But without the SysAdmin. Where a dedicated computer used to sit, little things like the Netwinder now stand. Engineered to do its thing, and do it well, this Office Server has all the components to do just that, basing itself on the loveable Linux Kernel. We were fortunate enough to have a chance to put one through its paces... so let's begin.
Sleek and small, the Netwinder just looks efficient. It delivers internet access and email to every computer in an office, home or over a network. More importantly, the Netwinder protects all of the machines on the network from outside tampering by mischevious forces.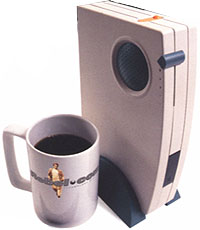 As I pulled it out of the box, thoughts of 'I wonder how far I could toss this little guy if it causes problems' ran through my head... but seriously the appearance of the Netwinder is along one of those "it's really a technical piece of hardware, but make it blend in with the fax machine type deals". In fact looking at the front of it brings to mind visions of some type of remote control device, which in a way, it is. About the only things visible on the device are a power/reset switch, volume control and speaker, and some activity LED's.
The Netwinder comes with 12V 1.5A AC-Adapter, instruction manual, quickstart CD, and Corel's Print Office. A 1 year warranty and 90 day tech support round out the features that come standard, cd-player and power windows extra :)These are the vitals of the gear that Rebel packs into this football-sized office server: