Bluetooth is one of those magical technologies whose implementation seems to have been totally mucked up by the bureaucratic red tape of interoperability. In theory Bluetooth is a close range wireless data transmission standard that enables any number of devices to share data.. Bluetooth has modest bandwidth so it's not like WiFi, rather it can be thought of like the wireless equivalent of USB; it's good for peripherals, to a range of about 10 meters. The closest you've likely come to Bluetooth is turning off the blue light on a notebook because it's never used, or seeing a male aged 18-34 walking around with a silly looking silver Star Trek like device on one ear that blinks bright blue every few moments. That's a Bluetooth headset for a cellphone.
Bluetooth devices make connections in a process called 'pairing', ensuring that only approved connections are set up between your cellphone and headset, or laptop and cellphone, for example. There are two main reasons, 1) viruses and 2) retaining control of your Bluetooth enabled devices. Pairing isn't complicated, but getting there can be quite convoluted. If you're willing to get your hands dirty by thumbing through the user manual, Bluetooth will offer up its cable free features.
For mobile phones the prime Bluetooth application is the hands free headset - a safety measure when driving and hedge against the undetermined affects of cellphone radiation to your noggin. Being the trendy company that it is, Samsung has clued into one other useful application for Bluetooth - stereo streamed music from an iPhone or any MP3-enabled phone to a stereo headset.

Samsung YA-BH270 Bluetooth Headset



Includes:
User's Manual, usb cord.
Most cellphones offer MP3 playback of some degree, and some MP3 players offer integrated Bluetooth connections, so it only makes sense for Bluetooth headsets to evolve from the monophonic devices that hang of a single ear into a pair of which offer stereo sound.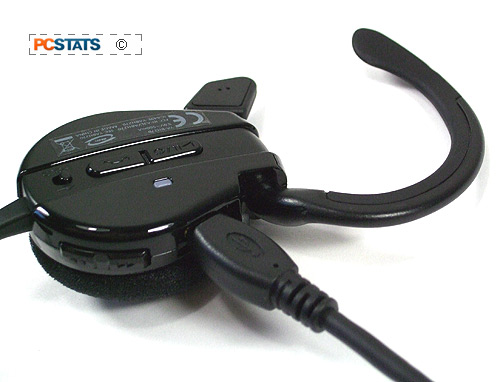 USB cord for recharging the integrated 150mA Li-polymer battery.
The Samsung Bluetooth Stereo Headset (YA-BH270) looks like a regular pair of over-the-ear headphones, except there's no audio cord to plug into anything. Samsung's YA-BH270 works off a rechargeable integrated 150mA lithium polymer battery that gives you between 6.5-8 hours use. In standby mode the headset remains active for about a week on one charge (or 240 hours), the battery is charged in about 2 hours via USB cable.

Right hand earphone is simple and sleek.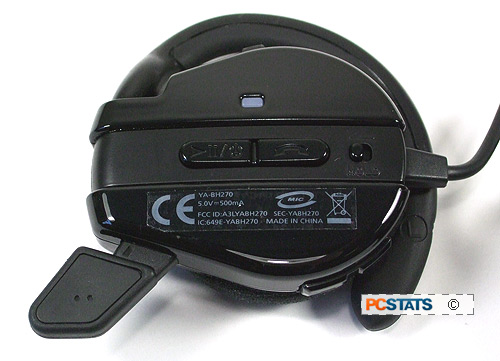 Left hand earphone has controls for menu, play/pause, and call off-hook. The headset microphone is for making calls. A blue LED blinks when the system is powered up.
The YA-BH270 is a pretty simple device, so no software required. The manual quickly outlines how to pair the unit with another Bluetooth enabled device, and covers the compact array of buttons which festoon the left-hand ear piece.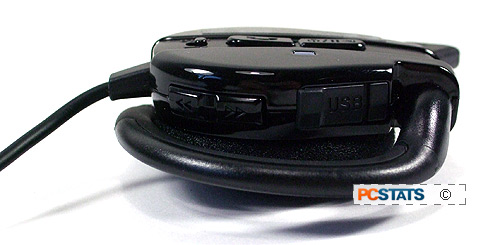 Top has buttons for track advancing, and slot for USB cable.
Along with standard audio-centric buttons for advancing through MP3 tracks or adjusting volume there is one special key for making voice-activated calls.
Audio quality observations are next....