What's 55" wide and thinner than its own remote control? Answer: Samsung's 9000-series of LED HDTVs.
PCSTATS attended the Canadian launch for Samsung's new 0.3" / 8mm thick, full HD 3D LED televisions this past week at the venerable Design Exchange in the heart of Toronto's financial district. On display were a room full of Samsung's 9000-series HDTVs - LED backlit LCD displays which support High Definition 3D movies when used with active 3D glasses, make streaming digital content over a network via DLNA a breeze and provide excellent picture quality and clarity across the widescreen 16:9 aspect ratio panels. All that in a package so thin it's amazing.
Dressed in a smart brushed-titanium bezel the thin panels have a sophisticated aesthetic we could certainly appreciate. Even better yet, accompanying all 9000-series televisions is a rather cool little iPhone-like remote control into which Samsung engineers have embedded a 3" touch sensitive LCD display.
Samsung's remote is capable of controlling three different home theatre configurations, a media PC, and streaming online video content wirelessly into itself if you want to check out what's on an alternate channel for example. You could quite literally watch video on the remote while grabbing a drink for yourself!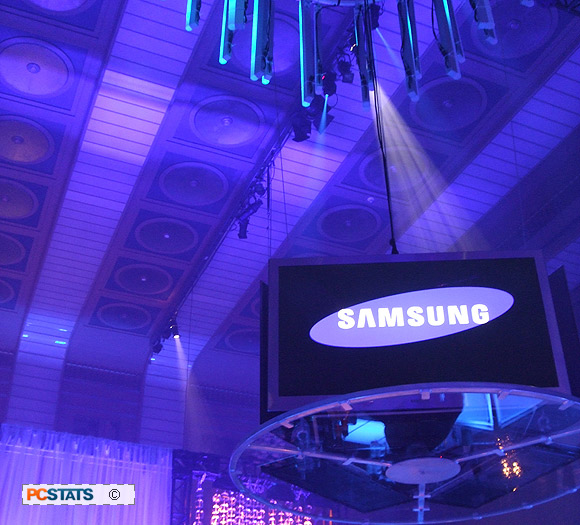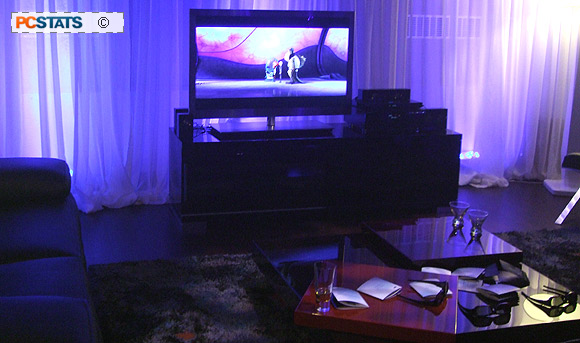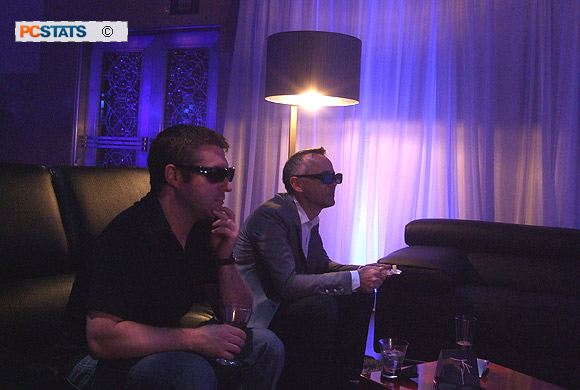 With its crosshairs most definitely set on the early adopter home theatre enthusiast, the brushed-titanium clad 9000-series ship in two sizes; the 46" UN46C9000 and 55" UN55C9000 which retail for $6,200 and $7,200 respectively. For the time being thinness is priced out of the grasp of most mere mortals, but I wouldn't be surprised to see these prices come down somewhat by Q4 of this year.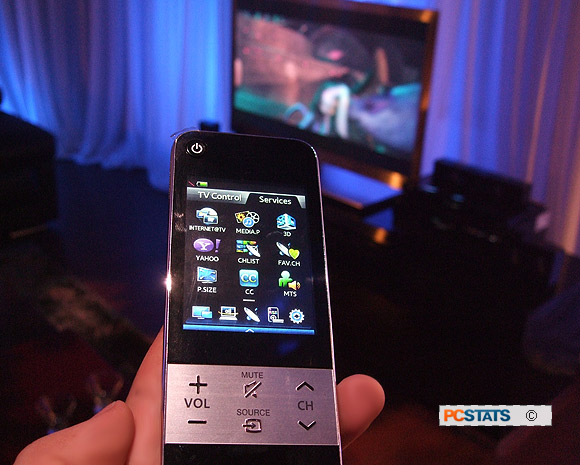 Features and Specs
First on the list of features is the shape of the 9000-series HDTV. It's screen is 8mm thick! Get out a ruler and see for yourself how very thin that is. At the launch event PCSTATS found ourselves having a hard time seeing the 9000-series televisions from side.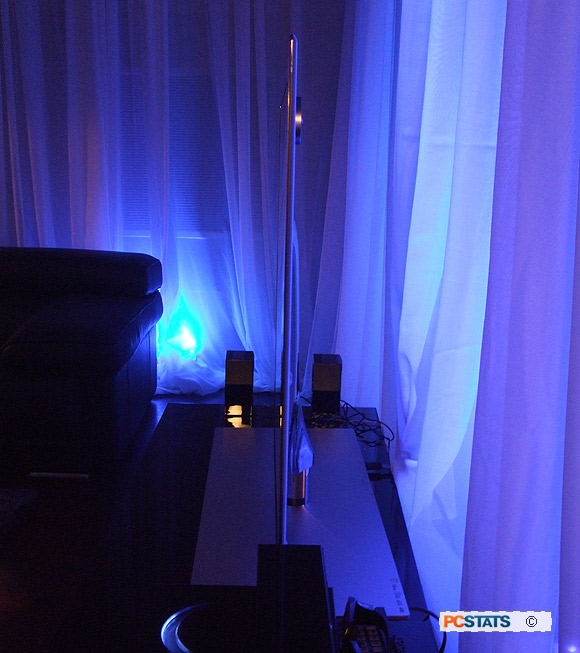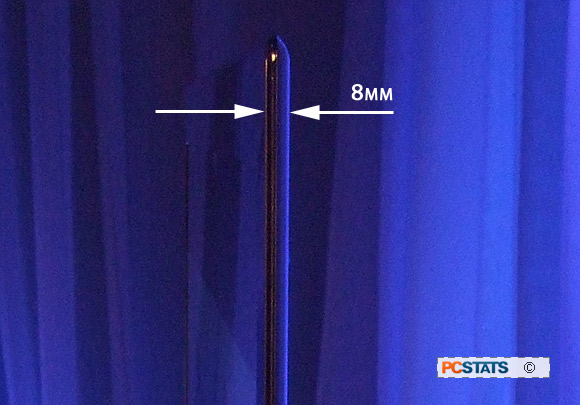 Numbers games aside, the 9000-series TVs from Samsung is notable for the swanky iPhone-like touch screen remote control that pulls double duty as a secondary television screen, for the 3D High Definition display and for numerous other features like 240Hz Auto Motion Plus, Ultra Clear Panel, Mega Contrast, Wide Colour Enhancer Plus, Samsung LED TV HyperReal Engine, the Internet@TV suite, ConnectShare Movie, and best of all, AllShare DLNA.
The 46" Samsung UN46C9000 LED TVs PCSTATS viewed at the launch event contains all its ports and connectors in the rather substantial base of the display; (4x) HDMI, (2x) USB, LAN, Antenna, Digital Audio Out, VGA, Component Video, Composite Audio in.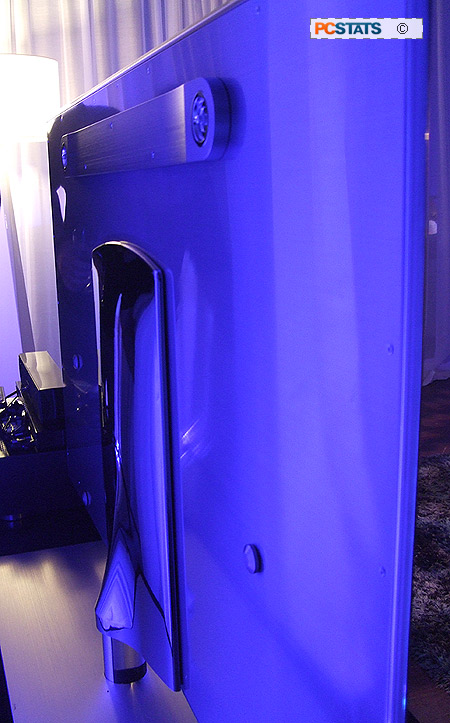 On a side note the term "LED TV" should not be confused with displays that use self-illuminating OLEDs to create the viewing picture, nor the giant LED displays used on building and at rock concerts. OLED technology doesn't exist for home displays much larger than about 12", so what we have with the current crop of "LED TVs" are simply standard LCD televisions that utilize LED backlights (either edge-lit or RGB) instead of CCFL backlighting.
Active 3D glasses bring 3D movies into a new dimension on the Samsung 9000-series as with previous 3D displays from this Korean manufacturer. The 3D is good, but not quite comparable to what you would experience in a movie theatre. The technology can be applied to non-3D filmed content to force it into a state somewhere between 2D and 3D, but in PCSTATS Labs this type of retroactive 3D was underwhelming.
The remote control will handle up to three completely different home networks, including a wireless PC network. Home theatre systems are becoming increasingly complex and in many instances the remote actually sells the display. Best of all the wireless remote will stream content across the 3" LED display.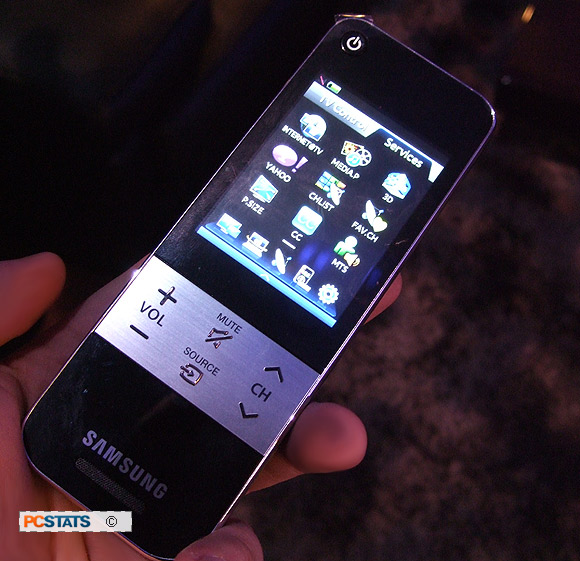 The 0.3" thick panel is wall mountable, though no examples of this were visible at the launch event so we cannot say what the cable management will be like, nor if a special wall bracket is required. Standard VESA mounting systems are not compatible from what we understand.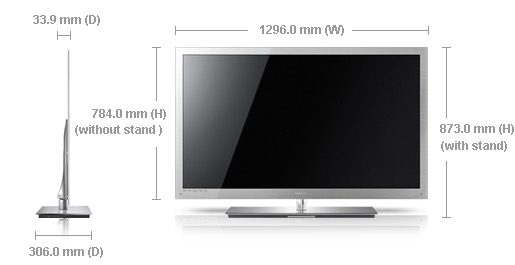 AllShare DLNA is a neat little content streaming tool that enables televisions to connect over a home network with compatible DLNA devices - such as a home computer. In other words you can easily share movies, photos and music through a single device.
Look for the brushed-titanium clad Samsung 9000-series 3D HDTV's in high-end audio/video shops very shortly. The 46" Samsung UN46C9000 and 55" Samsung UN55C9000 are expected to MSRP for $6,200 and $7,200 respectively.
Find out about this and many other reviews by joining the Weekly PCSTATS Newsletter today! Catch all of PCSTATS latest reviews right here.
Related Articles
Here are a few other articles that you might enjoy as well...
- Samsung LN55A950D1F 55-inch LED-backlight LCD A950 HDTV Review
- Samsung LN52A850S1F A850 52-inch LCD HDTV Review
- Samsung LN40A650A 40-inch LCD HDTV Review
- Samsung HLN617W 61-inch DLP Television Review
- Samsung LTM405W Tantus 40" LCD Television Review
- Samsung SPL4225 Tantus 42 inch Plasma Display Review
- Samsung DVD-L100 Portable DVD Player Review
- Samsung Tantus HCL473W 47" Rear Projection HDTV