EyeModule 2 Digital Camera Review
---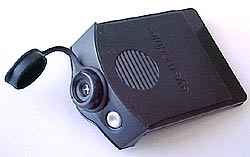 One of the downsides of the Handspring is that while it is a great portable notepad, there is no built-in way to take a quick picture. The Eyemodule 2 is designed to fill this void and does so quite well by our impressions.

Based upon the Springboard expansion platform, the module sits flush to the back of the Visor and enables a user to capture colour images of up to 640x480 resolution while on the go with just the click of a button.

The unit, which costs about $200 USD is made by Blocks Products, the manufacturing arm of IDEO. IDEO are a fairly well known design firm which are responsible for the look of the unit itself. The design, and in fact the unit itself is very simple to use - there is only a button and a lens so the choices are obvious.

To use the Eyemodule 2, the user need only insert it into the Springboard expansion port of an awaiting Visor. The device draws both battery power and storage memory from the parent Visor. In a typical configuration the Visor will be able to store about (50) 640x480 resolution images, (150) palm-sized 160x120 resolution images, or just over 20 seconds of quick time mini-movies. The images are stored as JPEG's and offer fairly reasonable picture quality considering the lens size.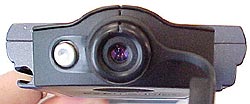 The lens and VGA CMOS sensor are made by Agilent Technologies. The lens has a focal distance of 18" to infinity, and an angle of view of about 52 degrees. With a focal length of 6mm, F2.8 the camera can take reasonable images in moderate to low light environments - lighting controls are limited to low-normal-high settings. Images are captured by pressing a button on the front of the unit, which are then displayed on the screen for storage or disposal. The Palm-sized images in particular are quite small but have the best overall image quality. The full sized images are a more useful size, but have a slightly granular look to them.