Comdex 2001 - A Multimillion Dollar Write Off?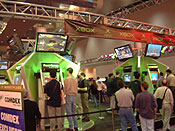 From the moment the media, exhibitors, analysts and attendees got off their respective flights at the Las Vegas International airport it could be seen that Comdex 2001 would not be living up to its previous self. The first tip-off was how easy it was to get a cab.
In previous years, the large attendance Comdex brought into Vegas for those five days was enough to require an entire fleet of extra cabbies to set up camp and start working long shifts. Hell, last year we even got swindled by a professional Boston cabby who charged an entire Ford Explorer worth of businessmen $10 a head to go from the hotel to the LVCC. As if that weren't enough, he even tried to sell a few Rolex's as he weaved in and out of four lanes of traffic. It was an impressive sight, and underlined the extremely long lines out front of each hotel near the Convention Center.
Those experiences were a far cry from this year where every single cab ride turned into an education in dwindling economics. As the cabbies themselves said, last year they averaged about 25 rides a day, this year it was down to 10 or 15, and Comdex Fall made little, if any impact whatsoever. When the number crunching had been completed the attendance figures from last year, which stood at about 211,000 people, were down to a mere 57,000 in 2001.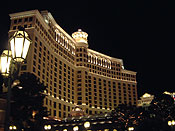 The Sands Expo, which has always proven itself to be a gold mine for smaller companies looking to exhibit themselves lay completely vacant. Companies which had paid astronomical fees for floor space ($60,000 for about 80'x20' in one example) were hit hard by high union labor fees to set up their booths, install electricity and networking connectivity. One exhibitor we talked to was charged $700 simply to have a crate the size of a fridge moved from the loading dock to their spot on the show floor. With looming security procedures that would potentially cause long lineups, and restrict attendees from even carrying a bag onto the show floor, many companies simply abandoned their pre-paid spaces in the LVCC and moved into private suites at the Bellagio, Aladdin, Hilton and Venetian Hotels.
Such was the exodus that we didn't even meet with companies in the LVCC until Wednesday - the bulk of our time was simply spent in suites and hotel showrooms which had been turned into impromptu galleries for video cards, motherboards, notebooks and even processors. For the exhibitors, the move to the hotel's brought comfort to employees who may have been concerned about personal security, and fiscally it also made sense.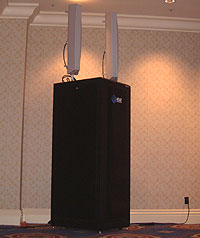 Hotel suites, no matter what the cost, were still less expensive than floor space at the LVCC. However, the small turnout Comdex attracted was still felt even from the highest floors of hotels like the Bellagio. Speculations even began that Comdex might not happen next year because 2001 had proved to be so disastrous. Privately, many companies said they would be looking towards CeBit China next year in June for "the next big thing".
At the LVCC, the metal detectors, bomb-sniffing dogs and bag checks had began strong, but gradually wore off to the point where entire security checkpoints disappeared on Thursday, and anyone with a shoulder bag could just walk by security. Eventually the only real security procedures were at the airports, where not even a $5 StarBucks coffee was allowed past the metal detector at 6:00 in the morning - nor through the X-ray machine, and believe me I pleaded.
It is really difficult to say from our perspective whether or not the many companies and manufacturers benefited from the more intimate meetings or if they suffered from lack of people to promote their brand to. Truly this was not the year to have a large booth and show off to thousands of bag carrying technophiles. Comdex 2001 was a year suited best to planned meetings, private demo's and a closed door deal making. In that aspect it would seem to have been quite responsive, perhaps no where as near influential as in previous years however.
For those of you who were not able to visit sunny Las Vegas for a few days of technology, gambling, and luxury hotels there is one last image I want to set in your mind about Comdex 2001. NTT DoCoMo, a Japanese firm that makes some the wildest cell phones you will ever see on the planet had a large booth this year with a small armada of Booth Babes. At most times, the lovely ladies equaled or outnumbered the number of visitors to the NTT pavilion. Such was the vacancy of the LVCC this year.