Cisco Secure PIX Firewalls Course Book
---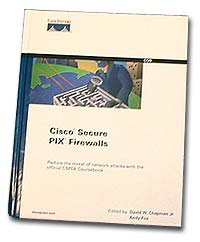 When you think of networking, Cisco is bound to be one of the first companies that you think of, whether it's switches, wireless NIC's or even books. Cisco Press is an offshoot of the company that provides instructive text books that can aide computer professionals looking for depth and analysis in complicated networking topics.
Because of the vast information presented on the PIX firewall topic, this book would be ideal for reference as well.
The Cisco Secure PIX Firewall book talks about the latest Cisco firewalls. The book deals with the Cisco Secure PIX 506 (a lowly 1U server that uses a Pentium 200 MHz and has possibility for 400 connections) to the "Mac Daddy" of PIX firewalls, the Cisco Secure PIX 535 which is housed in a huge 3U server case running a Pentium III 1 GHz and can handle up to 500,000 connections!
The one section I found quite interesting in Cisco's Secure PIX Firewalls was Chapter 9: Cisco PIX Firewall Advanced Protocol Handling and Attack Guards. I didn't know there were so many different types of guards, from Mail Guard, DNS Guard, Fragmentation Guard, AAA Floodguard and SYN Floodguard. Unfortunately with my limited knowledge of networking, I found the topics rather advanced, leaving me grasping for an "intermediate" or "introduction" to PIX Firewalls companion.
Like any good text book, at the end of each chapter, there is a brief summary of the key points and follow up questions to see how much of that you retained. As is generally the case with Cisco, everything is very thorough. Each chapter presents the reader with questions that will actually make the reader think, and possibly refer back to earlier passages.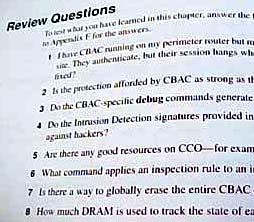 The Cisco Secure PIX Firewalls course book is very specific in its scope and would be useful for any IT professionals who are working with Cisco technology, or who simply want to skip the proprietory references and brush up on the subject. The level of at which the book deals with materials is advanced, so one must already have a firm grasp of networking technology before beginning.
Chapter 1. Introduction to Netowrk Security