A thin screen with thin bezels and a vivid display easily becomes a favorite in the 17" LCD monitor category.
I have to admit that it's a luxury to be able to test out an LCD over couple of weeks and fully put the monitor through its paces. And, after shipping the 172X back to the manufacturer, it really is missed around the PCstats Labs.
There is just something so appealing about a monitor whose panel is no more than 11mm thick - is it because it's light weight, or because it barely takes up any room? The answer is a little bit of both, but ultimately the external appearance of an LCD monitor can be absolutely worthless if the display itself is poor. Luckily for the Samsung 172X, the 17" 1280x1024 resolution screen was an absolute pleasure to use.
Those who are wary of even the mention of the word 'ghosting' can take some comfort in the 12ms pixel response times (we double checked; Samsung state the 12ms timing represents the total time, not just rise) which dramatically decreasing persistance (blurring, ghosting, shadows) down to the point where I really couldn't pick anything out while watching a DVD chocked full of action scenes.
MagicBright is something of a novel feature, and unless you enable it in a particularly bright room for better visibility you will find that using it with standard text may increase eye strain. I'd also be a little worried about the possibility of shortening the lifespan of the LCD backlights...
Brightness and colour saturation of the 172X's LCD screen is quite nice, especially considering it is rated for a luminance of 270cdm/2. Couple that with above industry standard pixel response times, and high 500:1 contrast ratio, and you have an LCD screen that really is easy to work with.
The Samsung Syncmaster 172X is priced competitively for its small size, and would make a great display for the home, or most likely, the office. The image quality looks very good when using the 15-pin analog connection, and if Samsung had included a DVI cable you would also be able to tell that the DVI connection is equally satisfying.
With nice viewing angles for a 17" display, and considering the 172X's ultra-thin and stylish design, ease of use, and solid display quality; the Samsung 172X has easily earned our full and undivided attention!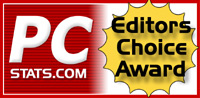 Find out about this and many other reviews by joining the Weekly PCstats.com Newsletter today!