Abstract: The Syncmaster 181T in its black and silver housing is something quite different for an LCD, and much better looking than most.
82% Rating:
Home > Reviews > Monitors > Samsung 181T
TFT Display Evaluation Notes
PCstats TFT Display Evaluation Criteria:

We evaluate the quality of TFT displays with the help of a program called Nokia Monitor Test. The software application displays a range of colours and test patterns that can help diagnose just about any visual problems or defects a TFT display may contain.

It can also be a very useful tool for properly adjusting a display to the optimal settings. The software consists of eleven tests which can be run in steps as adjustments are made to the OSD. As the tests are run we look for the following problems, only one of which should be inoperable (broken pixel).

Broken Pixels: What we class as a 'broken pixel' can fall under any one of the following circumstances: Pixel always on (any colour), pixel always off, pixel unable to display a shade (red, green, blue, black, white), pixel shown colour gradient.
Pixel Clock: If the number of dot clocks within one horizontal synch are not properly configured the screen will appear to drift or vertical stripes may be generated. This should be correctable by the on screen menu.
Phase: If the phase of the display data and dot clock are not correctly tuned the screen can flicker, or text be displayed blurry. For example text may appear dithered, or when looking at a test pattern of a one-pixel black, one-pixel white checkerboard pattern the pattern may be distorted. This should be correctable by the on screen menu.
Response Time: We look for any streaking associated with moving a full page of text up or down quickly. Displays with slower refresh rates tend to show some degree of image streaking or text discoloration which can be distracting.
Stand Stability:
TFT displays are fragile components and the stand should offer adequately stable support as well as be easily adjustable.

We deduct marks for quality control if there are any predominant broken pixels in a display. While many manufacturers may consider a few broken pixels acceptable, we believe the high cost of TFT displays should translate into a clear and unblemished image.

Display Test System Configuration:
Video Card:
ATI Radeon 8500
Operating System:
MS Windows 2000
Display Settings:
Color Temp: 6500 Kelvin
Resolution: 1280x1024 pixels
Frequency: 60Hz
Colour: 32 Bit

Display Resolutions:
Resolution
Freq Hor.
Freq Ver.
Standard
720X400
31.5
70
VGA
640x480
31.5
60
VGA
640x480
37.5
75
VGA
640x480
43.3
85
VGA
800x600
46.8
75
VESA
800x600
53.6
85
VESA
1024x768
48.3kHz
60Hz
XGA
1024x768
60.0kHz
75Hz
XGA
1024x768
68.7kHz
84Hz
XGA
1280x1024
63.98kHz
60Hz
VESA
1280x1024
79.90kHz
75Hz
VESA
LCD Display Test
Overall
Test Notes and Observations
Geometry:
Pass

Excellent picture geometry at the 181T's native 1280x1024 resolution. LCD displays as a general rule never have problems displaying straight lines.

Brightness and Contrast:
Pass

Good clean shading, crisp definition in 1%-9% white range but it is hard to see differences between 1% and 2%. There is no ghosting or unevenness in black background. Some small illuminance around isolated white squares on black background. This is not out of the norm however.

HV Test:
Pass

This test is more applicable to CRT displays than it is to an LCD. How ever since it forces the display to show a full screen of black or white, while maintaining a solid white line around the outside it is a good indicator of refresh rates on both the display and pixel levels.

Colour:
Pass

The white and Red test screens are very bright and very consistent over the full screen area. There are no visible dark patches, or banding of any type at the edges with white, red, green or blue test screens. No broken pixels are visible in any colour.

Convergence:
Pass

The test grids in RGB illustrate the worst case situations when different coloured pixels must work closely together, and since they comprise different parts of a pixel they do not line up exactly.

Focus:
Pass

Excellent, all patterns are clearly visible and defined in both the horizontal and vertical axis.

Resolution:
Pass

Resolution was also excellent at the native 1280x1024 resolution. Image dithering at lower resolutions is very good as well.

Moire:
Pass

Excellent, all test patterns were displayed properly and without interference or 'walking lines'.

Dither Algorithm:

Other Evaluation Notes:

Excellent

Like the 181B, the pixel refresh rate for the 181T is set to below 30ms. With a set of viewing angles at 85/85/85/85 it is currently at the highest standard currently available. The stand was very stable, although rotating left to right didn't not work very well. The vertical height adjustments were good, and the 90 degree rotation worked well.
Conclusions
From an LCD standpoint we have looked at many displays which were intended to be used in the office or home as substitutes for conventional monitors. As such many of them replicated how a CRT looked - big wide bezels, dull beige colouring, etc. The 181T appear to be marking a turning point as far as LCD monitors are concerned.
In much the same way as Sony introduced some surprisingly striking and decadent displays Samsung is offering a much more affordable LCD here. While the overall thickness of the 181T is still somewhat "chunky" its small bezel makes viewing it from head on a true pleasure, and gives it a slimming appearance. Coupled with a very capable LCD display unit, the 181T offers users very wide viewing angles, a very good contrast rating and a pretty decent brightness value.
The integrated power supply is a step in the right direction for LCD's, and it will be interesting to see how much further they progress, and how slim monitors such as this become. Very cool indeed.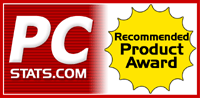 SEARCH PCSTATS

---

Use the power of Google to search all of PCSTATS and the PCSTATS Forums. Tell us what you think of this new feature - FEEDBACK?