Like its older brother the AK35GTR, the newer AK35GTR Ver 2.2 uses the Award BIOS and everything is exactly the same there. Shuttle allows for enough memory tweaks to feed the enthusiasts inside us and there are also quite a few overclocking options as well!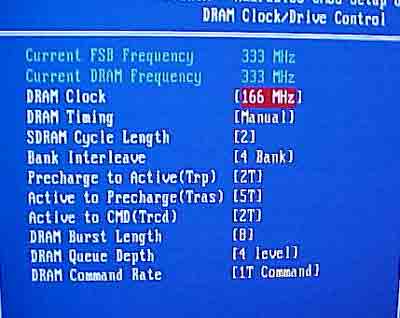 As you can see, there are quite a few memory tweaks available from memory speed to CAS latency to bank interleaving and DRAM burst length.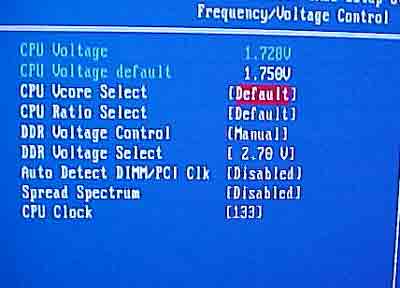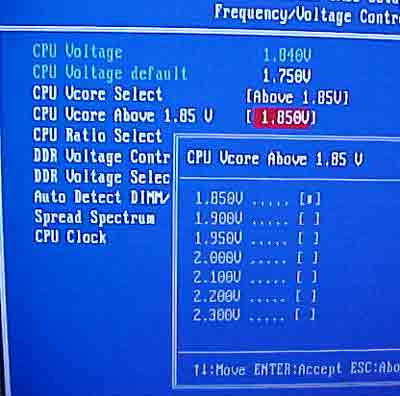 Overclocking:
The Shuttle AK35GTR is almost perfect when it comes to overclocking options; the board allows the user tweak CPU voltage form 1.10V to 2.30V! No longer will enthusiasts need to voltage mod their motherboards, Shuttle has taken care of that. Remember though that using voltages in excess of 2V requires more then just regular air cooling, something along the lines of chilled water cooling would really be required.
The AK35GTR has the usual multiplier adjustments, FSB can be tuned from 100-200 MHz which is pretty standard. The only place in the BIOS which disappointed me was that the AK35GTR only allowed DDR voltages to go up to 2.7V. It really would have been nice to see something a little higher.
Our overclocking adventures were very interesting to say the least. The board would overclock all the way to 172 MHz FSB, however we had a few very peculiar problems. Performance at 172 MHz FSB was lower then at 133 MHz and I wasn't too sure what was going on at first.
I think the lower performance may have been due to the 1/5 PCI divider the AK35GTR has. To test this theory, we set the FSB to 165 MHz and we found that the board performed much better! So while the AK35GTR Ver 2.2 would go up to 172 MHz FSB, we ran all of our overclocking benchmarks at 165 MHz FSB because performance was simply better at that speed.