Gaming Benchmarks and Conclusions
PCMark is a new benchmark from our pals at MadOnion which a whole system benchmark. It can be used on desktop PC's, Laptops and even Workstations and tests everyday computing from home to office usage. PCMark specifically stresses the CPU, memory subsystem, graphics subsystem, hard drives, WindowsXP GUI (if WinXP is used), video performance and even laptop batteries. This benchmark was released March 12, 2002 and can be downloaded from Madonion if you would like to give it a test run on your computer for comparisons sake...
PCMark2002 Benchmark Results
Processor
PCMarks
Ranking

AK35GTR Ver 2.2 - 133/333 MHz

5202

AK35GTR Ver 2.2 - 165/330 MHz

5219

Memory

AK35GTR Ver 2.2 - 133/333 MHz

3441

AK35GTR Ver 2.2 - 165/330 MHz

3795

HDD

AK35GTR Ver 2.2 - 133/333 MHz

N/A

AK35GTR Ver 2.2 - 165/330 MHz

N/A
Since the CPU speed is approx the same in each test, the processor portion of the benchmark is very close, however the memory portion of PCMark seems to like the higher bus speeds and this is shown in the increase to 3795 PCmarks.
3DMark2001 SE is the latest installment in the 3DMark series by MadOnion. By combining DirectX8 support with completely new graphics, it continues to provide good overall system benchmarks. 3DMark2001 SE has been created in cooperation with the major 3D accelerator and processor manufacturers to provide a reliable set of diagnostic tools. The suite demonstrates 3D gaming performance by using real-world gaming technology to test a system's true performance abilities. Tests include: DirectX8 Vertex Shaders, Pixel Shaders and Point Sprites, DOT3 and Environment Mapped Bump Mapping, support for Full Scene Anti-aliasing and Texture Compression and two game tests using Ipion real-time physics. Higher 3DMark scores denote better performance.
3DMark2001 SE Default Benchmark Results
Motherboard (FSB/Memory)
3DMarks
Ranking
1.

AK35GTR Ver 2.2 - 133/333 MHz

8940
2

AK35GTR Ver 2.2 - 165/330 MHz

9283
As we can see here, the Shuttle AK35GTR ver 2.2 when teamed up with an AthlonXP 2100+ and a GeForce3 Ti500 scores some very nice stock numbers. 3DMark has been known to love high FSB's/memory bandwidth and upping the FSB really boost performance.
Return to Castle Wolfenstein is a relatively new game benchmark. However, RTCW takes up where Quake III left off and continues to form the basis of the first person shooter system stressing that QIII has become a hallmark for. Based upon the Quake III engine, RTCS is obviously going to be quite taxing on even a top end system. Higher numbers denote faster frames per second (FPS), and hence, better performance.
RTCW (640x480 atdemo6) Benchmark Results
Motherboard (FSB/Memory)
(FPS)
Ranking
1.

AK35GTR Ver 2.2 - 133/333 MHz

61.4
2

AK35GTR Ver 2.2 - 165/330 MHz

61.7
RTCW (640x480 atdemo8) Benchmark Results
Motherboard (FSB/Memory)
(FPS)
Ranking
1.

AK35GTR Ver 2.2 - 133/333 MHz

174.4
2

AK35GTR Ver 2.2 - 165/330 MHz

191.3
The atdemo6 demo is more of a CPU benchmark then anything else and since the CPU speed is the same, it's not surprising that the numbers are almost identical. The atdemo8 is more of an overall system benchmark. Here, the increased FSB seems to really boost the frame rate by quite a bit!
Conclusions:
Like the original AK35GTR, Shuttle has done a very good job with the AK35GTR Ver 2.2. The performance of the board is great and the AK35GTR has a lot of great features on top of that. Since the motherboard is not yet available for retail sale we're not sure how much the board will retail for. I would expect it to go for about $200-$225 CDN which is competitive for this class.
Performance aside, the AK35GTR sports extra features such as onboard 5.1 hardware based sound card, an onboard Ultra/133 RAID controller and four DIMM slots (which don't necessarily handle being filled with four sticks as well as we would have liked) so there isn't much more you could ask for in a motherboard.
Perhaps Shuttle will consider including USB 2.0 in a few months as this is soon to be a big selling point for mainboards, much as USB1.1 initially was.
The BIOS on the AK35GTR is almost perfect, and the only real problem is really a lack of memory voltage tweaks. If Shuttle would allow more memory voltage options with future BIOS's, this board would definitely appeal to enthusiasts as well as the average person.
Again, with all four DIMM's occupied stability became a bit of a problem. This was especially the case when aggressive memory timings were used, but a fix was found by relaxing them.Overall, we were very pleased with the AK35GTR v2.2 and wouldn't have any problems recommending it to the average person. The hard core overclocker will will probably want something a little more OC friendly then this mainboard however.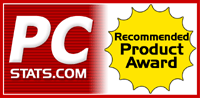 Related Articles:
Here are a few other articles that you might enjoy as well...
1. Shuttle AK35GTR
2. Epox 8KHA+
3. Abit KR7A-133RAID
4. MSI KT3 Ultra
5. Iwill XP333-R
SEARCH PCSTATS

---

Use the power of Google to search all of PCSTATS and the PCSTATS Forums. Tell us what you think of this new feature - FEEDBACK?