Abstract: The first thing I noticed about the monitor was the size, with dimensions of 468x492x483.2 mm, the 900IFT isn't a small monitor and I had to rearrange the test bench a bit so the 900IFT would fit.
85% Rating:
Home > Reviews > Monitors > Samsung 900IFT
How the 900IFT performed
PCstats CRT Display Evaluation Criteria:

To aid our evaluation of Cathode Ray Tube based displays we work with a program called Nokia Monitor Test. The software has been designed specifically to help with the proper configuration of any display, but also has the added benefit of illustrating deficiencies in the quality of image being presented.

While glaringly obvious problems would be immediately obvious to anyone looking at a simple page of text, the monitor test program stresses the display to the 'limit'. By doing this we can see exactly where the strengths and weaknesses of a particular display lie.

The program consists of twelve multi-screen tests, each designed to test one particular facet of a displays qualities. An example from each of the test-screen is shown below.

| | | |
| --- | --- | --- |
| | | |
| Geometry | Resolution | Brightness/Contrast |
| | | |
| High Voltage | Moire | Colour |
| | | |
| Convergence | Jitter | Focus |
| | | |
| | Readability | |

Note: We let the monitor warm up for at least 30 minutes before attempting to perform our visual tests on the quality of the picture display. This gives the CRT time to reach optimal operating conditions.

Display Test System Configuration:
Video Card:
ATI Radeon 8500
Operating System:
MS Windows 2000
Display Settings:

Color Temp: 6500 Kelvin
Resolution: 1600x1200 pixels
Frequency: 75Hz
Colour: 32 Bit

(warmed up 30min before test)

Display Resolutions:
Recommended Mode
1280 x 1024 / 85Hz
Supportable Refresh Rate
Max 1600x1200 / 64Hz
VESA
1600 x 1200 / 65, 70, 75Hz (76Hz max)
1280 x 1024 / 60, 75, 85Hz (89Hz max)
1024 x 768 / 87i, 60, 70, 75, 85Hz (119Hz max)
800 x 600 / 56, 60, 72, 75, 85Hz (152Hz max)
640 x 480 / 72, 75, 85Hz (160Hz max)
IBM
VGA3 Mode
Macintosh
1280 x 1024 / 75Hz
1152 x 870 / 75Hz
1024 x 768 / 60, 75Hz
640 x 480 / 60, 67Hz
CRT Display Test
Overall
Test Notes and Observations
Geometry:
Pass

Very good geometry for a CRT, test grids remain square throughout center of screen and only skew very slightly at upper left corner. The amount of skew is almost unnoticeable however.

Brightness and Contrast:
Pass

Good contrast from 1%-9% whiteness. White test at 100% is nice and bright. Small white cube tests illustrate no ghosting although the boxes at the outer edges show some loss of convergence.

HV Test:
Pass

Vertical trace line stability in three bar test is excellent, horizontal line remains completely stationary.

Colour:
Pass
The white test screen is bright and very consistent over the full screen area. Both blue and green are very vibrant and bright. Red seems to be a bit washed out.
Convergence:
Satisfactory

White test grid illustrates some loss of convergence at the far corners. Yellow and and aqua show up very sharp, and purple illustrates a large loss of convergence around the outside of the display screen relative to the white pattern. RGB test pattern displays very well.

Focus:
Satisfactory

Grey areas how some Moire lines and edge patterns are not quite as clear as center area.

Resolution:
Pass

Resolution is good for the most part, but monitor seems to have some challenges display the 1pixel test stripes - moire lines begin to show.

Moire:
Pass

Good, again some moire lines show up on the grey screens.

Readability:
Satisfactory

For a flat face monitor I would have hoped to have seen sharper text at the outer edges of the screen. Where the glass gets thicker there is some loss of text sharpness in the display. This occurs at about 1" from the outside of the display, and compared to our reference ADI Microscan E66 the Samsung is not as good.
Final Evaluation Notes & Conclusions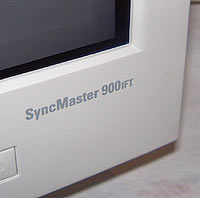 Compared to the LCD monitors we've been seeing in the lab in recent months, working with a CRT again is a bit lie going back in time. A good CRT still has a few benefits over that of an LCD (namely the number of colours it can represent), and the 900IFT is a good monitor overall. With a retail price of $520 CDN ($350 US), the SyncMaster 900IFT is competitively priced against other 19" monitors in it's class.

With an 18" viewable size, the SyncMaster 900IFT gives its user lots of real estate and the ability to do 75 Hz at 1600x1200, it shouldn't give you headaches when starring at it for prolong periods of time. The text on the 900IFT is very good up to 1280x1024, at 1600x1200 the words seem a little blurry anywhere on the monitor. The OSD and controls on the monitor are easy to use, unlike some of the other monitors we have had here in the labs.

Overall I was pretty pleased with the Samsung SyncMaster 900IFT, it offers quite a bit of screen size for a very attractive price. Yes it's not a true flat monitor, but you're not going to notice it unless you stare at the corners of your screen.

Related Articles:

Here are a few other articles that you might enjoy as well...

1. Hitachi CM810 21 inch CRT Monitor Review


2. Samsung F.A. Porsche Design 171P LCD Display
3. Samsung SyncMaster 170T TFT Display
4. ADI Microscan E66 19" Monitor Review
5. ATI Radeon 8500 Videocard Review



SEARCH PCSTATS

---

Use the power of Google to search all of PCSTATS and the PCSTATS Forums. Tell us what you think of this new feature - FEEDBACK?