BIOS:
Albatron goes against the norm here and uses a Phoenix BIOS rather then Award. It's no biggie since we still have all the usual memory tweaks and overclocking options that we've grown accustomed to.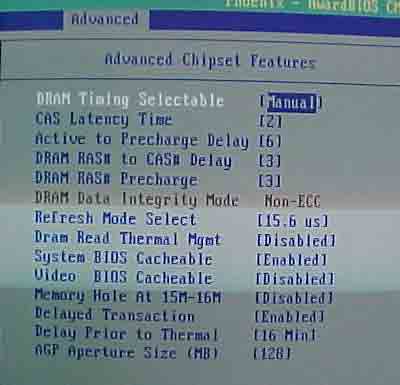 All the memory tweaks are here from RAS TO CAS, Active to Precharge and RAS precharge it's all here. We one very interesting option in the CAS Latency department, there were the options 2.5, 2 and 1.5! Unfortunately we were unable to get CL 1.5 to work with any of the memory we have and at any memory speed.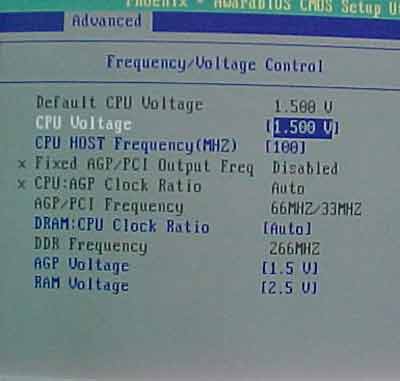 As for the overclocking options the P4X845EPro was up the challenge as well. We could adjust the FSB 1 MHz at a time from 100-248 MHz the RAM voltage could be upped from 2.5V to 2.8V, AGP from 1.5V to 1.6V and we were very happy to see that the we could up the CPU core voltage from 1.5V to 1.85V without any voltage modifications! Another handy option that's been around for a while now with Intel based P4 chipsets is the ability to lock your AGP and PCI frequencies to their default 66/33 MHz no matter the FSB. This can be extremely useful especially when overclocking to extreme FSB's. Here you can also set your RAM frequency we had some interesting options here as well. At a 133 MHz FSB we could set the RAM to run at 353 MHz. OCWorkbench found a similar thing with their Abit BD7-II RAID.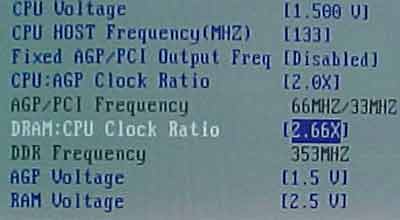 Overclocking:
With so many option in the bios we were very excited about overclocking potential. Using a Pentium 4 1.6A we could hit a 150 MHz FSB without even upping the VCore! At around 160 MHz FSB we experienced some instability and had to up the vcore to 1.65V to stabilize it. Our overclocking adventure got as high as 163 MHz FSB before we hit a wall. That's not too bad, almost reaching FSB's attainable by unlocked AMD processors!
Since the P4X845EPro is based on the i845E chipset we're going to be running the test at 133 MHz FSB and 163 MHz FSB only.
PCstats Test System Specs:

Computer Hardware:

Processor:
Pentium 4 1.6A
Clock Speed:

16x133 MHz = 2.13 GHz
16x163 MHz = 2.61 GHz

Motherboards:
Albatron P4X845EPro
Chipset:
Intel i845E
Videocard:

MSI G4Ti4600-VTD

Memory:

256MB KingMAX DDR333

Hard Drive:
40 GB Maxtor D740X
CDROM:
Panasonic 48x CD-ROM CR-594-B
Floppy:

Panasonic 1.44MB Floppy Drive

Heatsink:
AVC Sunflower
PowerSupply:
Antec 400W PSU
Software Setup
WindowsXP Build 2600
Intel INF 4.00
DetonatorXP 29.40
Benchmarks

SysMark 2001
SysMark 2002
Business Winstone 2001
Content Creation 2001
Winbench 99
SiSoft Sandra 2002 Pro
PCMark2002
3DMark2001SE
Quake III Arena