The ML-1440 comes with a useful set of software which allows the user to print in various ways, drop in watermarks, alter the number of pages printer on each piece of paper and so forth. The software package is consistent with other samsung printers we have tested in the past and is pretty mature.
Manual duplexing is available, but in all honesty who really has the time to sit and turn over pages just so they are double sided?
The printer can also be set to toner-save mode which uses less of the precious black power. In the past we have seen that this feature is best suited with text only, as it makes images look too light for comfort. If you tend to print up a lot of draft copies to mark over in red pen, this feature comes in really handy, and can help extend the life of your toner cartridge by a fair degree.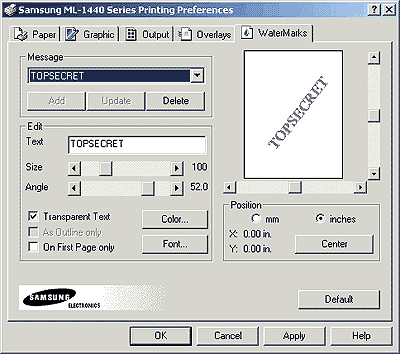 This watermarking feature allows users the chance to write words in the background of the document, or picture which can be very useful should you be printing something important or confidential. I just like to print "Top Secret" on everything so people actually read my memos. :-)
Printer Controls:
The controls on the ML-1440 are very simple, just four LED's and three buttons. Given that there are no networking features with the ML1440 there really isn't any need for an LCD display to spit out info - and that is an important distinction I suppose.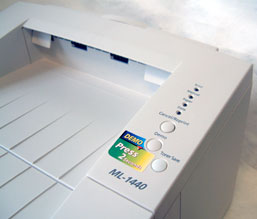 Unlike actual office printers which tend to be complex, the ML1440 is more like a home printer set into an SOHO like enclosure.
Personally, I prefer this type of casing as it is easier to have paper stored (270 pages) flat under the printer than in a small block shooting up from the rear where it inevitably becomes bent.
While it may be a bit of a marketing ploy to cast a home-like printer in an office-like body, the end result is what matters, and the simple user interface makes the bridge between both worlds well.
The ML1440 looks as though it can be upgraded to network status, but after removing the side panel this doesn't seem to be the case. Many SOHO environments are on Ethernet networks so it would have been nice if the ML-1440 was network ready or upgradable.