To test the print quality and print speed of the ML-1440 we printed a 20 page document using Microsoft Word 2000 with various text sizes and graphics. Even with font sizes down to setting 1, the text was sharp and legible, graphics were also quite crisp and detailed.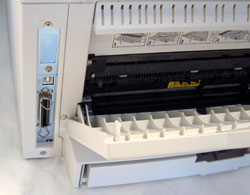 Printing was quite fast, and actually met the listed speed of 15 ppm when printing the word document!
Using Adobe Photoshop we printed two pages with a black gradient line running horizontally and vertically. Looking at the horizontal line we see about three major gradient shifts (banding) while on the vertical axis we see two major points of banding.
We were kind of expecting to see more banding in the grey scales than was visible, but I suppose that just goes to show you how far printing technology has advanced.
Conclusions:
Even though there are few quirks to the ML-1440 that seem to contradict its office like qualities, in the end we came away with a positive impression of it. With a price tag of roughly $400 CDN the ML-1440 has a lot to offer, except of course a USB or parallel cable!
Well, at the very least it comes with a toner cartridge so thats a shot in the right direction at least.
The 600x600 dpi resolution 15 ppm printer sports 8MB of onboard memory (not expandable) and the ability to print on various media of up to 8-1/2" wide.
The ML-1440 prints excellent text quality and pictures are pretty good as well; font sizes as small 4 are easily readable without having to strain your eyes for lost bits of letters. The ML-1440 is a very quick printer, about 5 ppm faster than competition such as the HP LaserJet 1000 . Warm up time is also quite fast at 40 sec.
Related Articles:
Here are a few other articles that you might enjoy as well...