(in Celsius)

case temp

slot fan
case temp

BGA temp

slot fan
BGA temp

total avg.
improvement

no intake fan

30.7

29.1

53.8

51.4

2

 intake fan

31.2

26.6

53.4

51.1

3.45

no front to case

-

-

53

48

5
We used Quake III to bring the temperature of the BGA chipset on the AGP card up a bit. Curiously, the cooling factor was lower then what we expected. The addition of an intake fan helped things out a bit and gave us a ~3.5 degree overall temperature improvement. One other reason, which we tested for, was proximity of the slot fan (and thus airflow) to the chipset. With a bare chipset, there is a scant 14mm space, with the fansink on the TNT2, that distance was halved. A factor which we couldn't test different situations for was the position of the intake on the slot cooler relative to the BGA chipset. We were able to test the affect of proximity vs. cooling ability however.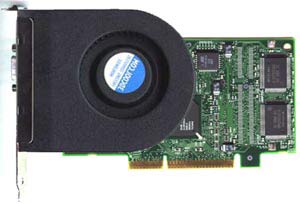 In this digital composite, you can see how things would line up when the slot fan is next to a video card. The slot fan is reversed though - in reality the intake would be facing the card. On the TNT 2 Ultra we used for testing the position of the BGA chip-set relative to the fan intake was the same as what's show above (Note that card shown ain't a TNT). The slot fan covers about half the chipset.
| | | | |
| --- | --- | --- | --- |
|  Slot cooler position  |  case temp  | BGA temp | Ambient |
| next slot | 29.6 | 51.1 | 22 |
| 1 slot down | 27.7 | 50 | 22 |
| 5 slots down | 30.1 | 51.0 | 22 |
(These values are based on use of an intake fan & the slot cooler)
Moving the slot cooler one slot down from the AGP card improved cooling performance by a small but significant value. We had Quake III going for a while and BGA temp was pretty much solid at 50 degrees. We also moved the slot fan 5 slots away to see what influence it was really having on the BGA chipset. While chipset temp rose back up to 'next slot levels,' case temp also rose ~3 degrees.