Quake III Arena is a First Person Shooter (FPS) that revolutionized gaming as we know it. Using multiple light sources and having graphics textures that can fill videocards, even after 3 years it's still able to bring a cutting edge system to its knees.
Quake III Arena Fastest demo001 (SYSTEM)

Motherboard (FSB)

FPS
Ranking
1.

648 MAX - 133/400

332.1
2.

648 MAX - 143/400

345.3
Quake III Arena Fastest nv15demo (CPU STRESS)

Motherboard (FSB)

FPS
Ranking
1.

648 MAX - 133/400

93.6
2.

648 MAX - 143/400

96.7
At 133 MHz FSB performance of the board is good, and slightly overclocking the system brings a nice performance boost.
Conclusion: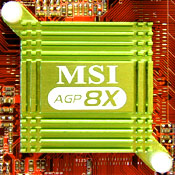 It seems that SiS has a real potential winner with their 648 chipset and with MSI's implementation to create the MSI 648 MAX-F, you have a pretty powerful motherboard.
With VIA and Intel still battling things out in court over the legality of the P4X chipset, it's nice to see a real alternative to Intel's i845 DDR chipsets. The SiS 648 has a ton of potential, performance is very good and it'll only get better with subsequent driver updates. With Intel's dual DDR chipset coming out very soon, things are about to get even more complicated on the Pentium 4-DDR front.
The MSI 648 MAX-F has a ton of features; Gigabit LAN, 5.1 audio, six USB ports (two of which are USB2.0), six PCI slots, 8x AGP compatibility, three PC3200/DDR400 compatible DIMM slots and even optional Bluetooth compatibility. There isn't much more you could ask for. Yes, onboard IDE RAID would have been a nice addition too, but with six PCI's you could also buy a PCI based one and plug it into your expansion slots, or go for the gold and get on board with a Serial ATA adaptor card.
This doesn't mean that everything with the board was picture perfect in my opinion - that one little capacitor right by the clip which holds the video card in place got on my nerves quite quickly, but complaining about things like that really doesn't serve much purpose.
As a side note, the performance differences between PC2700 and PC3200 memory on this board was just about nil... Other then available memory bandwidth, the motherboard just didn't seem to perform any better. Weird.
Anyhow, keeping those two points in mind, the MSI 648 MAX-F is still a good motherboard that will only get better as it ages. I'd really like to see more manufacturers jump on the SiS 648 bandwagon, the performance is there, and the reliability we've seen during out brief testing period make it look like this is a good chipset to go for.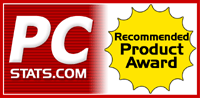 Related Articles:

Here are a few other articles that you might enjoy as well...

2.