Abstract: The small module to the left contains the CSR Bluetooth chip and related circuitry, all in a space of less than 24mm x 14mm.
82% Rating:
Home > Reviews > Motherboards > Epox 8K5A2+
Around the Socket: Heatsink Clearances
Like the Epox 8KHA+ and 8K3A+ before it, the area next to the CPU socket on the 8K5A2+ is very spacious. You shouldn't have any problems installing too many of those large heatsinks on this motherboard. It would be nice if more socket A motherboards were setup with an eye towards leaving space for larger heatsinks! With the upcoming change in socket design for AMD, and the use of a heatsink retention mechanism these problems will fall by the wayside.... but not for a bit.
PCStats Heatsink Clearance Measurements

Top Clearance:
8mm
Bottom (cam) Clearance:
12mm
Left Side (arm) Clearance:
12mm
Right Side Clearance
21mm
Socket Mounting Holes:
4mm Ødia.
Max. Heatsink Base Dimensions (wxh):
~82x82 mm

Note: Approx. measurements are made from the edge of the socket (not the clips) to the closest obstacle taller than the ZIF socket itself. The socket is 51mm across, and 62mm from top to bottom.
The Port80 diagnostic LED's are a really handy tool, and one which continues to live on with the 8K5A2+. Squished in between the IDE and IDE RAID connectors, the port 80 debugging card isn't really a "card" at all, but essentially just a two digit LED display. Depending on what numbers or characters those two LED displays are showing you can quickly decipher possible problems with the motherboard (by referencing the manual, Appendix E). It would be great if more manufacturers would include this level of debugging on the board - it's an extremely useful tool when you are trying to diagnose boot-up problems.

Epox did rearrange a few things on the motherboard and my biggest complaint is the location of the IDE connectors. [Ed. Colin is fanatical about this as you might have noticed. If you are an EE and do PCB layouts for a living, PCstats.com would like to apologize, we know it can't be helped.] With all four IDE connectors in the lower half of the motherboard, you can only use longer or full length PCI cards in PCI slots 1 and 4.
| | |
| --- | --- |
| | |
| | |
Since the Floppy drive connector is right at the bottom of the motherboard owners of full tower cases like the Inwin Q500 may have a hard time getting the floppy ribbon cable to the top.
More Good Things and Overclocking
In typical Epox fashion we have no less than three fan headers to plug coolers into, with one specifically for the processor heatsink itself. Given the number of overclockers who are used to picking up an Epox board it would have been really nice to see at least one more fan header mid-board for a potential North Bridge cooling addition. But, as it stands the VIA KT333 has one of the more unique passive heatsinks we've seen in some time.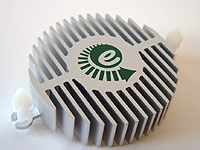 The heatsink is along the lines of Arkua, or Thermal Integration, but does not come with a fan. Personally speaking, while the KT333 doesn't require it for normal operation, we have found that most boards which are heavily overclocked can always do well with a little active cooling on the northbridge.
Now that means little, and not obscene - it really isn't necessary to strap on a large copper heatsink with 6000RPM fan to get the job accomplished in this particular case.
A little on RAID...
IDE RAID 0 is not really considered a true RAID since there isn't any data redundancy. RAID 0 takes two drives of the same size/configuration and stripes them, meaning it makes one big drive out of two equal ones. This improves performance by cutting hard drive latency in half. Since the data is divided equally and written on two hard drives it also increases the data bandwidth by two. The reason it's not considered true RAID is because if one drive fails, all data is lost.
IDE RAID 1 on the other hand mirrors two drives of the same size, so in theory if one drive fails, the other will take over as the primary hard drive and the system can continue to operate normally. This is what is supposed to happen with a SCSI hard drive setup and it actually works pretty well there.
The IDE subsystem doesn't allow hard drives to be disconnected while the computer is still powered up and in use like SCSI can unless you have a special HDD tray. Generally, when one IDE drive fails the system usually locks up anyway. The data is safe since it's mirrored on the other drive which is the real benefit.
With IDE RAID 0+1, you need four hard drives of the same configuration/size. What RAID 0+1 does is stripes two sets of two hard drives, one set for a RAID 0 configuration and the other for RAID 1. What this does is offer the best of both worlds, the high performance of RAID 0, with 100% data redundancy of RAID 1. Hence the name RAID 0+1. The only downside would be the need for four identical hard drives.
SEARCH PCSTATS

---

Use the power of Google to search all of PCSTATS and the PCSTATS Forums. Tell us what you think of this new feature - FEEDBACK?