Quake III Arena is a First Person Shooter (FPS) that revolutionized gaming as we know it. Using multiple light sources and having graphics textures that can fill videocards, even after 3 years it's still able to bring a cutting edge system to its knees.
Quake III Arena Fastest demo001 (SYSTEM)

Motherboard (FSB)

FPS
Ranking
1.

648 MAX - 133/400

332.1
2.
SR7-8X - 133/333
329.3
3.

SR7-8X - 141/353

348.4
Quake III Arena Fastest nv15demo (CPU STRESS)

Motherboard (FSB)

FPS
Ranking
1.

648 MAX - 133/400

93.6
2.
SR7-8X - 133/333
92.2
3.

SR7-8X - 141/353

97.4
Again at stock speeds, the MSI solution slightly outperforms the Abit SR7-8X thanks to the ability to run the memory at 400 MHz. Overclocking brings a moderate performance boost.
Conclusion:
The SiS648 is a solid, and fast performing chipset. Not once during testing did the system crash unless due to user error. We're happy to see more manufacturers quickly adopt the SiS648, after all competition at the chipset level drives down prices which is good for the consumer!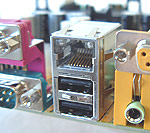 SiS is clearly a very "hot" company at the moment. They've produced a string of powerful and stable chipsets starting with their AMD 735 and more recently with their Xabre400 graphics GPU. Gone are the days when SiS was associated with lower performing, value systems. SiS now seem to be making well performing value products and the feet of new motherboards entering the market is a good indication of that.

Overall, the Abit SR7-8X is a good and inexpensive motherboard which performs quite well. To be honest we're a bit surprised by the lack of features the motherboard came with as most other boards in the SR7-8X's class would have IDE RAID or Serial ATA, IEEE 1394, or possibly even Gigabit LAN. Abit of course knows that not everyone needs those features (which adds to the price of the board), so instead of forcing you to buy things you won't need, they give you the bare minimum and let you decide what you need.

The SR7-8X is not completely without frills though, it does have on board 10/100 LAN and 5.1 audio. With USB 2.0 and Ultra/133 built into the SiS963 Southbridge and five PCI slots you probably won't ever have problems expanding the system as needs arise. The 8X AGP slot will capture gamers attention, but since only the SiS Xabre 400 and somewhat hard to get ATI Radeon 9700 support this technology it remains largely a selling point at this time. As more games adopt the standards which make AGP 8X interesting we will surely be seeing some small performance gains arise.

Since the MSI 648 MAX and the Abit SR7-8X have shown they don't overclock that well, perhaps the SiS648 doesn't like the higher FSB's. Hopefully newer revisions of the 648 chipset will be more overclocker friendly.

If you're a single-minded overclocker looking for those magic FSB's, you'll probably want to pass on the SiS 648 chipset for the moment. On the other hand, if you're looking for an inexpensive and relatively fast P4 DDR motherboard, the Abit SR7-8X can fill that need. It's fast and it's inexpensive at just $150 CDN ($100 US).

Related Articles:

Here are a few other articles that you might enjoy as well...

2.