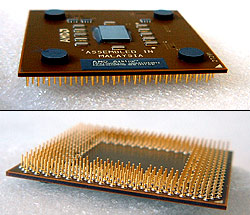 Hopefully the manufacturing problems that dogged AMD earlier this year are not going to cause any delays in the widespread availability of the AthlonXP 2700+ and 2800+ processors. The AthlonXP 2700+ is just too damn good to wait on; and I suspect a lot of people are going to be putting it at the top of their Christmas lists.
The AMD AthlonXP 2700+ is truly an awesome processor - it has the power to handle any application on the market at the moment, and can even challenge Intel's top end 2.6GHz Pentium 4's for the performance crown.
Throw in a fast video card like the ATI Radeon 9700, some PC3200 DDR and you have a system that defines the term "Ultimate Gaming Rig."
AMD and 333MHz FSB - So Good!
The move from a 266 MHz FSB to 333 MHz was a long overdue move by AMD, and soon to be a very welcome one by the consumer. With the speed increases we have seen today, the 2.17GHz AthlonXP 2700+ offers a very nice performance boost over the AthlonXP 2400+ (naturally). If you are in the market for a new processor, make sure you check to make sure your motherboard is going to be compatible with the new FSB speed. The last thing anyone wants is to buy a board limited to just 266MHz FSB right now.
If you want to go looking for a motherboard right now for the new 333MHz FSB AthlonXP's, I'd suggest either the Epox 8K3A+ (which we used in this review) or the very well equipped Epox 8K5A2+ or MSI KT3 Ultra2. If a VIA KT400 motherboard with 8X AGP is more attractive, then the MSI KT4-Ultra would also be a good choice to consider.
The official word from AMD on availability is that the AthlonXP 2700+ will be in the public's hands early to mid-November. There will be a little bit of a longer wait for the 2.25GHz AthlonXP 2800+, which is expected to go to major OEM's first in November, and then broader retail channels early on in the first quarter of 2003.
With the Barton and Hammer cores delayed till at least the first half of 2003, AMD is counting on the Thoroughbred core to carry them through the rest of 2002. As we have just seen, this processor delivers the performance necessary to make this transition. AMD is sure to win back many of the consumers that may have recently jumped ship to Intel. I just hope that AMD can keep up with the demand! =)
Related Articles:
Here are a few other articles that you might enjoy as well...