Overclocking the AthlonXP 2700+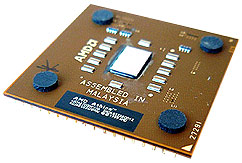 The AthlonXP 2700+ is multiplier locked by default even though all the L1 bridges on the PCB are connected. I would have unlocked the processor via the last L3 bridge but I didn't have any conductive paint left in the lab, so we'll come back to that in few days.
The only way to overclock a locked processor is through the FSB and please remember that we're already starting at 166 MHz. The XP 2700+ uses the same AIUAB we found on the XP 2400+ we tested earlier but hopefully we'll be able to squeeze a bit more out of the XP 2700+ then we did the XP 2400+which topped off at 2.25 GHz .

The last letter of the first line signifies the FSB. A=100 MHz, C=133 MHz, D= 166 MHz
One thing I've noticed after playing with a few Thoroughbred processors is that overclocking is a much wilder ride. What I mean is that it's much harder to find the absolute maximum speed and keep 100% stability at the same time.
For instance, it's possible to overclock a Thoroughbred processor to a high value (say 2.4GHz) and at that speed it will run 3DMark, Quake III, Sandra and even SysMark perfectly, but crash in POVRay.
Keeping that in mind, it was a bit frustrating finding the true overclocking potential of the AthlonXP 2700+ we tested (which was incidently pre-production silicon).
After a few tries, we found a few sweet spots, and this time around I was a patient overclocker. I increased the FSB slowly about 3-4 MHz at a time and ultimately hit the first snag at 173 MHz FSB. I increased the VCore from 1.65v to 1.75v to stabilize the processor and then continued upward.
We began to encounter a few more overclocking bumps almost immediately once the processor hit 180 MHz FSB. To stabilize things this time I increased the Vcore to 1.85V! Stability looked good after this, and to my surprise, the system would complete a full run of 3DMark, Quake III and Sandra at 190 MHz FSB (which would give me a CPU speed of 2.47 GHz). For some reason, the AthlonXP 2700+ we tested would always fail SuperPi whenever it was pushed above 185MHz FSB - no matter what the voltage to the core.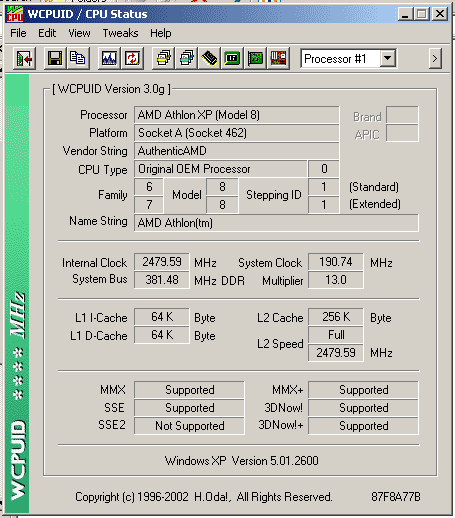 In the end I settled with a stable 185 MHz FSB which gave us a maximum clock speed of 2.4GHz - still pretty impressive.
I have never seen these peculiar overclocking traits with any other processors we've tested from the Thunderbird Athlon's to Palomino's or even the Pentium 4, just with the Thoroughbred. Weird.
SEARCH PCSTATS

---

Use the power of Google to search all of PCSTATS and the PCSTATS Forums. Tell us what you think of this new feature - FEEDBACK?