ECS L4IBAE




Approx Price: $160 CDN ($95 US)

| | |
| --- | --- |
| MFG Link: | ECS L4IBAE |
| Processor | Intel Pentium4 |
| Northbridge | Intel i845E |
| Southbridge | Intel ICH4 |
| Supported FSB | 100/133 MHz |
| Form Factor | ATX |
| DIMM Slots | Three PC1600/2100 |
| Max Memory | 2 GB |
| Integrated Video | No |
| Shared Video Memory | N/A |
| IDE | 2 Ultra/100, 2 Ultra/133 |
| AGP | 4x AGP, 1.5V Lock |
| PCI | 6 32bit PCI's |
| ISA | None |
| CNR/AMR/ACR | 1 CNR |
| LAN | 10/100 Realtek 8100B |
| Audio | CMI 9738 5.1 AC'97 |
| USB | 6 USB 2.0 |
| Power Supply | Pentium 4 |
| Misc | 2 Serial, 1 Parallel, IEEE 1394 |
We were honestly unsure of what to expect from ECS's entry into this roundup. ECS have a reputation of producing inexpensive, moderate performance motherboards that are usually aimed at larger OEM manufacturers than consumers directly.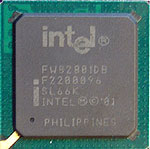 The L4IBAE is most definitely a consumer oriented motherboard, and one with an impressive roster of features as well. In fact, it managed to change our opinion of ECS quite a bit, and hopefully we'll be seeing more examples along these lines in the near future. Anyway, getting back to the L4IBAE, the board is one of the best equipped motherboards in the bunch; supporting on board 10/100 LAN, on board 5.1 audio (software codec), IDE RAID and even on board IEEE 1394 (Firewire)!
To top things off, it's also very expandable with six PCI's, three DIMM slots and a 4x AGP slot. Oh, did I mention the cool looking purple PCB?
Overclockers are aware that ECS has never really geared their products towards them, but it looks like this situation might be changing. While the L4IBAE is hardly an "overclocking board" it at least has some options. FSB adjustments are a little more difficult then that of other motherboards in this roundup; going up in 2-10 MHz intervals from 100-199 MHz.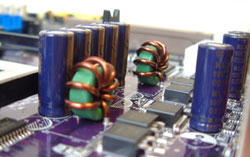 Amazingly enough, CPU voltage is adjustable all the way up to 1.85V on a Northwood P4. There are no memory voltage tweaks, so hitting high FSB's is pretty hard.
Testing the L4IBAE was interesting to say the least. The board was very stable and didn't give us any problems, however we found that with the CPU set to a 133 MHz FSB and the memory frequency set to Auto, the memory would be running at 178 MHz!
Thanks to this, the L4IBAE was the best performing motherboard of the whole roundup since it offered the most bandwidth to the processor.
With all the on board features you'd expect the manufacturer to include all the necessary cables to use those devices; but none came with the L4IBAE. Since the extra USB 2.0 and IEEE 1394 use headers, it's pretty hard to track down those brackets in a local mom and pop computer store. In the end we were able to find the USB 2.0 brackets but not the IEEE 1394.
If you don't plan on wasting your time with the endless persuit of more MHz, the ECS L4IBAE is an excellent choice. At stock speeds, it's the fastest motherboard of the bunch (thanks to the memory running at 178 MHz), and it's fully loaded to boot!