PCStats Test System Specs:

Computer Hardware:

Processor:
Pentium 4 1.6A
Clock Speed:

16 x 133 = 2.13 GHz

Motherboards:
Epox 4BEAV
Epox 4G4A+
Iwill P4GS
Albatron PX845EPro
Abit BD7II-RAID
Abit IT7-MAX
Iwill P4ES
Abit BG7
Soltek SL-85DR2
ECS L4IBAE
Chipset:
Intel i845E
Intel i845G
Videocard:

Albatron GeForce4 Ti4600

Memory:

256MB Crucial PC2700

Hard Drive:
40GB Samsung SP4004H 7200 HDD
CDROM:
NEC 52x CD-ROM
Floppy:

Panasonic 1.44MB Floppy Drive

Heatsink:
Retail Intel HSF
PowerSupply:
Antec 400W PSU
Software Setup
WindowsXP Pro
Intel INF 4.00
DetonatorXP 29.42
Benchmarks

SysMark 2002
Business Winstone 2001
Content Creation 2001
Winbench 99
SiSoft Sandra 2002 Pro
PCMark2002
3DMark2001SE
Quake III Arena
* - When viewing the graphs, all the motherboards using the i845E chipset are represented with a red line and the ones using the i845G are using blue lines.
SysMark2002 is more of an extension of SysMark2001 rather then a whole new benchmark. The applications used during testing have been updated and most importantly for AMD users, the new SysMark2002 uses the Windows Media Encoder 7.1 which supports the AthlonXP's SSE instructions.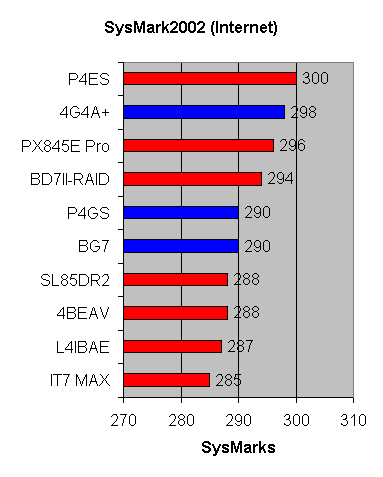 Here we see that all the boards perform very close to each other; the difference between lowest and highest performing is just 15 points.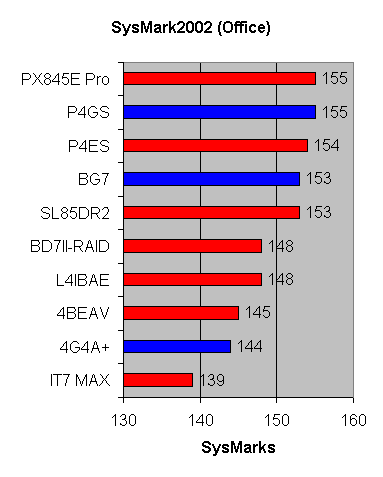 The same trend continues in the second half of SysMark2002 Office Benchmarks. We're not really sure why the IT7 MAX lags behind though - perhaps it is the USB devices strain on system resources used in this half of the test (just a guess).