PCMark is a new benchmark from our pals at MadOnion which a whole system benchmark. It can be used on desktop PC's, Laptops and even Workstations and tests everyday computing from home to office usage. PCMark specifically stresses the CPU, memory subsystem, graphics subsystem, hard drives, WindowsXP GUI (if WinXP is used), video performance and even laptop batteries. This benchmark was released March 12, 2002 and can be downloaded from Madonion if you would like to give it a test run on your computer for comparisons sake...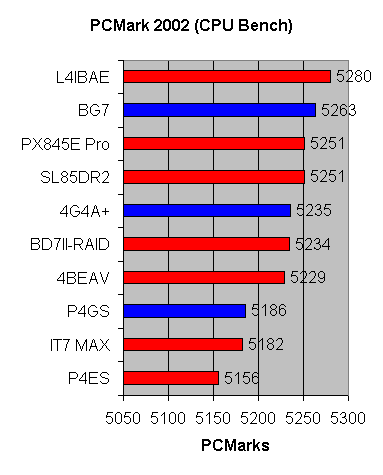 Since the CPU speed is approximately the same for each of these ten tests, it's no surprise that the boards perform very close to one another. Still, highest marks are given to the ECS L4IBAE, and Abit BG7. This time the Albatron PX845E Pro comes in third, and the Iwill P4ES last.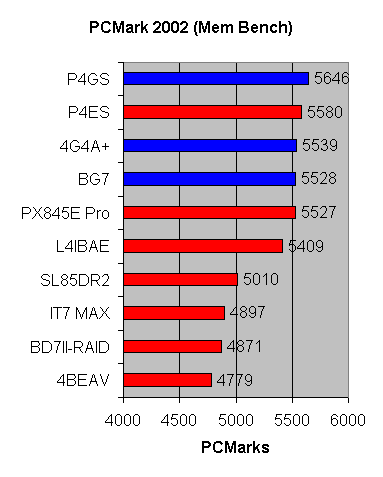 What we saw in Sandra's memory benchmark is also happening with PCMark's memory test. It's no surprise that the i845G's are leading the way followed by the Albatron PX845EPro, ECS L4IBAE and Iwill P4ES. The Iwill P4GS and P4ES wrangle in the top two positions. The Epox 4BEAV comes in last.