Quake III Arena is a First Person Shooter (FPS) that revolutionized gaming as we know it. Using multiple light sources and having graphics textures that can fill videocards, even after 3 years it's still able to bring a cutting edge system to its knees. Both demo's are set to FASTEST setting in the configuration.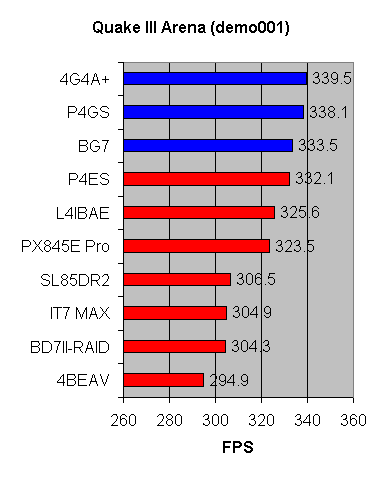 Quake III has always loved high memory bandwidth, and here we again see the i845G motherboards are in front. The three i845E based motherboards use higher memory frequencies that enable them to outperform the others slightly.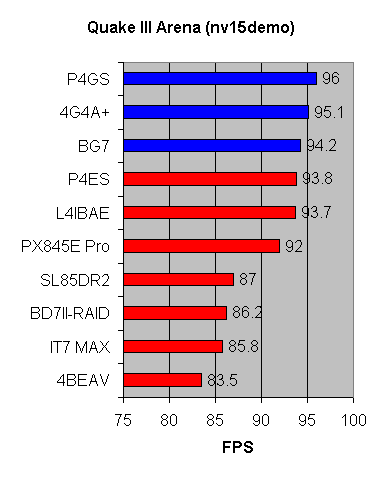 Even though the nv15demo is supposed to be all CPU limited, we still see how bandwidth affects performance.
Overclocking: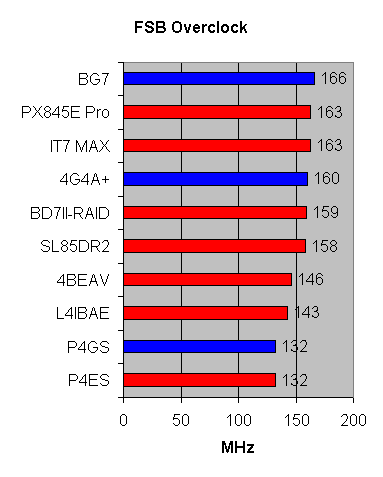 It's no surprise that the ECS L4IBAE was the poorest overclocker of the bunch as it isn't designed for the overclocking market at all. On the other hand, we were a bit surprised that the Epox 4G4A+ was not the best overclocking board in the group. With such a powerful and feature rich BIOS we would have expected more. It's possible that since the test 4G4A+ was beta, all the kinks haven't been worked out... From talking to a few friends who have the 4G4A+ I know it's a decent overclocker. It's a shame the test board wasn't. =(
We were a bit disappointed at the BD7II-RAID's overclockability, and I suppose the biggest limiting factor was the relatively low memory voltage. At a max of 2.7V, it doesn't allow an overclocker to really test out the limits of the system without having to physically modify the motherboard.
We were very impressed at how high the Abit BG7 was able to take our 1.6A even though it didn't have the best overclocking options. Goes to show a lot about the "Abit Engineering" they're always [marketing] about.