Abstract: A quick glance at the hardware features shows us that the P4GS is a pretty well rounded motherboard, it has onboard 10/100 LAN, 5.1 audio, IDE Raid, Serial ATA
78% Rating:
Home > Reviews > Motherboards > Iwill P4GS
FI (Fantastic Interface) Panel
The P4GS only has one Serial ATA connector, but space for four which seems kind of odd. Most motherboards with Serial ATA have at least two connectors; having one isn't very useful.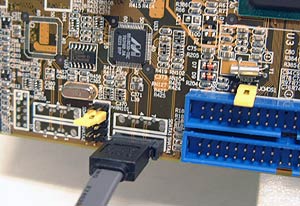 Since two of the three Fan headers are to the left of the IDE RAID connectors, it makes them virtually useless for case fans. There are a lot of jumper's on the motherboard, many of these options could have easily been put into the BIOS (like memory voltage). In the past Iwill has only used high quality C-Media hardware based sound for their motherboards, but on the P4GS we see that they're using the Realtek 5.1 AC'97 codec. For audiophiles or gamers, do yourself a favor and get a hardware based soundcard. Your ears and CPU will certainly thank you for it!
FI (Fantastic Interface) Panel
Since the P4GS supports so many different forms of portable media (compact flash, secure digital and memory stick) Iwill has decided to make things easy on the user and they created the "FI Panel." The FI panel also has headphone and MIC jacks as well as two USB ports. The secure digital and memory stick both communicate to the computer via the USB ports, but we were surprised to see that the compact flash uses an IDE interface! After a bit of thinking, it donned on me that the compact flash port is also compatible with the very large IBM micro drives.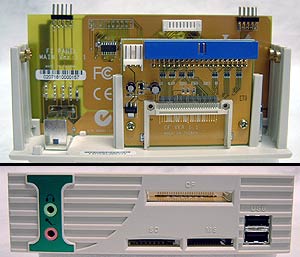 Since both Max's digital camera and mine both use Smart Media, we were disappointed that the FI panel didn't support that form of portable media.Iwill's first attempt at a multi function I/O front mounted panel is a good one, but it's not exactly the prettiest thing to look at. Unless you have a need to use the media ports, I can't really see anyone installing this thing onto their computer.
Overclocking the P4GS
As we mentioned earlier, the P4GS is not targeted towards overclockers so we didn't have high hopes for overclockability of the motherboard. I'll cut to the chase on this overclocking adventure, since the motherboard automatically detects if you have a P4 running on a 400 MHz FSB or 533 MHz FSB, it limits your overclocking options. Since the test sample Pentium 4 is a 1.6A, the board detected a 400 MHz based CPU and limited us to a maximum FSB of 132 MHz.
Obviously the 1.6A handled that no problem, even without the help of voltage controls. So if you plan to overclock, steer clear of the Iwill P4GS. While running at 132 MHz FSB, we still had the 3/4 memory divider enabled which allowed us to run the memory at 176 MHz (DDR352).
SEARCH PCSTATS

---

Use the power of Google to search all of PCSTATS and the PCSTATS Forums. Tell us what you think of this new feature - FEEDBACK?