Quake III Arena is a First Person Shooter (FPS) that revolutionized gaming as we know it. Using multiple light sources and having graphics textures that can fill videocards, even after 3 years it's still able to bring a cutting edge system to its knees.
Quake III Arena Fastest demo001 (SYSTEM)

Motherboard (FSB)

FPS
Ranking
1.

P4GS - 100/266

256.4

2.
P4GS - 132/352
338.1
Quake III Arena Fastest nv15demo (CPU STRESS)

Motherboard (FSB)

FPS
Ranking
1.

P4GS - 100/266

72.3
2.
P4GS - 132/352
96
Quake III loves high memory bandwidth available from the Pentium 4. We see performance jump about 25% thanks to overclocking and even more bandwidth.
Conclusions on the Iwill P4GS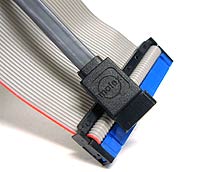 Clearly, the Iwill P4GS is not a speed demon, but on the other hand it was never meant to be. The P4GS is targeted towards the average user who doesn't waste time with fruitless overclocking. Their aim is to build a system around a feature packed motherboard with good features, and at a decent price. For a street price of $190 CDN ($125 US) the P4GS is certainly very well equipped!
The P4GS features onboard 10/100 LAN, IDE RAID, Serial ATA and onboard 5.1 audio. USB 2.0 is native to the ICH4 southbridge and in terms of expansion, it has five PCI's and two DIMM slots. Like typical Iwill fashion, the motherboard is very well labelled and those longer jumpers are so much easier to use. It's little things like this that makes life so much easier! =)
There is more to life then overclocking (I can't believe I said that!) and since most consumers aren't overclockers, it really doesn't make sense for Iwill as a company to keep targeting such a small audience. That being said, enthusiasts will want to look elsewhere for their overclocking fix.
Probably my biggest qualm with motherboard though is the placement of the RAID IDE connectors. Since they are at the bottom of the PCB full tower users will have a hard time with their IDE cables and even mid tower users will have to wrap their cables around the other peripherals.
The Iwill P4GS is a fairly fast motherboard and with so many features, it's sure to satisfy its intended user.
If you're thinking about going P4 as the benchmarks show, get a 533 MHz based P4. The extra bandwidth that's available does improve performance quite a bit and you'll be much happier with yourself!
Related Articles:
Here are a few other articles that you might enjoy as well...