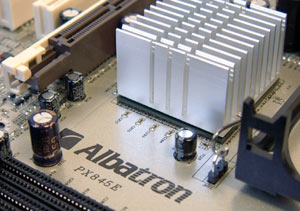 If you're into case modding and want a motherboard that has killer looks, the Albatron PX845E fits the bill! In terms of performance, the board is very fast considering the memory only runs in PC2100 mode. With a street price of around $160 CDN ($90 US) the board is a tad more expensive than comparable offerings, but with the silver coating that is to be expected I suppose.
In terms of performance, office based benchmarks showed that the PX845E Silver can keep up with the newer faster i845PE based motherboards. However once you start entering into the world of 3D applications and games the other boards take a slight lead due to the newer chipset (at stock settings). Once we started overclocking, the PX845E was up to the challenge and performed very well indeed
Other than a slightly elevated price, there really isn't anything to complain about here. This is a no frills motherboard; the only on board peripherals being 5.1 audio and a memory stick/smart card header. The layout of the motherboard is really nice, and as far as case modders are concerned the silver coating will make this one very unique system. Wether or not the silver adds in any large or small part to better system performance is anyone's guess, but in our testing system stability was very good.
If you're searching for a good looking motherboard, or are simply interested in a little overclocking the Albatron PX845E Silver is a good motherboard to consider.
Related Articles:
Here are a few other articles that you might enjoy as well...