Quake III Arena is a First Person Shooter (FPS) that revolutionized gaming as we know it. Using multiple light sources and having graphics textures that can fill videocards, even after 3 years it's still able to bring a cutting edge system to its knees.
Quake III Arena Fastest demo001 (SYSTEM)

Motherboard (FSB)

3DMarks
Ranking
1.
845PE Max2 - 133/333

379

2.
PX845E Silver - 133/266
341.5
3.
4SDA5+ - 133/400
388.8
4.
4SDA5+ - 160/320
412.5
Quake III Arena Fastest nv15demo (CPU STRESS)

Motherboard (FSB)

3DMarks
Ranking
1.
845PE Max2 - 133/333
109.3
2.
PX845E Silver - 133/266
97.2
3.
4SDA5+ - 133/400
108.6
4.
4SDA5+ - 160/320
115.5
In the demo001, we can certainly see the 4SDA5+ flex its muscles!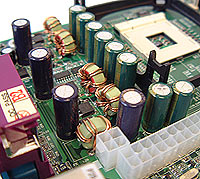 Conclusions on the 4SDA5+ from Epox:
Well, the Epox 4SDA5+ certainly wasn't a disappointing motherboard. With a retail price of $180 CDN ($105 US) the 4SDA5+ is pretty price competitive as well (to Intel chipset based systems).
More importantly, the SiS 648 chipset proved it could also perform well in the benchmarks. The chipset often performed on par with i845PE based motherboards. In terms of overclocking potential, we were amazed that the 4SDA5+ was actually able to 160 MHz FSB.... most other SiS 648 based boards have a really hard time even cracking 150 MHz FSB.
The Epox 4SDA5+ features on board IDE RAID, 5.1 AC'97 audio, a 10/100 NIC, IEEE 1394, USB 2.0, 8x AGP, six PCI's and three DIMM slots. The board unofficially supports PC3200 memory. With a passive heatsink on the SiS 963 southbridge, Epox seem to be preparing this system for some extra duity. That little heatsink is a good addition as the northbridge did get fairly hot during our testing phases.
Epox should have really included Serial ATA with the 4SDA5+ since many other motherboards in its class have that new and emerging technology. While 5.1 channel sounds nice in the marketing sheets, I really have to whish the CPU sapping AC'97 codec would be dropped in favor of the C-Media 8738 chipset as the de facto standard for integrated sound.
On the tweaking level, it would have been nice to be able to set the AGP/PCI frequencies. Most users won't give this a passing though though, so this won't make much of a difference unless you are a dedicated benchmarking nut. Overall the Epox 4SDA5+ is a pretty good board and, one that would make the good foundation for anyone building a new P4 system as long as they don't intend to adopt Serial ATA anytime soon.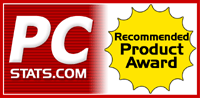 Related Articles:
Here are a few other articles that you might enjoy as well...
1. ABIT SR7-8X SiS648 Motherboard
2. MSI 648 MAX-F Motherboard