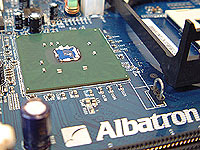 Albatron's PX845PEV Pro is a good motherboard that performs very well at stock speeds. With a retail price of $175 CDN ($95 US), the PX845PEV Pro is not overly expensive but for that price we honestly would have liked to have seen IDE Raid support. On the plus side, with the small size of the PCB, the motherboard should fit into even the tightest ATX case with room to spare.
In the benchmarks, the performance of the PX845PE Pro was nothing less than we expected. The overclocking results point towards the PX845PE's use as a decent basis for individuals who want to push their systems a bit more.
On board features such as the 3Com 10/100 NIC, 5.1 audio and five PCI slots make it attractive to users looking for expansion room, and a good feature set. IMHO, the blue PCB colour also looks great - but that isn't something you should ever use as a basis for choosing motherboards! =)
Our biggest complaint with the board is the location of the floppy drive connector. At the bottom of the motherboard, users of full tower ATX cases may have a hard time with their floppy drives. On board IDE RAID and perhaps Serial ATA would have been good future proof features, but I suppose it is good to give consumers the ability to decide for themselves instead of just producing motherboards with every feature as standard.
If you're looking for a good P4 motherboard which has the basics covered, the PX845PEV Pro is a worthy option to consider.
Related Articles:
Here are a few other articles that you might enjoy as well...