On board 5.1 channel audio is pretty common right now, but because it is generally based on the AC'97 codec CPU power gets sapped. The smart way around this is to disable AC'97 sound if you have it, and buy a real sound card.
The other alternative, and the one in used here, is to equip the motherboard with a hardware-based controller from C-Media. MSI did just that, and looking just left of the second-last PCI slot we find a C-Media 8738 chipset.
This controller supports 5.1 channel sound, and most people consider the sound quality much better than that of codec-based systems. Some people even go so far as to compare the C-Media 8738 along side a SB Live! 5.1, but that's a bit of a stretch I think.

At the very bottom of the MSI 845PE Max2-FIR are a small grouping of green and blue headers. The green headers are for IEEE1394 (three ports total) and the blue one is for USB2.0 (two ports). There are also four USB2.0 ports on the rear of the board for things like scanners, printers, keyboards, and mice to connect to. If you go a head and use all these ports, and the SPDIF which is also located there you'll find a mass of wires crops up rather quickly. Since all the ports are at the base of the board however, they don't get in the way of expansion cards, or anything else for that matter.
The Intel RC8254OEM (82544) Gigabit LAN Controller

"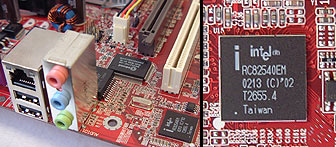 The Intel 82544EI and 82544GC Gigabit Ethernet Controllers are integrated, third-generation, Ethernet-LAN components, capable of supporting 1000 Mb/s, 100 Mb/s, and 10 Mb/s data rates. These single-chip devices manage both the MAC and PHY layer functions, and are optimized for LAN on Motherboard (LOM) designs, enterprise networking, and Internet appliances that use the Peripheral Component Interconnect (PCI) or PCI-X bus. The controllers provide a direct 32/64 bit, 33/66 MHz interface to the PCI bus that supports the PCI Local Bus Specification , as well as the emerging PCI-X extension to the PCI Local Bus at clock rates up to 133 MHz. The Intel 82544EI and 82544GC Gigabit Ethernet Controllers provide an interface to the host processors by using on-chip command and status registers and a shared host-memory area. The controller's descriptor ring management architecture is optimized to deliver both high performance and PCI/PCI-X bus efficiency. Using hardware acceleration, the controllers can offload various tasks from the host processor, such as TCP/UDP/ IP checksum calculations and TCP segmentation. The Intel 82544EI and 82544GC Gigabit Ethernet Controllers cache up to 64 packet descriptors in a single burst for efficient PCI-bandwidth usage while the large 64KB on-chip packet buffer maintains superior performance as available PCI bandwidth descriptors change. Fully integrated physical-layer circuitry provides a standard IEEE 802.3 Ethernet interface for 1000Base-T, 100Base-TX, and 10Base-T applications. And, with the addition of an appropriate serializer/deserializer (SERDES), the Intel 82544EI and 82544GC Gigabit Ethernet Controllers alternatively provide an Ethernet interface for 1000Base-SX or LX applications (802.3z)."
IDE RAID Explained
IDE RAID 0 is not really considered a true RAID since there isn't any data redundancy. RAID 0 takes two drives of the same size/configuration and stripes them, meaning it makes one big drive out of two equal ones. This improves performance by cutting hard drive latency in half. Since the data is divided equally and written on two hard drives it also increases the data bandwidth by two. The reason it's not considered true RAID is because if one drive fails, all data is lost.
IDE RAID 1 on the other hand mirrors two drives of the same size, so in theory if one drive fails, the other will take over as the primary hard drive and the system can continue to operate normally. This is what is supposed to happen with a SCSI hard drive setup and it actually works pretty well there.
The IDE subsystem doesn't allow hard drives to be disconnected while the computer is still powered up and in use like SCSI can unless you have a special HDD tray. Generally, when one IDE drive fails the system usually locks up anyway. The data is safe since it's mirrored on the other drive which is the real benefit.
With IDE RAID 0+1, you need four hard drives of the same configuration/size. What RAID 0+1 does is stripes two sets of two hard drives, one set for a RAID 0 configuration and the other for RAID 1. What this does is offer the best of both worlds, the high performance of RAID 0, with 100% data redundancy of RAID 1. Hence the name RAID 0+1. The only downside would be the need for four identical hard drives.