Abstract: Supports 2 GB of DDR, USB 2.0, Ultra DMA133 IDE RAID, 5.1 channel audio, Gigabit LAN, integrated IEEE 1394 Firewire and six PCI slots!
90% Rating:
Home > Reviews > Motherboards > MSI 845PE Max2-FIR
Meet the i845PE chipset & overclock it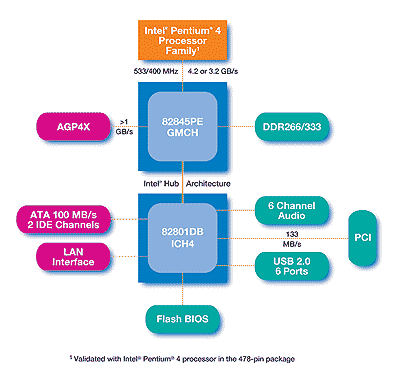 The only thing that differentiates the i845E chipset from the i845PE chipset is that the latter officially supports everyone's favorite type of DDR memory - DDR333 (with a 4/5 memory divider at 133 MHz FSB). Now this may be a bit confusing but bear with me for a moment.
Since the Hyperthreading enabled Intel Pentium 3.06MHz processors have just become available it will soon become important for consumers to pick out HT capable motherboards if they ever intend to use a HT-enabled Pentium 4. Older i845D chipsets won't support the fancy new HT-enabled Pentium 4. Currently the i845E and i845PE have native support HyperThreading technology.
Raise your hands if you want to Overclock!
Armed with a shiny black aluminum Vantec 420W "Stealth" power supply, I began to overclock the system. Knowing that Intel based motherboards usually overclock pretty well I immediately raised the FSB setting to a monstrous 150 MHz! The MSI 845PE Max2 glared back at me as if nothing had even happened so I upped the ante and selected 160 MHz FSB in the BIOS. This time around, the board started to suffer from stability problems during benchmarks so a little increase in Vcore was due.
Back into the BIOS, I had to raised the voltage going to the processor from 1.525V to 1.6V to get things working properly. The FSB was increased further still to 163 MHz and the system promptly BSOD while loading Windows. I don't like the number 163 at all, so I couldn't exactly settle for that. Jumping back into the AMI-born BIOS I increased Vcore to 1.65V to stabilize the situation and moved the FSB to 165MHz.
Any further attempts proved fruitless, so we settled on that value and continued on with the 845PE Max2 and an air cooled Pentium 4 2.66GHz processor. Not to sound too unfair to the folks out there running 600MHz PIII's, but I'm pretty sure the P4 2.66B was holding me back, and not something on the with the board itself.
SEARCH PCSTATS

---

Use the power of Google to search all of PCSTATS and the PCSTATS Forums. Tell us what you think of this new feature - FEEDBACK?