MSI have put together another awesome motherboard. The 845PE Max2-FIR is just littered with integrated devices like Promise IDE RAID, USB 2.0 & IEEE 1394, C-Media based 5.1 channel audio and even an onboard Intel Gigabit LOM NIC (Lan on Motherboard Network Interface Card). Couple that with a full six PCI expansion slots, a CRM for those of you who care, and three 186-pin DIMM's and you have a pretty potent combination.
Performance of 845PE Max2-FIR was excellent, and as you can see by the benchmarks the board has a wild side to it. Users who decide to overclock will be happy to find a full set of tweaking tools in the BIOS to help them along. In our tests, the MSI 845PE Max2-FIR wasn't the best overclocker we have ever tested, but it did perform towards the higher end of the scale - reaching 165 MHz FSB with a P4 2.66B processor and stock heatsink.
Coupled with a good layout, an impressive feature set, and equally nice performance, this board is a keeper. Little things like placing all the USB/IEEE 1394 headers at the base of the PCB should make installation a tangle-free matter, though labeling of the front panel connectors is non-existant. So don't loose the manual.
The board we tested runs the AGP/PCI frequencies to 69.67/34.83 MHz instead of 66/33 MHz. This is a little odd, and may skew results a little (in the good way) when comparing against similarly designed motherboards. Other than a lack of Serial ATA headers there is nothing really here to gripe about, and even that is a moot point since at the time of this writing Serial ATA drives are still not commercially available. Bottom line, if you're looking for a new Pentium 4 motherboard be sure to check out the MSI 845PE Max2-FIR! It has all the features you need, supports Hyperthreading processors and performs damn well!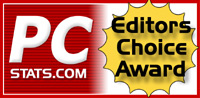 Related Articles:
Here are a few other articles that you might enjoy as well...