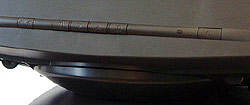 The control panel on the front of the Viewsonic P95f+B consists of six buttons which are almost completely illegible because of the black on black recessed iconography.
Even in well lit room, the curved shape of the buttons make deciphering them surprisingly difficult. Their rounded shape causes a reflection, and shadow with overhead lighting which camouflages the icons in the black plastic making them almost impossible to read.
I suppose the bright side to this is that the buttons are not distracting at all when looking at the display - but since there is little in the way of a tactile cue to hint where one button starts and the monitor bezel picks up, this just makes the entire control panel awkward. Viewsonic earn very low marks for this bit of industrial design.
There are enough beige computer screens in the world to begin with so its really refreshing to find more manufacturers adopting silver, metallic shades, or even plain old black for the colour of their monitors. The Viewsonic P95f+B has a very clean appearance to it, with bezels around the display of about 40mm wide. The display is relatively boxy, but this seems to endow it with a more professional appearance.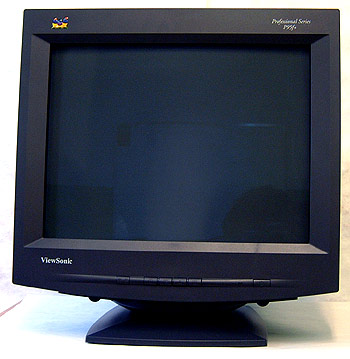 The stand offers up left and right swiveling, as well as a modest degree of forward and backward tilting. The monitor arrives with the display unattached, and getting the stand into place wasn't exactly easy. There are no built in USB ports, audio jacks or any other extra value features - this is a display, and that's all it does.
The P95f+B draws anywhere from 95W to 130W when Viewsonic's UltraBrite feature is enabled. UltraBrite simply boosts the brightness of the entire display for enhanced viewing of graphics, video or DVD applications. I'd be a bit weary of leaving this feature on 24x7, but for the odd time when you really want a more vibrant picture it is a nice little idea, though not terribly neccessary. One button turns on the extra bright display, and also turns it off.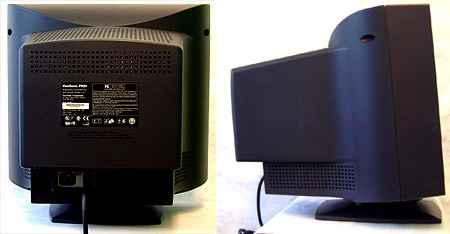 The rear of the Viewsonic P95f+B is populated with just one power plug socket - the video cable is not detachable from the monitor itself. There isn't to much else worth mentioning about the rest of the P95f+ enclosure, it is fairly standard in layout, and feels quite sturdy in construction.