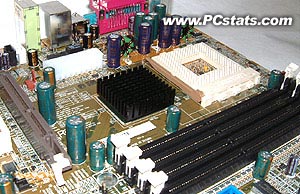 With a retail price of about $175 CDN ($108 US), we were very pleased just how well the AD77 Infinity performed. When teamed up with an AthlonXP 2700+, it is able to perform on par to that of a P4 2.8 GHz with a Granite Bay based motherboard which is much more expensive.
With the AD77, it looks like DFI will try to get into the enthusiast market a bit as well since the AD77 Infinity has a whole slew of overclocking options.
The AD77 Infinity is well equipped, but then again most motherboards in its class are. Standard options with this motherboard are 5.1 audio, Serial ATA, IEEE 1394, USB 2.0, 10/100 LAN and 8x AGP. For those who can find something that isn't built into the board, there are five PCI slots which should be ample in terms of expansion. Rounding out the expansion options are the four DIMM slots which can support up to 4 GB of PC1600/2100/2700/3200* (* unofficially).
The layout of the motherboard is very good, and using this motherboard was extremely easy thanks to all the little things DFI such as placing a fan header just above the AGP slot (our Radeon 9700 Pro which uses a Thermaltake Crystal Orb GPU cooler). The board is well labelled, if you don't know what a certain jumper does just look for an explanation on the PCB, you'll find it.
The four diagnostic LED's is a very handy feature especially when trying to figure out hardware problems, but DFI did not include any information on how to read the lights. Perhaps they simply forgot to include the necessary information with the test sample. I hope that's the case.
Our biggest problem with the motherboard are that the KT400 Northbridge is cooled with a passive heatsink which is attached with thermal glue. VIA's previous chipsets have all gotten very hot at high speeds and it would be easier for the mind if DFI used better cooling.
We had quite an interesting overclocking adventure. With the BIOS the board ships with (the original available on their site) we were able to hit 190 MHz FSB with no stability problems, but once we flashed it with the latest BIOS, we could no longer overclock even 5 MHz FSB. Hopefully DFI will solve this problem with future BIOS updates if this is not simply isolated to the unit we tested.
If you're looking for a middle of the pack motherboard that performs well at stock speeds, and has a lot of features the DFI AD77 Infinity is a motherboard that should not be overlooked. Sure it's not as "pretty" as some of the other boards out there, but it does the job well, and in the end isn't that all that really matters?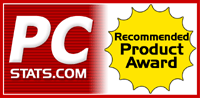 Related Articles:

Here are a few other articles that you might enjoy as well...

2.