Abstract: The Tyan Tiger S2722 is based on the Intel server E7500 chipset and supports up to two Socket 603 Xeon processors.
86% Rating:
Home > Reviews > Motherboards > Tyan S2722GNN
Monitoring Software and HT Support
One of the greatest features of the S2722 is not even physically on the motherboard. It's the awesome Tyan system monitoring software. From CPU temperatures or voltages to board temperatures, whatever you need to know about the motherboard you will get with Tyan's System Monitor. Further management options are available with the optional server management daughter card.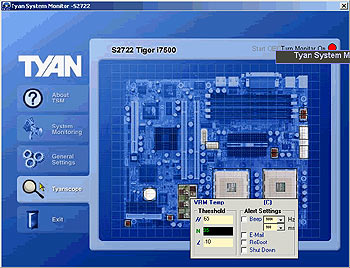 We were impressed that we could even get the MOSFET temperatures and take a look whether the power supply voltages were steady. If you think a certain fan is out of action, simply click on the header it's attached to and the software will give you the fan's RPM's. For servers placed in remote locations this type of software is very useful in diagnosing problems without a technician standing over the box. We're not really sure why Tyan does not bundle this software on the driver CD - we had to search through their website before we could find it.
Because the Xeon processors support HyperThreading, it's worth while to touch on that for a second. To make use of the HyperThreading Technology inside the Xeon processor, we must pick a SMP (symmetric multi-processing) capable OS. Based on our testing application requirements we selected Microsoft's Windows 2000 Server operating system, but you can run other OS's like Linux, FreeBSD, etc.
Logical, Physical processors and HyperThreading
The Xeon processors were the first x86 CPU's in history that can handle two independent threads at the same time. With a SMT (Simultaneous Multi-Thread) enabled OS like Win2k/XP, Linux, etc the OS will identify a lone Xeon CPU as two logical processors that share the single physical CPU's resources.
The terms physical and logical processors are thrown around a lot when we discuss HyperThreading, but what's the real difference? As the name implies, physical processors are something you can actually touch with your hands. For example, a Pentium III 1 GHz processor is something you can touch and hold, it's a physical processor and it has it's own dedicated execution resources.
| | |
| --- | --- |
| | There are Two Physical Xeon processors installed in this system, but with HyperThreading enabled Windows 2000 Server recognizes a total of four Logical processors as illustrate here. |
The Xeon 2 GHz processors we tested with are HyperThreading enabled so in the BIOS they are recognized as two logical processors. You can't actually touch one of the logical processors, but the computer can't tell the difference. In general if something in your computer does not physically exist, it is termed a logical device.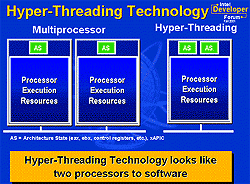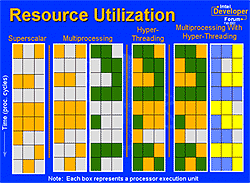 As we can see in the image above, in a multi processor system each independent Architecture State (physical processor) has it's own dedicated Processor Execution resources. In the HyperThreading enabled processor to the right, the independent Architecture States share the lone physical processor's execution resources. If you're purchasing a HyperThreading enabled server (all new Intel processor are), make sure you do your homework and find out which software will actually be able to make use of HyperThreading and net a performance increase - older versions of SQL for example will see no benefit.
SEARCH PCSTATS

---

Use the power of Google to search all of PCSTATS and the PCSTATS Forums. Tell us what you think of this new feature - FEEDBACK?